Engines: Is diesel still king of the off-road?
By Mike Hayes09 September 2020
So much 'new power' talk, but ultra-clean, ultra-low-emissions diesel engines still have a lot to offer, as Mike Hayes reports…
Before the coronavirus crisis, there was a great deal of debate about a shift to electric power for construction equipment.
As things stand today, that debate is intensifying and there seems little doubt that electric power will grow in strength as the fast-improving technology trickles down from the automotive industry – as well as making headway via construction companies' own R&D investments.
The diesel versus electric debate largely stands outside of the current crisis, as the argument for electric power is being very much driven by a need to reduce emissions. The European Union's Green Deal – and the unilateral pledges of some European nations to achieve carbon neutrality – will doubtless accelerate a shift to electric equipment on construction sites.
However, there are many areas in which diesel power still dominates and can make a strong case for itself, in terms of emissions, but also pure economics – and that is going to be a powerful argument within an industry that, like so many others, is experiencing a huge amount of financial pain.
Engine maker Cummins, while expanding its research and development into new alternative power technologies, is one company that believes strongly in the future of diesel.
Continuity for Cummins
The company believes that, due to the economic challenges of alternative solutions, construction equipment will continue to rely on diesel for some time to come. Today, only diesel power can match intense duty cycles with a combination of energy efficiency, work capability, flexibility, reliability, durability and economical operation.
With a continued emphasis on diesel power throughout the sector, Cummins has pushed the evolution of diesel technology with the ultra-clean Stage V engines of its Performance series.
The company says this range delivers on average 10% more power and 20% more torque across the 75-321 kW range than its Stage IV predecessors. The new engines are smaller, lighter and, significantly, less complex than ever before, while emitting near-zero NOx and particulate matter (PM) emissions levels by using new aftertreatment technology.
The 4-cylinder F3.8 and B4.5 Performance Series engines achieve significantly increased power and torque, providing the opportunity to improve machine capability.
Cummins says its B6.7 engine produces over 30% more torque than its predecessor and 5% more power, enabling OEMs to replace engines of higher displacement and potentially reducing costs with no impact on productivity.
New capabilities
The company has looked to further increase the capability of these engines with the power unit packaging plus the addition of new rear engine power take-offs (REPTO).
Steve Nendick, Cummins' marketing communications director for off-highway, says, "The dual REPTO technology is currently available with B6.7 and L9 engines and power units and compliments their standard PTO capability used for items such as hydraulic pumps. Fitted with the dual REPTO, the L9 will have a total drive capability of 560 Nm, making the engine capable of driving additional pumping capability. Integrated into the flywheel housing, the system is compact and has a minimal impact on engine packaging. Added weight is approximately 100kg."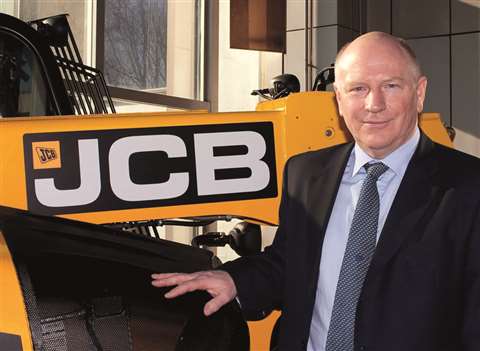 Nendick adds, "Equipment manufacturers will be able to efficiently drive more from the engine without the need for additional add-on systems. Powering hydraulic pumps for machine functions such as steering systems to fans reduces installation costs and complexity, for a more integrated solution."
Cummins is convinced this strategy of smaller, lighter platforms with higher capability points to the future of advanced diesel development.
JCB produces a wide range of equipment, much of which is now powered by its own engines.
The company recently introduced a compact 3.0 litre Stage V diesel engine to its portfolio, which will be offered on the 531, 535 and 540 Loadall models, the 3CX backhoe loader, large platform skid steer and compact track loaders, plus 6 to 9 tonne dumpers, RTFLs and 13 tonne excavators.
The four-cylinder DieselMAX is 24% smaller and 30% lighter than the company's 4.4 litre EcoMAX, yet with 10% higher torque output (440Nm at 1,150rpm) and what JCB calls a "real world 5% fuel saving".
It combines a diesel particulate filter (DPF) with a diesel oxidation filter (DOC) in a single unit, to control particulate and NOx emissions, while an autostop feature further reduces emissions.
Service and maintenance costs on JCB's DieselMAX will be reduced, due to 500-hour service intervals
Alan Tolley, JCB's group director of engines, said, "JCB's particulate control technology features low particulate combustion, an oxidation catalyst, particulates filter and integrated engine and filter regeneration control system.
"It's a completely integrated solution that's highly reliable, highly effective and invisible to the customer as it is installed within our existing machines' engine bays, and, in normal use, no operator intervention or additional service attention is required."
Improved intervals
According to JCB, service and maintenance costs on the engine will be cut by up to 30%, due to its 500-hour service intervals, while hydraulic lash adjusters in the valve train and a sealed-for-life crank case ventilation module, eliminate the need for filter replacement.
The engine's compact dimensions allow the engine and exhaust after-treatment to be installed within existing engine canopies to maintain visibility.
While most engine makers see a solid medium- to long-term future for diesel power, they're certainly not blind to the shift that's taking place in the construction industry. In fact, they are – at least in recent times – partly responsible for driving it.
At this year's ConExpo exhibition in Las Vegas, Deutz had eight displays in its booth at the show, only two of which were new diesel engines. The diesels were the company's TCD 2.2 and the newly introduced model TCD 13.5. There was also a remanufactured Deutz Xchange diesel.
The biggest part of the Deutz display was an all-electric model G5-18A telescopic handler concept, developed in collaboration with JLG. The G5-18A has a 360V drive system that uses a split drive comprising two, 40kW electric motors – one for driving and one for the hydraulics in the telescopic arm. The battery is from the EDeutz modular toolbox and offers 42 kWh of capacity. The 6.6kW charging system can restore the battery charge to 80% within four hours.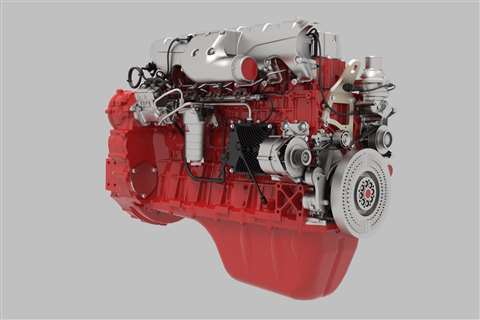 Fuelling the future
Dr Frank Hiller, chairman of the board of management of Deutz, "When tackling the challenge of making drive solutions sustainable for the future, we always keep our minds open to all technologies.
"Our approach builds on combinations of electric drives and internal combustion engines that offer the potential to be operated in a carbon neutral manner in the future using sustainable fuels."
Hiller said the diversification of Deutz' portfolio was part of a strategy that the company began about two years ago called 'Innovative Drive Systems.' Deutz, he said, would continue pursuing internal combustion engine technologies, but also other technologies that were important not only for the company, "but also must present a strong business case for our customers."
Of course, electric power is not the only challenger to the supremacy of diesel in the construction industry.
Last year, Japanese engine maker Yanmar unveiled a pair of gas-powered engines that use liquid petroleum gas (LPG).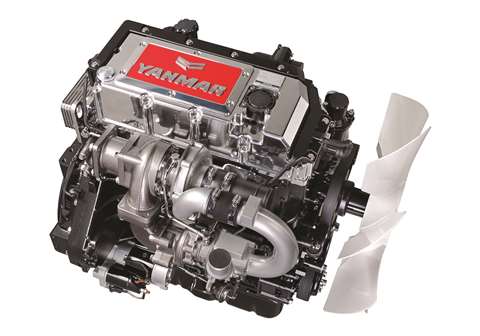 The 4TN88G (with a maximum power output of 45.0kW) and the 4TN98G (with a maximum power output of 63.0kW) both meet EU Stage V emissions standards, with low particulate matter production and another advantage of being quieter than diesels.
Petroleum propulsion
As with electric power, LPG-powered machines have solid benefits for working either indoors or in enclosed or urban areas.
Yanmar is placing a lot of faith in its new gas engines, claiming they have more power and torque than their diesel equivalents. The company also says the engines have a high compression ratio and reduced intake pump loss, resulting in fuel consumption reductions of 10%, compared with current equivalent diesel systems.
The engines also benefit from being approximately 9% smaller than diesel equivalents, while being optimised for easy installation into a range of construction equipment.
Diesel engine manufacturers have done an incredible job, squeezing down emissions in line with the Stage V mandate, and there is no doubt that, for heavy duty cycles, they will remain the mainstay power solution for the industry for years to come.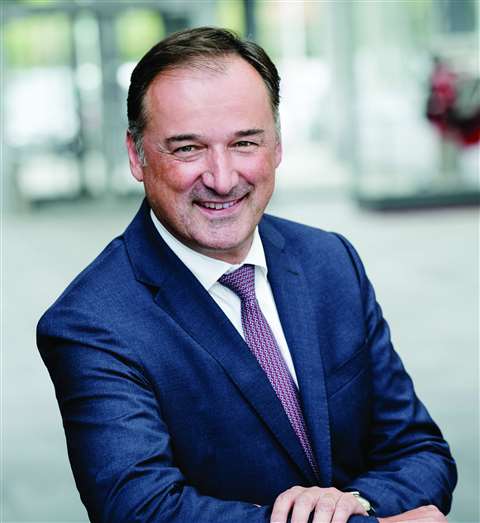 The pretenders to the construction throne are, however, developing extremely quickly.
Reduced costs
JCB says its research shows that charging electric equipment could cost half that of traditional diesel, and servicing costs could be up to 70% lower than on comparable diesel machines.
That said, JCB has said it sees a future for both battery and diesel power within its product range and has no plans to phase out diesel on any model ranges. The company also says battery technology is not yet at a stage where it can challenge diesel on larger machines.
JCB's head of innovation and growth, Tim Burnhope, said, "Clean diesel will continue to play a major part in the powering of JCB equipment. JCB is a leader in innovative clean diesel technology for construction machines used on housing and infrastructure projects."
Perkins gives spiders legs

UK-based engine maker Perkins recently worked with Liechtenstein-based manufacturer Kaiser develop its new generation S10 and S12 Allroad walking excavators, with Stage V engines.
The machines, with arm-like extensions, are often used to carry out excavations in challenging environments, including mountains and canyons.
Based on Perkins' recommendations, Kaiser has for many years used the company's 1204E-E44TA and 1204E-E44TTA engines, which deliver 110 kW and 129 kW respectively.
Within the latest generation machines, Kaiser insisted that the engines should be future proofed, resulting in Perkins integrating its EU Stage V Perkins 1204J engine into the latest excavators.
The new machines also feature a new undercarriage with improved kinematics and power, plus increased hydraulic and cooling capacity, increasing their efficiency.
EU agrees Stage V delay
The coronavirus crisis caused the European Parliament to back a delay in the implementation of its major Stage V engine emissions regulation. This legislation originally required a transition to Stage V engines for some construction equipment by the end of this year.
OEMs will now get an extra year's breathing space before they must bring modified equipment to market, which seems like a sensible move under the circumstances.
CECE Secretary General Riccardo Viaggi said: "The Parliament's vote was vital to prevent further economic damage caused by the COVID-19 pandemic to our manufacturing industries and protect thousands of qualified jobs that depend on them.
"Neutral from an environmental perspective, this measure will not soften the stringency of the European legislation. Instead, it will give our industry the necessary time to install transition engines, already acquired, in machines, place them on the market and be compliant with ever more demanding requirements.
"Inaction would have led to unnecessary waste of raw materials and resources, in addition to the financial costs."
Genie goes for 'smart' diesel
Genie, which specialises in telehandlers and boom and scissor lifts, is backing diesel across its range, with the addition of 'smart regeneration' technology that "proactively monitors the progression of soot build-up in the engine's DPF".
So says the company's product manager, Corrado Gentile, who adds that the new technology will alert operators that regeneration is required in advance of the engine actually requiring it.
"This feature," Gentile says, "gives Genie equipment owners and operators the peace of mind of knowing that they do not have to worry about how to manage the regeneration process on Stage V engines — we've made it so that the machine does it for them."
Currently in production to meet the latest emissions standard, new Genie articulating or telescoping boom lifts and rough terrain scissor lifts will be equipped with a turbocharged, 3-cylinder, water-cooled 2.2 litre Stage V diesel engine.
New Genie telehandlers will be equipped with a 4-cylinder turbocharged 2.9 litre Stage V diesel engine.
The engines include a DPF, helping them run more quietly, and, Genie says, the required DPF regeneration occurs
The company insists that, during the regenerating process, the operator may notice only a slightly higher engine speed, but no noticeable degradation in performance.
automatically when engine temperatures are high and soot levels have increased.