Engines: Power of persuasion
By Thomas Allen21 April 2020
What most engine manufacturers do to persuade rental companies to request their engines in the machines they buy is stress commonality of parts and technologies, the ability to monitor and control engine operation in the field, and the speedy provision of service parts anywhere; in short, aftermarket support.
This is something that engine manufacturer Perkins has been putting particular focus on recently, as part of its strategy to better tap into the rental market.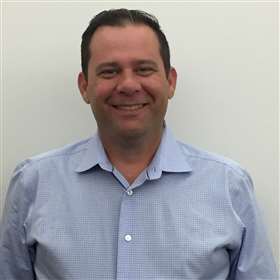 Corey Berry, Business Development Manager of Global Rental at Perkins, told IRN, "The rental industry has the largest diesel-powered fleet owners in the world. More than 50% of all diesel-powered machines find their first life in rental, globally. It's a big market.
"And Perkins supplies relevant engines – that's to say, smaller engines for compact equipment."
Berry has been in the rental industry for 25 years and in his current role at Perkins his focus is on supporting rental companies. He has been working with Andy Zuckermann, Global Rental Manager at Perkins, to develop the company's rental strategy, Perkins Rental Support.
Noting the increased importance of providing support to rental companies as they make the transition to Tier 4 Final and Stage V compliant equipment, Berry said, "We've put all rental-specific services provided by Perkins in one place online."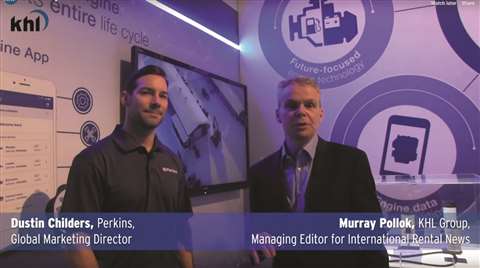 Website update
As part of a broader update of Perkins' website, the rental section has been reconfigured to bring together a range of tools that used to be disparate, such as training and parts.
Berry said, "This makes it easier for rental companies to access diagnostic tools and hardware, service training and personalised support. It empowers rental companies."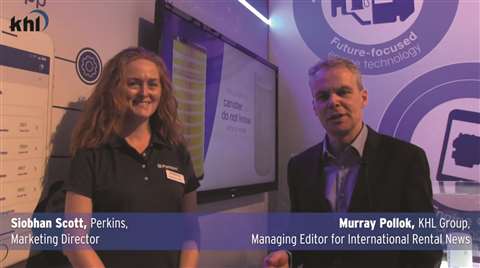 As part of this update, the engine manufacturer recently launched its new Perkins Rental Customer Portal, which is available globally. It acts as a centralised hub that gives direct access to things such as parts ordering, operation and service manuals, warranty submissions, and free online service training.
"It's targeted primarily at fleet managers and service managers," said Berry. "It's a one-stop-shop where they can find everything specific to rental support, from operations and maintenance manuals to contacts for local service support."
Buying power
Rental companies are growing in their buying power, according to Cummins' Marketing Communications Director Steve Nendick, who said this is especially true in North America where there is a greater demand from rental firms for larger equipment. Smaller equipment is generally outside of Cummins' engine range.
In response to this, Nendick said, "We now have, in our head office in the US, account managers who are responsible for the rental houses – the Hercs and Sunbelts – just like we would have for Komatsu or Hyundai or John Deere."
These account managers are building relationships with rental companies and working to better understand their expectations.
One outcome has been the recent introduction of a new extended warranty. Cummins' Encompass Extra warranty applies to its latest Stage V Performance Series engines: the F3.8, B4.5, B6.7 and L9.
Cummins' standard engine warranty is two years or 2,000 hours – whichever occurs first – or one year with unlimited hours if the 2,000 hours is exceed in the first year.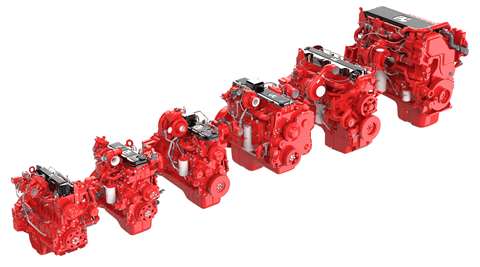 The new extended warranty programme, however, provides a range of engine coverage options up to five years with unlimited hours.
It can cover parts and labour or parts, labour and travel, depending on customer needs.
Additional coverage is also available for Cummins' aftertreatment system.
Nendick said, "I think it's particularly beneficial for the rental market because with a rental house, my perception is that they're looking to protect themselves and minimise the risk. So they can invest in an extended warranty and have the engine looked after for its full time in their fleet."
This move has been made possible by the simplification of Cummins' Performance Series engines.
"In the past emissions steps, the engines have always got more complex, there's been more technology added," said Nendick. "Whereas because we've improved the capability of our aftertreatment system, we can take some of the technology off the engine, make it simpler and lighter, easier to install for an OEM, but also easier and cheaper to service for a rental company."
The Encompass Extra warranty will also become available on Cummins' X12 and X15 engines in the next month or two.
Extended warranty
Rolls Royce is also offering a warranty extension of up to five years on new hardware. A spokesperson from Rolls Royce said, "Previously, the warranty was valid for two years; the warranty extension gives customers an all-encompassing warranty which covers them up to, and including, engine replacement."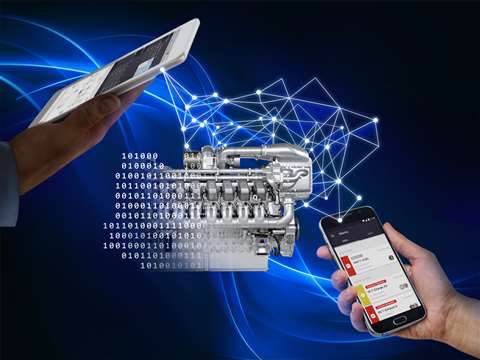 This is one element in the manufacturer's strategy to make its engines attractive to rental companies. Another is the provision of digital enhancements.
"Our Digital Solutions team is being expanded continuously, and a data and analytics competence center is currently being set up in Munich," the spokesperson added.
So far, the company has developed two mobile Apps: MTU Go! Act and MTU Go! Manage. They offer improved customer service and predictive maintenance, at the same time as providing Rolls Royce with data that informs the future development of its engines.
Alternative fuels
Turning to the topic of alternative fuels, Rolls Royce said its strategy for the future is to become a supplier not simply of engines but of power solutions. To this end, it is collaborating with partners in various fields.
Although the high power-density of diesel has not yet been replaced by other power sources, the Rolls Royce's spokesperson said, "In the near future, diesel engines will remain an important power source for construction applications but are more and more accompanied by, combined with or even replaced by other power sources, depending on the field of application and the infrastructure in the area of operation."
Hydrogen technology is of central importance here, but it is imperative that the hydrogen is manufactured responsibly; "The company is engaged with partners on several projects for the climate-neutral manufacture of hydrogen as a basis for producing energy or synthetic gaseous or liquid fuels."
Regarding electrification and hybridisation, Rolls Royce is currently focused on marine, rail and power generation applications. However, it intends to take lessons from this and apply them to construction and industrial applications in the future.
"The classic drivetrain will be electrified in the years to come to a far greater degree than it is at present," said Rolls Royce's spokesperson. "There will be very few systems around with no electric drive component."
Range of alternatives
In the general drive towards sustainability, no one knows which technological solutions will ultimately prevail, and so engine manufacturers increasingly find themselves investing in the exploration of a range of alternative power sources. And as new technologies become available, they are also tasked with developing different solutions for specific customer requirements.
This is why Deutz introduced its Advanced Configurator modular product design toolbox.
"The Deutz Advanced Configurator enables us to design a drive system that is tailored to customer preferences, for example regarding performance and emissions," said Michael Wellenzohn, member of the Deutz Board of Management responsible for Sales, Service and Marketing.
The Deutz Advanced Configurator modular system forms the basis for integrating E-Deutz drives.
Various factors must be taken into account when selecting the appropriate drive system. When it comes to electric motors, design engineers are faced with the challenge of adapting individual components precisely to the requirements of the respective machine. Assembly space, weight, load profile, temperature and mechanical stress vary greatly, especially in off-highway applications.
The Deutz Advanced Configurator modular system offers a range of options, from diesel and gas to hybrid and all-electric, and then additional components can be scaled to fit.
A key benefit of this modular approach is that only the relevant components need adapting, rather than the entire system. This gives Deutz the flexibility to respond quickly to technological developments, shortening the time to market.
In one example, E-Deutz engineers created two prototype alternatives to Manitou's MT 1335 telescopic handler. The process took just six months.
The standard model features a 75kW Deutz TCD 3.6 diesel engine. Deutz's engineers created a hybrid version, in which the TCD 3.6 engine was replaced with a smaller 55kW TCD 2.2 plus a 20kW electric motor, and an all-electric version, which used a 360V on-board electrical system and a 60kW electric motor plus a 30kWh capacity battery.
Exploring hydrogen
As part of its efforts to pioneer the development of environmentally friendly engines, Deutz recently signed a letter of intent with Munich-based Keyou to collaborate on the creation of hydrogen engines for both off-road and on-road applications, and for power generation.
Keyou is a start-up company specialising in the conversion of conventional engines to run on hydrogen.
The two companies have already developed a prototype 7.8 litre engine. The first prototype vehicle using this technology is expected to be revealed later in 2020.
Deutz CEO, Frank Hiller, said, "The use of alternative fuels such as hydrogen is growing in importance. We believe that this drive solution will be a valuable addition to our electrification strategy and play an integral role in the zero-emission vehicles of the future."
Kohler is also responding to demand for more dynamic and flexible solutions by expanding its hybrid portfolio.
The manufacturer reckons that a number of machines are fitted with oversized engines. This means that their operating cycles do not require all the power that the engine is capable of delivering, or they only need it from time to time.
Kohler has identified two thresholds that are of particular interest: 19kW, which is the limit for Stage V legislation's requirement for the use of a diesel particulate filter (DPF), and 56kW, above which the same legislation also requires the use of selective catalytic reduction (SCR).
Power nodes
In order to offer an alternative solution that taps into these two power nodes, Kohler is offering its new K-Hem 2504 hybrid unit, which runs alongside the company's first hybrid unit, the K-Hem 1003.
The K-Hem 2504 comprises a 55.4kW KDI 2504TCR diesel engine that complies with Stage V legislation and is without SCR, and a 48V electric motor that delivers a peak power of 19.5kW and 9kW of continuous power.
The K-Hem 2504 also makes for more efficient DPF management because it is possible to take advantage of the temperatures reached when recharging the battery pack.
This means the power system can be sized appropriately because excess energy is stored and then delivered when required.
The K-Hem 2504 won the award for Best Engine of the Year below 175hp (130kW) at the 2019 Diesel Progress Awards.
Kohler has also expanded its Command Pro engine line-up with the addition of its new dual-fuel CH440DF engine. This means the Command Pro engines now deliver powers ranging from 3.4 to 10.4kW.
Designed to operate on either gasoline or propane, users can switch between fuels simply by moving a lever.
Hybrid concepts
Perkins is offering four hybrid technology concepts that use its Syncro 2.8 litre engine.
Each of the hybrid technologies offers a unique set of benefits at 75kW, all of which allow the diesel exhaust fluid (DEF) system to be eliminated.
Tom Nankervis, electrification marketing manager at Perkins, said, "With our range of hybrid engines, customers can choose to downsize their engine and use the hybrid power for peak-load, or they can reduce output from the diesel engine, choosing to lower fuel consumption up to 20%."
Perkins sees this as a way of providing customers with an affordable and economically sustainable life-cycle solution that minimises the perceived risks of transitioning to an electric machine.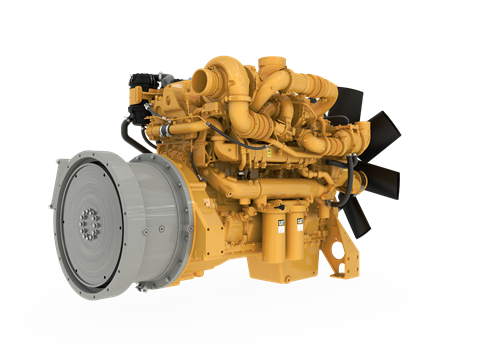 Caterpillar is also looking to the future of engines with its Cat C18 hybrid engine concept. As with Kohler's solution, the parallel hybrid system captures surplus energy and then returns it to the machine when demanded.
James Gardiner, product development manager for the hybrid concept, described it as, "One example of how we're evaluating a variety of technologies and services with the mission of offering more value to our customers.
"Hybrid systems offer many benefits to the OEM and end user: engine downsizing, reduced noise and emissions levels, enhanced machine performance, and many other efficiency gains through proper integration of the complete machine system including the engine, hybrid system, drivetrain and other components with the machine."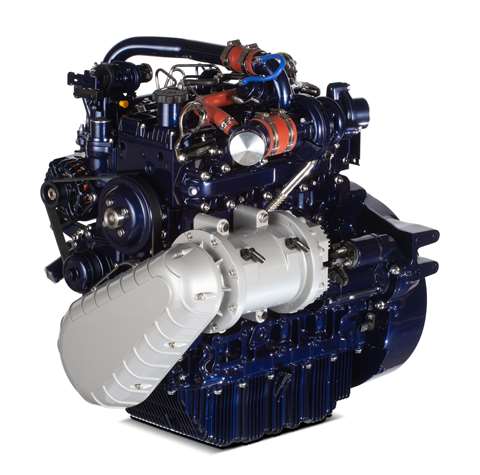 The company is continuing to explore alternative power sources and is already using non-traditional fuels to power a variety of applications, as well as power systems integrated with electric drivetrains, such as in the Cat D6 XE dozer and 988 XE wheeled loader.
Caterpillar also emphasises the aftermarket support offered by its dealers through the company's Customer Value Agreements (CVA).
Rob Kruziki, CVA Manager, said, "These agreements are truly about bringing value to the customer. While there is no doubt that preventative maintenance is the baseline of every CVA, engine up-time, cutting-edge support and long-lasting relationships are at the core of what we do."
Regardless of whether a customer has a single machine or a large fleet, the services contained in a CVA can be tailored to fit their business model and requirements. This ranges from a simple preventative maintenance plan to a sophisticated all-inclusive solution.
Addition to the family
Briggs & Stratton has launched the latest engine in its single-cylinder horizontal shaft family: the 3.7kW 160 engine.
Like its 200 and 400 siblings, which are already available, the 160 is built to offer improved starting, reduced maintenance and lower total cost of ownership.
It can be used in various types of equipment that are relevant to rental, such as tillers, pressure washers, generators and compaction plates.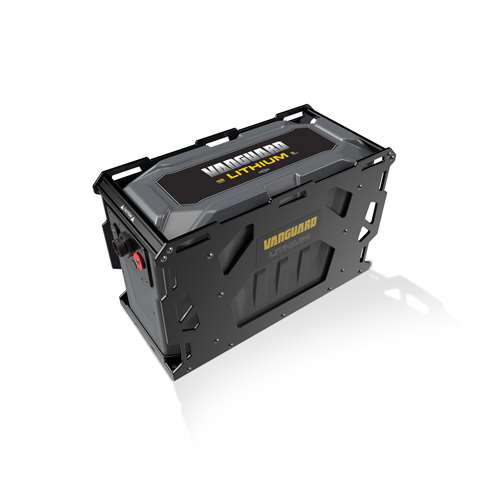 Paul Bramhall, Senior Manager Marketing, commercial engines at Briggs & Stratton, said, "The 160 engine demonstrates how serious we are about meeting the needs of the rental market, with a full line of single-cylinder engines ideal for a broad range of applications."
The Stage V, EPA Phase 3 certified engine comes with a three-year limited warranty.
It also features the Vanguard TransportGuard System, which helps to prevent damage caused by oil and fuel dilution during transportation – a key issue faced by rental companies when they receive equipment that has been out on rent. The system's simultaneous fuel/ignition shutoff ensures that fuel remains in place during transport.
This means the 160 has a 200 hour oil maintenance interval, as well as a 600 hour air filter replacement interval.
The mechanical compression release and choke on the engine optimises starting in temperatures down to -29˚C. The 160 is also available as an optional 45˚ package that keeps equipment working on slopes and hillsides without power loss, fluid contamination, engine failure, smoking or choking, according to the company.
The engine also accommodates leading competitors' controls, making it an easy drop-in replacement for OEMs. Briggs & Stratton says that switching an existing engine model with the 160 engine typically requires no redesign of the equipment.
The final addition to the family, the 300 engine, is scheduled to become available in 2021.
Briggs & Stratton also offers a scalable and serviceable lithium-ion battery pack. The battery, controller and charger were said to work together seamlessly to deliver efficient, flexible power.
The first Vanguard battery pack was applied to a mid-sized unmanned ground vehicle built by Argo XTV, a manufacturer of extreme terrain vehicles.
Electric drivetrain components
In recognition of the trend towards electrification, John Deere Power Systems (JDPS) is also investing in this area, recently releasing the latest iteration of its electric drivetrain components.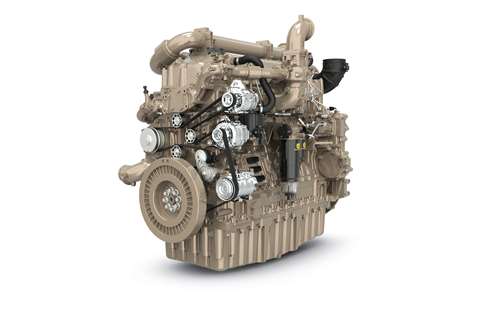 Darren Almond, strategic marketing lead for electrification at John Deere Power Systems, said, "We've identified key electric drivetrain components that will integrate into existing space claims, further streamlining the transition to electrification for OEMs."
JDPS's portfolio of components is modular so that they are easy for OEMs to integrate into their machines. It was said that this flexibility minimises the need to re-engineer vehicle design to begin testing and implementing electrification solutions.
Almond said, "We were among the first to introduce electric drive technology in construction equipment with our 644K and 944K Hybrid Wheel Loaders.
"With this experience, we've developed an effective, proven solution in an emerging market with the durability our customers have come to expect from John Deere."
Diesel engines continue to be of central importance though, and so JDPS has also expanded its engine line-up.
Designed with flexibility, serviceability and durability in mind, the company's new 18 litre engine builds on the design of the 13.6 litre model and offers in excess of 650kW of power.
Ease of servicing
The top 20 service and repairs issues for larger John Deere engines were taken into consideration when designing the engine to ensure ease of servicing.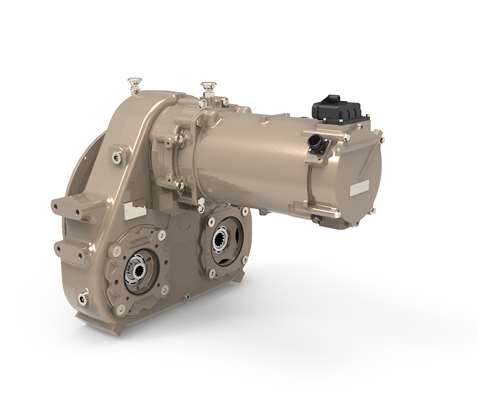 David Hoffman, director of worldwide marketing, sales and customer support at JDPS, said, "We utilised a streamlined engine design process to expand our power range. Advanced modelling allowed us to define and optimise engine subsystems to achieve our performance requirements and to deliver on our customers' growing horsepower needs."
The engine is equipped with John Deere engine controls, which enable advanced prognostics capabilities and improved transient response.
The 18 litre model also has a high-pressure common-rail fuel system and series turbochargers, and it uses cooled exhaust gas recirculation (EGR).
A rear gear train reduces noise as well as torsional and crank stress.
The 18 litre model will be manufactured at the John Deere Engine Works plant in Iowa, US, and it is planned to go into commercial production in 2022.
JCB has introduced a new diesel engine to the US market. The 3 litre, four-cylinder Tier 4 JCB 430 was said to build upon the success of the company's 4.4 litre US Tier 4 444 Ecomax engine.
The new model offers a 34% increase in power density compared to the previous generation 444 engine, in a package that is 24% smaller. It was also said to deliver up to 8% greater fuel efficiency.
The 430 engine delivers an output of 55kW at 2,200rpm, and 440Nm of torque at 1,150rpm.
The unit meets US Tier 4 emissions legislation without the need for exhaust aftertreatment, such as DPF, SCR and DOC (diesel oxidation catalyst).
JCB has also introduced an OEM engine telematics system that is powered by the company's LiveLink. It enables customers to remotely monitor JCB-powered equipment around the world.
The data link provides real-time information, such as location, fuel use, idle time and service history, so that companies can better plan preventative maintenance.
Easing the transition
Volvo Penta has been working to help OEMs and rental companies as they make the transition to Stage V.
Ilenia Procicchiani, Sales Manager Industrial, Italy and Spain, told IRN, "As new emissions steps and engine solutions are being introduced to the market, it's critical for OEM customers and end-customers to understand what it means – everything from installation and operation to maintenance."
With a particular focus on gensets, Procicchiani said that, although it has always been important to use the right machine for a given job, it is now even more so. Before the introduction of exhaust aftertreatment systems (EATS), this was less critical.
She added, "Knowledge about this is important to minimise the risk that the engine might end up working with very low load, which is not the best condition for any engine with an EATS system."
One example of the initiatives that Volvo Penta has introduced to educate the industry is the seminar it held with genset manufacturers and rental companies at the Distributed Power Europe exhibition in Rimini, Italy, towards the end of last year.
Rental companies that attended from Italy, Spain and the UK were told how Volvo Penta Stage V engines should be used to maximise their lifetime and productivity, with information provided about Volvo Penta's Stage V technology, new legislation and engine load recommendations.
The engine supplier has plans to organise similar workshops in the future, ideally at manufacturers' sites, involving their rental customers.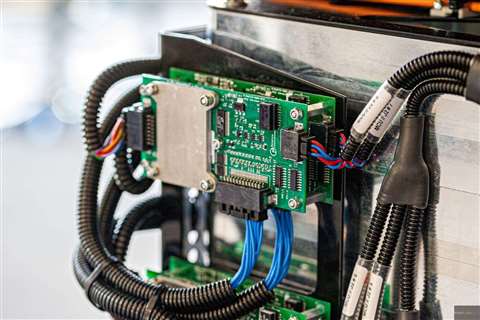 FPT acquires Potenza
As part of its multi-powertrain strategy, FPT Industrial, a brand of CNH Industrial, recently acquired 100% of UK-based Potenza Technology to extend its electrification capabilities.
Potenza specialises in the design and development of electric and hybrid electric powertrain systems. The company has expertise in functional safety engineering, battery management systems for traction battery packs, and electric and electronic systems design and development.
Annalisa Stupenengo, CEO of FPT Industrial, said, "Thanks to the sustainability benefits of electrification, the powertrain industry needs to focus on this area to overcome the challenges and make it feasible for all potential applications.
"We are doing our part to enhance our engineering capabilities, and we are pleased to welcome aboard the Potenza Technology team, to further contribute to our innovative powertrain solutions in terms of electrification."
Paul Faithfull, Managing Director at Potenza Technology, said, "It is a great opportunity to join the FPT Industrial team not only to advance our business, expanding our solutions to a cross-segment level on a global reach, but to be able to have a broader vision that a large organisation offers, working with experts of different areas."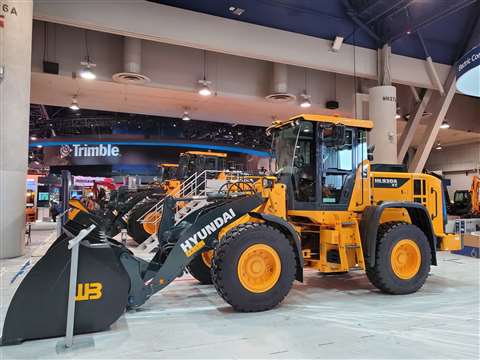 Cummins powers Hyundai
Cummins has become the single engine supplier to Hyundai Construction Equipment (HCE) for displacements from 3.8 to 12 litres. The engine manufacturer's Performance Series engines – F3.8, B4,5, B6,7, L9 and X12 (75KW to 382kW) – will be powering 25 construction installations.
"Our Performance Series products were designed as global platforms," said Eric Neal, Executive Director, Global Off-Highway Business. "The engines meet the latest US EPA Tier 4 final and EU Stage V ultra-low emissions levels, and can be tailored to meet China CS4 and India BS4 regulations as well.
"This enables Hyundai to have simplified installations that drive economies of scale in their production and ease of servicing in the field."
The improved Single Module aftertreatment technology on Cummins' Performance Series engines manages the PM and NOx emissions effectively enough for the EGR to be removed from the engines. This makes them lighter, more compact and easier to install, according to the company.
"We know Hyundai has ambitions to grow in North America and see their partnership with Cummins as a key enabler toward this. Their 'Powered by Cummins' programme for wheel loaders and excavators pairs Performance Series power with the latest telematics to deliver true operational efficiency and value to their customers," said Neal.
With regard to telematics, Cummins' Connected Diagnostics capability has been integrated into Hyundai's Hi-Mate system. This includes the new Cummins Software Updates (CSU) feature, which enables remote software updates of engine calibrations to enhance aftermarket support.
The data gathered through the system will also support improvements for future product development, Cummins said.