Engines: Powerful advances
By Joe Malone10 August 2016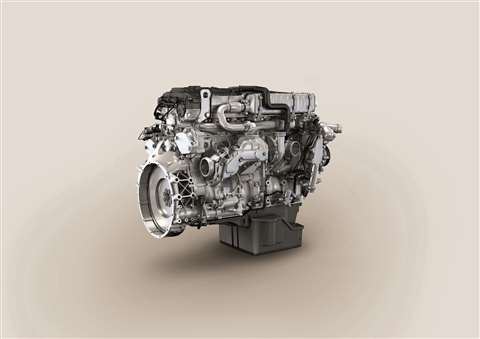 There is one focus point for all engine manufacturers in Europe and the rest of the world, which is to ensure they can produce and sell engines that meet the latest standard emissions regulations, whatever market they sell into.
In 2019, new emissions standards are set to come into force in Europe, in the shape of Stage V, superseding the current Stage IV standards.
With three years to go until these standards become active, the European Parliament has announced it has adopted a final agreement on regulations which tighten emissions limits for particulate matter (PM) and nitrogen oxides (NOx) for non-road mobile machinery (NRMM), which relate to Stage V.
A compromise agreement was approved by Member States' representatives and the European Parliament's Environment Committee in May.
Following the council's adoption, a publication of the Regulation is expected to follow. Supplementary legislation, in the form of delegated and implementing acts, is also being finalised. This will include technical requirements and administrative provisions, and is expected to be adopted before the end of the year.
The regulations include an extension of the general transition scheme by six months to a total of 24 months in total, designed to give European machine manufacturers sufficient time to re-design their fleets to comply with the new requirements.
Under the Commission's original proposals, manufacturers were given a 12-month transition period after the regulations had come into force to adapt their machines to Stage V engines, plus a six-month sell-off period.
Now, following so-called "trilog" meetings in May, involving representatives from the both the European Council and relevant European Parliament committees, all manufacturers have been granted an 18-month transition period, with mobile crane manufacturers a further 12 months on top of that. The additional six-month sell-off period remains unchanged for all types of products.
It is said that NRMM engines account for about 15% of all NOx and 5% of PM emissions in the EU.
Lead MEP Elisabetta Gardini, whose report was approved by 623 votes to 57, with 27 abstentions, said, "We managed to reach a very positive final agreement – a really important balance between environmental protection and the competitiveness of European enterprises.
"We have tightened the limits proposed by the European Commission even further for many engines' power ranges, but we kept the approach reasonable enough so that the industry can comply with the new requirements in a short time – and this was the most important goal."
Further discussions about potential changes may be had over the next three years by the powers that be, but manufacturers have a clear task when it comes to making sure their engines are ready for the new standards.
Rolls-Royce, for one, has launched its new MTU Stage V engine this year.
The MTU Series 1000 to 1500 is being developed further by MTU and Daimler, based on Daimler commercial vehicle engines, to meet Stage V regulations.
Bernd Krüper, head of construction and agriculture business at MTU, said, "Construction companies will benefit immediately from the advanced technological developments for Stage V.
"What we expect to see from the development work is higher torque at low rpm, a further reduction in fuel consumption and an extended power range compared with predecessor engines."
He added that with this development, the company was building on previous Series 1000 to 1500 diesel engines designed to meet Stage IV and EPA Tier 4 final, which he said were well-established in the market.
The engines will be available in the 100 to 480kW power range.
MTU has also launched its new Emission Flex Package, which enables customers to operate engines in countries where very different emission requirements apply, and fuels are used that have a high sulphur content.
Using software designed specifically for the purpose, the engine's exhaust gas aftertreatment system and selective catalytic reduction (SCR) system can be deactivated.
Krüper said, "Before the implementation and sale of this solution to our customers, we conclude a contract, the terms of which ensure that the engines comply with the emission regulations in the respective countries."
MTU operates further afield, too, and has recently agreed a deal with China Yuchai International's main operating subsidiary, Guangxi Yuchai Machinery Company (GYMCL), to set up a 50:50 joint venture for the production of MTU diesel engines in China.
Each party will invest RMB75 million (€10.43 million) in the joint venture.
Meanwhile, Perkins has launched a new family of 4 cylinder, 2.8 and 3.6 litre diesel engines.
The new Syncro range delivers between 45 and 100kW, and claims to meet multiple global emissions standards including Stage V and Tier 4 Final.
The company said the new 2.8 and 3.6 litre engines deliver the performance, value and reliability its customers expected, to help them access new markets and support their business growth.
It also said that the high power and torque density will give Original Equipment Manufacturers (OEMs) the opportunity to move to smaller, more compact engines.
The 3.6 litre engine promises an improved fuel economy of 8%, and power up to 100kW, while the 2.8 litre engine is said to deliver a maximum of 55kW.
Allister Dennis, product manager at Perkins, said, "The recent advances in fuel systems, control systems, predictive engineering and aftertreatment ensures our new 2.8 and 3.6 litre engines are the right solution for off-highway machines like wheeled loaders, tractors, telehandlers and excavators.
"We've now started work on this family of engines to give us and our customers plenty of development and field validation time before Stage V introduction."
Cummins has recently launched its new F3.8, B4.5, B6.7 and L9 engines, which it said were designed to meet Stage V emissions regulations.
The new engines range from 75 to 321kW, and claim major increases in power and torque by removing the exhaust gas recirculation (EGR) system, and using Cummins' single module aftertreatment technology.
Chairman and CEO Tom Linebarger said, "Cummins is raising the engine performance bar higher with our EGR-free approach for Stage V, and that leadership will continue to drive the equipment industry forward to meet the regulations in 2019 with simpler machine integration.
He added, "The engines we unveiled have been designed from the outset to reduce Stage V cost of ownership to levels equivalent to that of engines meeting emissions regulations as far back as ten years ago.
"This achievement is the result of product development inspired more than ever by the needs of our customers, rather than by just meeting emissions regulations, however stringent they may be."
Compared to Cummins' Stage IV and Tier 4 Final engines, power output for the new 3.8 to 9 litre engines for Stage V is said to have increased by over 10% on average.
Meanwhile, the company has introduced its Connected Diagnostics technology, meaning its equipment can now wirelessly connect the engine to Cummins for immediate diagnosis of an engine system fault alert, and have valuable information delivered back to the customer within seconds.
German-based manufacturer Deutz, meanwhile, has launched its new TCD 2.2 diesel and gas engine.
This 2.2 litre engine is a 3-cylinder variant of Deutz's TCD 2.9 4-cylinder engine. The TCD 2.2, with a rating of up to 55kW, is said to be particularly suitable for applications in material handling and compact construction equipment.
The engine will be available in both a diesel and a liquefied petroleum gas (LPG) variant. The gas variant is said to produce up to 42kW and is a first within Deutz's otherwise diesel-only product range.
The TCD 2.2 will go into series production in 2019 when the Stage V emissions standards come into force.
Deutz's TCD 2.9 engine will produce up to 55kW, it said, and has a similar size and configuration to its diesel equivalent. The new gas variants – called G 2.2 and G 2.9 – mark Deutz's entry into a line of business that offers future potential, with LPG engines offering a number of advantages, it claimed.
For example, they are said to be particularly well suited to equipment designed for use in the enclosed spaces of buildings, as liquid gas produces far fewer emissions than diesel.
The engines also have a three-way catalytic converter that means they meet the Stage V emission standards without the need for a costly exhaust aftertreatment system.
Hatz Diesel has launched a new three-cylinder engine that complies with Stage V. The water-cooled three-cylinder 3H50 engine will be available from 2018.
Hatz's engine is equipped with Bosch common rail technology – maximum injection pressure 1,800 bar – and the new model is similar to the manufacturer's existing four-cylinder design.
Thanks to the turbo charger and the intercooler, Hatz said the 1.5 litre engine had a maximum torque of 185Nm (at 1,600 to 2,000rpm) and a maximum power of 42kW, but required an installation space of 0.25m3.
And it said the new model did not need any exhaust aftertreatment, reaching the Stage IIIA and EPA Tier 4 Interim exhaust standards for 19kW to 37kW engines. To comply with Stage IIIB, the company said a combination of external EGR and diesel oxidation catalyst (DOC) were used.
Another company which is gearing up for Stage V is Yanmar. The company has recently released three new turbocharged and aftercooled engines.
The trio join the company's existing TNV family of common rail engines which are Tier 4 final, Stage IIIB and FOEN (Switzerland) certified. These are the engines that Yanmar said it would offer for Stage V regulations from 2019.
Yanmar, meanwhile, said its engines had already found favour with construction equipment manufacturers, especially for excavator and wheeled loader applications because of their lower fuel consumption, higher power density and a DPF which requires little maintenance.
The new 1.6, 2.1 and 3.1 litre engines feature Bosch and Denso common rail direct fuel injection systems, full authority electronics and offer rated powers ranging from 33.3 to 88.4kW.
Volvo Penta said it had continued to introduce new products that optimised machine performance for customers, while at the same time offering lower fuel consumption and reduced emissions.
It said it was attracting a growing following of OEMs in the construction and mining industries who are drawn to the performance and support of Volvo Penta products and services.
Applications that now use Volvo Penta engines, it claimed, included heavy-duty underground trucks, crushing and screening machines, wood-chippers, drills, trenchers and stringers, and high-pressure pumps.
The company has recently launched a range of EPA Tier 4 Final/Stage IV compliant PowerPac industrial open power units. As complete plug-and-play engine packages, they are said to reduce installation time for international industrial OEM customers.
The PowerPac systems promise a complete set of pre-installed components, including all Tier 4F/Stage IV aftertreatment modules, an engine cooling system, air and fuel filters, and mounting brackets. As a compact package, said Volvo Penta, they can be easily integrated into the OEM machines with no custom engineering, significantly decreasing the time of installation and alleviating production complexities.
The open power units use Volvo Penta's SCR technology, which complies with all Tier 4F/Stage IV emission limits without using a separate DPF or DOC, it said.
Subaru Industrial Power Products has added 2:1 and 6:1 gear reduction technology to its line of overhead cam engines, which it claimed was an industry first.
Subaru added the gear reduction to meet growing customer demands for Subaru power in a broadening range of applications, allowing rental centres and contractors to standardise with Subaru and have a single point of contact for parts and service.
David Frank, vice president of sales and marketing, said, "Customers are asking for Subaru more and more, because our engines offer the most technologically advanced design, the lowest total cost of ownership and are backed by the industry's best warranty.
"Gear reduction allows us to answer those demands and to become the primary engine supplier across the board for small engine powered applications."
Subaru claimed to be the first manufacturer to use high performance chain-driven overhead cam technology in the industrial air-cooled market. It said OHC technology benefited users with more power, easier starting and quieter operation than same-class competitive engines.
Subaru's EX series engines feature high performance chain-driven overhead cam technology and include four models with power ranges from 3.2kW to 10.4kW.
The engines are said to offer more power, easier starting and quieter operation than same-class competitive engines. In addition, the EX series is covered by Subaru's five-year limited warranty.
Dynaset has said that it is the world's first manufacturer to provide a hydraulic PTO (power takeoff) with a bolt-on belt drive for transverse mounted engines.
Dynaset released a HPTO Hydraulic power take-off this year. The new HPTO takes power out from a crankshaft to a hydraulic pump with the bolt-on belt drive. The company said the patented structure of the bolt-on belt drive did not cause any traction to a vehicle's crankshaft providing safe usage and longer lifetime for an engine. The company has provided PTO solutions for longitude mounted engines for decades.
The compact structure and the bolt-on assembly are said to reduce installation workload significantly, and save time compared to traditional PTO solutions. When engine compartment allows, the HPTO can be fitted on any vehicle with a transverse mounted engine.
The output power of the HPTO is 30kW while pressure is 210 bar and hydraulic flow 85 litres/m.