Engines: Powerful service
By Joe Malone18 April 2018
Specialist knowledge is required when maintaining an engine, meaning the role of engine manufacturers goes beyond building and selling a product. For rental companies, it is essential that engines in their fleet are maintained properly, to ensure the longest possible life.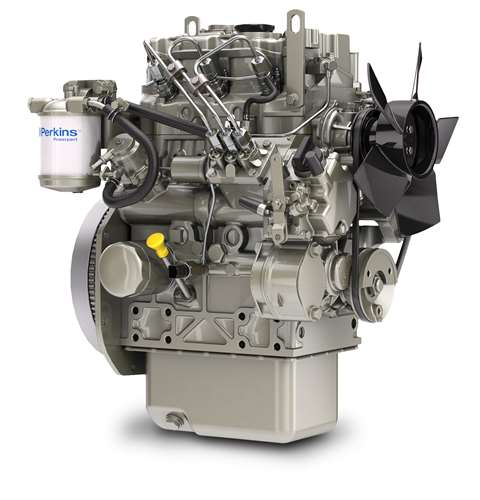 Key engine manufacturers around the world understand the service they must provide, and with the new EU Stage V regulations coming into force in Europe next year, their service to rental companies will only become more important in that region.
One manufacturer which has ensured its relationship with rental companies is improving all the time is UK-based Perkins. The company created a new role some four months ago, in the shape of global rental manager, which was handed to a man with plenty of experience in the global equipment rental sector, Andy Zuckerman.
The main purpose behind bringing Zuckerman in in such capacity is a simple one – to be the preferred supplier to rental companies, by maximising uptime. Zuckerman was behind the launch of the Cat Rental Store during his time with the Caterpillar – which owns Perkins – and has partly based the new Perkins rental model on the Cat Rental Store.
"We had put together the North American Strategy to a certain point. The Cat Rental Store is a portion of the strategy. The OEMs out there that we are winning over are a portion of the strategy, and rental companies – the regional and the nationals – are a portion of the strategy," he said.
"It's really executing a number of things. One, is the Perkins rental support programme. We have a loyalty programme out there. We have products that differentiate ourselves in the market, much like we have the 1.1 litre engine that has 1,000-hour intervals, which lowers the maintenance and repair costs," added Zuckerman. The idea behind the loyalty programme, says Zuckerman, is for each engine that is bought, the customer accrues points towards tooling, training and other benefits that Perkins offer. He says that Perkins wants rental companies to provide the best possible customer experience and, to do so, Perkins must provide the same.
Education on the road
The company has recently invested in a customer trailer which will be driven round the US and taken to rental companies' depots. This is one way that Perkins aims to help educate rental companies.
In terms products, Perkins has recently launched its 403J-11, 3-cylinder engine, which adheres to both US EPA Tier 4 Final and EU Stage V emissions regulations. The engine's capacity is 1.1 litre, boasts a 1,000-hour service intervals and is suited to lighting towers, says the company.
As previously explained, the most up-to-date standards in the US are Tier 4 Final regulations, and Caterpillar believes it is ahead of the game in its offerings compared to its competition.
Indeed, Tier 4 Final requires an aftertreatment system to reduce emissions to compliance levels for all engines. Rental applications are commonly used in low-load situations and there are opposing strategies for combining a diesel particulate filter (DPF) with a sophisticated regeneration process to meet these demands.
A DPF is a filtration system designed to reduce particulate matter (PM), including soot from the exhaust of a diesel engine. A series of alternately blocked channels forces the exhaust gas to flow through the channel walls where the particulates are physically captured in the filter. Caterpillar says it uses a proprietary active regeneration technology in its engines powering generators to maximize reliability and durability of the engine, while its competition adds a costly automatic load bank to the generator sets. It says this brings an increased capital cost for the load bank which, in turn, raises the operating costs because the artificial load requires more fuel to be burned to maintain proper performance.
For instance, if a machine needs to be operated at 50% load to provide the heat to enable regeneration but the customer connected load is only 10%, the customer is unnecessarily burning additional fuel to maintain the extra 40% load, says Cat.
Cat's technology is called the Cat Regeneration System (CRS), which periodically introduces a small amount of fuel into the DPF to burn off soot. By handling the regeneration processes internally with intelligent measurement of DPF soot level and on package thermal management, the high-speed system works without any interaction from the operator.
Cat says this allows all of its XQ rental generator sets fitted with DPF systems the flexibility to be used in any application and any environment. It reduces fuel consumption with a low cost and low maintenance solution.
Elsewhere, Kubota has extended its Super Mini Series engine range with the introduction of an enhanced Z482 engine, developed specifically for use in small power generation and lighting tower applications.
The engine can deliver outputs of 3.4kW at 1,500rpm continually, says Kuobta.
Special systems
Key to the performance of the Z482 engine, according to the company, is the use of its NTVCS (New Three Vortex Combustion System) Combustion System. Located in a specially designed cylinder head with a fan shaped concave on the piston, the system produces the ideal mixture of air and fuel within the spherical mixture chamber, resulting in better flow of air and fuel mix, a smooth ejection of exhaust gas, and offers a highly efficient fuel combustion.
This is said to not only improve the power output, but also reduce the engine's fuel consumption. In addition, noise levels remain low due to its increased rigidity of the crank and gear cases.
Daniel Grant, Kubota's manager – Marketing BU Engine Europe, said, "With engines being at the heart of the performance of machinery, it's vitally important that we constantly strive to bring to market solutions that enhance operation whilst reducing operating costs to satisfy the needs of our customers. The new Kubota Z482 engine offers not only high operational levels, but also reduced fuel and oil consumption, ensuring this engine lowers the cost of ownership for end users in the construction and rental industries."
German manufacturer Hatz has a new 3-cyclinder engine that is EU Stage V compliant. Named the 3H50T, the liquid-cooled model is a 1.5 litre engine without DPF installation, which gives it its compact build for work in small spaces.
It is available in two versions – the Fan-to-Flywheel version and the Open Power Unit (OPU) variant. The latter is a plug-and-play solution that is said to be the ideal choice for manufacturers of products such as AWPs, drilling machines and stationary applications such as pumps and alternators.
The model is the latest product in Hatz's H series, which currently boasts seven engines and began in 2014.
With EU Stage V approaching, there has never been a greater importance on relationships between rental companies and manufacturers.
Cummins sells to United
Engine manufacturer Cummins has sold its US power generation rental business to United Rentals.
The acquisition includes Cummins' mobile rental generator fleet, which ranges from 150KW to 2MW in output.
United said that to maintain customer and fleet continuity, a small number of Cummins employees in the US and Canada had joined its company.
United will begin to serve former Cummins rental customers, making its newly acquired rental equipment available immediately.
Paul McDonnell, United Rentals senior vice president – sales and specialty operations, said, "We're continuing to realise strong demand for power solutions across North America.
"This strategic expansion of our fleet ensures greater availability and a larger customer service organisation. I want to personally welcome our new employees and customers to United Rentals, and I also want to thank Cummins for working closely with our team to accomplish a seamless transition."
Tony Satterthwaite, Cummins distribution business president, said, "We believe this move will benefit our customers and both companies. Customers will have access to United Rentals' extensive rental fleet and Cummins will place a greater degree of focus on delivering the highest quality products and support to our customer base."
Landmark for JCB
JCB has recently celebrated the production of its 500,000th engine – 14 years after its first.
The company's 4-cyclinder diesel engines first begin rolling off the link at JCB Power Systems in Derbyshire, when it employed 64 people and in its first year of production manufactured just 10,000.
Last year proved to be a turning point for JCB Power Systems, when it invested £10 million (€11.40 million) in a new factory, based in Foston, close to its headquarters. The new factory has created an extra 30 jobs, and the company now produces cylinder heads, engine blocks and bedplates.
Production has also started this year of a brand-new fuel-efficient 3 litre JCB engine following the culmination of a £31 million (€35.33 million) investment programme which included support of £4.5 million (€5.13 million) from the UK government's Regional Growth Fund. It is the third engine line to be launched by JCB since production first started and joins the 4.4, 4.8 and 7.2 litre models.