Epiroc hammers Portuguese quarry
By Leila Steed11 July 2019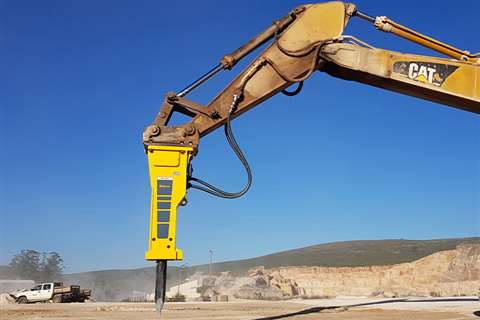 Epiroc's new MB 1650 hydraulic hammer is being used by extraction and crushing company Sicobrita, in a limestone quarry in Portugal.
The Portuguese company, which has operated the quarry near Pombal for over 30 years, had previously been using the MB 1700 hammer model.
According to the manufacturer, Sicobrita decided to switch to the new model because of the reliability and productivity of its predecessor.
At 1,650 kg (3,637 lb), the MB 1650 hydraulic hammer is lighter and more compact than the MB 1700. Suitable for carriers from 19 to 32 t, it features Epiroc's ContiLube II automatic lubrication system and the DustProtector II system.
A StartSelect valve also allows the operator to adapt the breaker's launch behaviour to operating conditions and the hydraulic breaker's EnergyRecovery feature uses the recoil force of the piston to increase performance and reduce vibration.
Armando Reis Vieira, managing director of Sicobrita, said: "The hydraulic hammer is used for critical and demanding tasks, so it must provide responsiveness and production capacity, to ensure that the work involved is not compromised. For us, optimising work equipment is the basis for customer satisfaction."