Epiroc helps demolish wastewater plant
By Leila Steed21 January 2020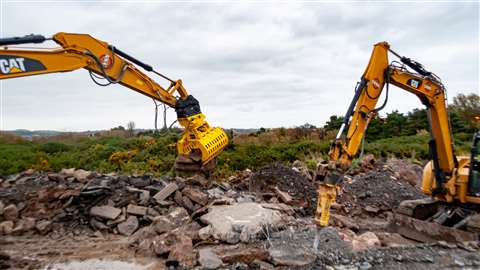 Attachments from manufacturer Epiroc were provided for the demolition of a wastewater treatment plant the United Kingdom (UK).
IJ Lynn & Sons, a drainage and earthworks contractor in Northern Ireland, used Epiroc's MG 1500 multi grapple and MB 1650 breaker for the works, which included the breaking down of water tanks.
Ivan Lynn of IJ Lynn & Sons, said: "We've been using the new breaker and grapple to demolish a wastewater treatment plant and then remove the waste from the site.
"I've been particularly impressed with the MG 1500 R – the rotation unit on the grab makes it so much faster and more flexible than our old grab."
The MG 1500, which was supplied with the MG 1650 by dealer WAC McCandless (Engineers) Ltd, was also used during the building's dismantling to sort hardcore from other materials.
According to Epiroc, IJ Lynn's decision to use the MG 1500 and MB 1650 on the project was based on the company's previous experience with the brand's Solid Body breakers. The contractor acquired the SB 152 model in 2017.