Equipment Focus: Hydraulic Breakers
By Becca Wilkins12 May 2008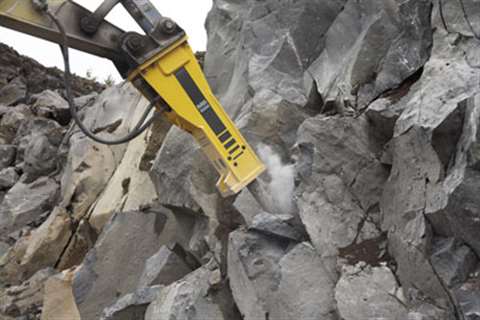 Hydraulic breakers are getting bigger and more powerful and are used in a range of different applications across the globe.Manufacturers of the biggest breakers say that as the tools increase in size, so too must their productivity. Becca Wilkins reports.
Bigger and heavier hydraulic breakers with more power and increased productivity are in high demand across the globe, according to some manufacturers. Others, however, are questioning whether size really matters in new product development.
Speaking to iC about Atlas Copco's 10 tonne HB 10000 at ConExpo this year, marketing manager for the company's hydraulic attachments, Torsten Ahr said, "The trend is there (for bigger breakers) so we need to get bigger, and the 10000 is just one of the next steps but not the end of the development - we are already working on the next (bigger) model."
However, he added, Atlas Copco wants to concentrate on less weight and more power, "because it doesn't make any sense to make a heavier breaker that keeps the same productivity - that means a higher fuel consumption for the excavator. If the ratio between the operating weight and productivity performance is not increasing then it doesn't make sense to spend money on new innovations," he said.
Record breakers
Meanwhile, Indeco has unveiled the world's heaviest breaker - the HP 18000, weighing 11 tonnes it can handle tools with a diameter of up to 250 mm.
A spokesman for Indeco said, "Despite its size, the HP 18000 can also be rapid and versatile, achieving a striking rate of up to 460 blows per minute. That sort of speed is quite incredible when we think how much rock is moved. Compared with other breakers, it has greater hydraulic efficiency, i.e. a better ratio between input and output power, and this leads to greater energy yield."
Meanwhile, according to R S Raghavan, market offering manager for Sandvik, the size of a breaker is not necessarily the most important issue for the customer.
He said, "It is not very difficult for a manufacturer to make the heaviest or the biggest or the tallest hammer but is it what the market needs? Is it what the customer is looking for or is there a choice for the customer?"
He added the company would, however, be driven by market requirement. "If the market needs a bigger and heavier hammer we will definitely be there," he said.
According to Mr Raghavan, Sandvik is now guided by its main principle of providing solutions. "So, is it really a matter of size for the customer? Or is it something else? We don't want to rush into the market saying, "Yes, we have the biggest hammer." No, we would rather be known for saying that we have the right hammer for the customer," he said.
Charles Howard, commercial marketing manager for DII Attachments said hydraulic breakers are getting bigger and he attributed this trend to the fact that hydraulic excavators are also increasing in size. Other trends in the market are hydraulic breakers featuring variable speed and sound suppression systems, he added.
Emerging markets
Mr Raghavan told iC western markets comprising mainly developed countries like Europe and North America, contribute around 70% of Sandvik's breaker business, with the remaining 30% coming from the rest of the world - i.e. developing countries. However, he said this ratio would alter dramatically in the coming years with the company focusing more on the emerging markets, including Asia, the Middle East, China and India - where business volumes are expected to grow.
"The fact that we are now part of a big conglomerate like Sandvik gives us a lot of flexibility to adapt to changing market needs very quickly - that's one of our main strengths today." Mr Raghavan said. However, he added although emerging markets will be a bigger focus for the company, the developed markets will not be ignored. "They are our bread and butter," he said.
Meanwhile, the Latin American market presents an area of potential growth for Atlas Copco according to Mr Ahr. He said although this market is developing slowly, last year the country saw a +50% increase in general construction equipment and he added the market for hydraulic breakers tends to follow this trend.
He said, "We manufacture attachments for earthmoving equipment - if those machines are not growing then we cannot grow. So, if they grow, we grow. "
Other emerging markets for Atlas Copco include the Middle East, India and China.
"For years the luxury lifestyle was concentrated only in Western Europe and North America. Now people in Asia, especially China, see how we live here and they want to have the same standards," Mr Ahr said.
Michele Vitulano, marketing manager for Indeco said, "The Middle East is coming back strongly even if there is a currency exchange rate problem that doesn't help us to be price competitive on the market. In the past few years Australia has also seen considerable growth." Meanwhile, he said in Europe the UK has grown and Russia, Poland, Ukraine, Romania and Bulgaria are all booming.
Mr Howard said, "There is a segmentation going on in the market place - there are a number of different regions that are using breakers and there are regional references - one set in the less developed countries and another in Europe and the US."
He added emerging markets like China and India are much more cost sensitive.
"These countries are probably not so much a reference for high quality and high durability - they are looking for a low price point - whereas we have a very high quality and a premium product," Mr Howard said.
Environmental concerns
Reducing the impact hydraulic breakers have on the environment has been a priority for manufacturers and over the years this task has been made easier by advances in technology.
Mr Ahr said, "In this respect we have done a lot in the past. For example all our breakers are silenced."
He added the real challenge is the change in European noise legislation, which forces manufacturers of hydraulic breakers to display a guaranteed sound power level, which must not exceed a certain limit line. In the past manufacturers had to display the guaranteed sound power levels but independently of any limit, he added.
Manufacturers of hydraulic breakers have been working together to find the best way to overcome the problem with the suggested limit, Mr Ahr added.
According to Sandvik the environment is becoming more important. "We already have options like the water jet, which suppresses dust and all of our hammers are sound suppressed," Mr Raghavan said.
Future developments
Sandvik's business is now more customer rather than product orientated and future initiatives will be focused on "providing solutions" to its customers, according to Mr Raghavan. The design of new products, such as Sandvik's new BR2155 hammer, will be more focused on providing flexibility for the end user. The modular design of the BR2155 allows customers to choose from a range of 'Retrofit' options, enabling them to match their chosen application, material and budget.
Mr Raghavan said, "It's like one hammer will be used for many applications - our future models will be more in line with this thinking." He added minor modifications can be made to the hammer in the field making the product user-friendly.
The servicing of products is also important to the future of the sector Mr Raghavan said. "In our line of equipment, which destroys rock, it is quite natural that there will be a lot of destructive forces within the product. So after sales services, support and back-up is going to be the main driving force and the success for any product for anybody," he added. The time that is required for a customer to be satisfied in terms of after sales support is the shortest it ever has been, he said, "and we are still working on reducing this time."
Mr Ahr said Atlas Copco now places more focus on after-market, adding the company's ProCare concept, which comes as part of the breaker package, takes the responsibility for periodic breaker maintenance out of the end user's hands.
"We say we want to take care of the breaker and safe guard operation costs," Mr Ahr added.
New and improved products from Indeco are based on market needs, according to Mr Vitulano."We aren't a big corporation like our major competitors, but then we are totally dedicated to what the customers and dealers want. Of course due to our product being an attachment we follow the machine/product evolution."
Speaking about the company's future business strategy, he added, "We deem that we can enter a new market when we are ready to sell and service those markets in the best way possible." Next year the company is determined to make a stronger presence in the existing markets. Mr Vitulano forecast a stable global market for 2008 and 2009 with some areas increasing and others decreasing their share.
Outlook
Future demand for hydraulic breakers will remain strong in the traditional western markets despite the current weakness in the US, but manufacturers agree the emerging markets will have a stronger role to play in the future of this sector. Product development is still focused on producing bigger breakers, according to some manufacturers, while others say productivity, irrespective of the breaker's size, will reign supreme.