Equipment rental in Brazil worth $1.8 billion
More than 45,000 pieces of earthmoving equipment were sold in Brazil last year, according to Off-Highway Research's new study, The Construction Equipment Industry in Brazil.
Of these, some 27%, with an estimated value of US$1.8 billion were bought by rental companies.
The equipment market reached a record high in 2022 as the Brazilian economy rebounded strongly form the pandemic thanks to high commodity prices and renewed government infrastructure investment.
However, the 2010s had been a torrid time for the industry, with the fallout form the Petrobras bribery scandal and the associated political instability paralysing the construction industry.
According to Off-Highway Research, this period saw an increased proportion of equipment sales go to the rental segment as contractors were reluctant to invest.
"The rise of rental in the construction industry can be attributed to factors such as increased economic uncertainty and the impact of the pandemic, but also the natural maturity of the sector," said the report.
The rental industry in Brazil tends towards mid-sized construction equipment, with almost half the machines it bought last year being crawler excavators and wheeled loaders. Motor graders are also an important product in Brazil and a mainstay of earthmoving equipment rental fleets.
In the smaller size classes under 10 tonnes, the backhoe loader is key. There is also a market in Brazil for some 1,600 skid-steer loaders per year and 2,000 mini excavators, around half of which are purchased by the rental industry.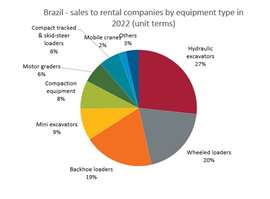 However, backhoe loader sales totalled more than 10,000 machines last year, a little under a quarter of which were bought by rental companies.
Backhoe loaders are still predominantly bought by traditional customers such as contractors, agricultural & forestry operations, local governments and the extraction industries.
Off-Highway Research managing director, Chris Sleight said, "Our forecast for the Brazilian market is for equipment sales to be maintained at a high level for the next few years. Hopefully those conditions will give the rental industry the opportunity to grow and mature further.
"I can see opportunities for growth with hitherto relatively niche products such as telescopic handlers and mini excavators if the market conditions remain good."
Off-Highway Research offers a range of data and reports on the construction equipment industry in South America, including its new 220+ page report on Brazil.
For more information visit www.offhighwayresearch.com or e-mail mail@offhighwayresearch.com