Equipment sales to remain high
By Thomas Allen17 January 2019
Global sales of construction equipment are expected to stabilise in 2019, following two years of strong growth, according to specialist forecasting and market research company Off-Highway Research (OHR).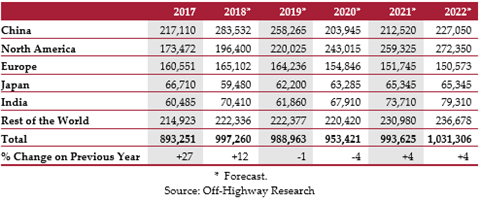 Worldwide equipment demand grew by 27% in 2017, following a period of decline that had run from 2012 to 2016. Further double-digit growth in 2018 took the global market to 1 million unit sales with a retail value of almost US$100 billion (€87.7 billion).
Demand of this magnitude is on a par with previous recent highs in the market seen in 2011 and 2007. While the volume achieved in 2018 is expected to represent the peak of the current cycle, equipment sales in 2019 are forecast to remain close to last year's levels.
Chris Sleight, Managing Director of Off-Highway Research said, "After two years of solid and largely synchronised growth, the picture for the world's major equipment markets is now looking more mixed.
"There will be moderate declines in a number of key markets in 2019, but the falls are not expected to be steep and will be partially offset by continued growth elsewhere. As a result, sales will remain above 900,000 units per year over the medium term, with a value in the region of US$100 billion (€87.7 billion)."