Erith apprentices take next step
Erith Contractors apprenticeship graduates Afeez Bashiru and Harry Tetsill are currently involved with the regeneration scheme at the Aylesbury Estate in London. For the past two years, they have both been working towards their National Vocational Qualification (NVQ) Level 2, gaining valuable experience and knowledge from the company's site personnel.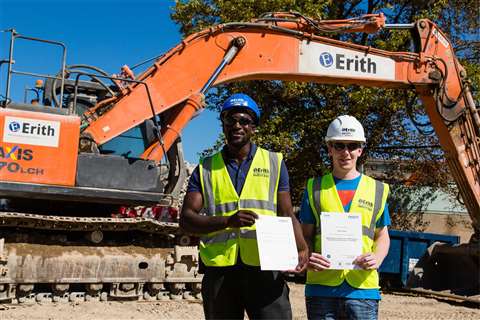 Afeez and Harry's hard work paid off last month when they both received their NVQ. Their project manager, members of Erith's senior management and representatives of Notting Hill Genesis, the company's client at Aylesbury Estate, surprised them on site with personalised cakes and a well-deserved tea-break during the United Kingdom's August heatwave conditions.
Steve Bennett, project manager at the Aylesbury Estate, commented: "Both Afeez and Harry have proven themselves to be extremely eager and hard-working individuals.
"Their hunger and ambition to progress in this industry has been evident from the day they started on site, and it has been a pleasure seeing them progress and having them in my team. I am proud to see them achieve their qualification and look forward to continuing to work with them going forward."