ESTA to publish SPMT guide in April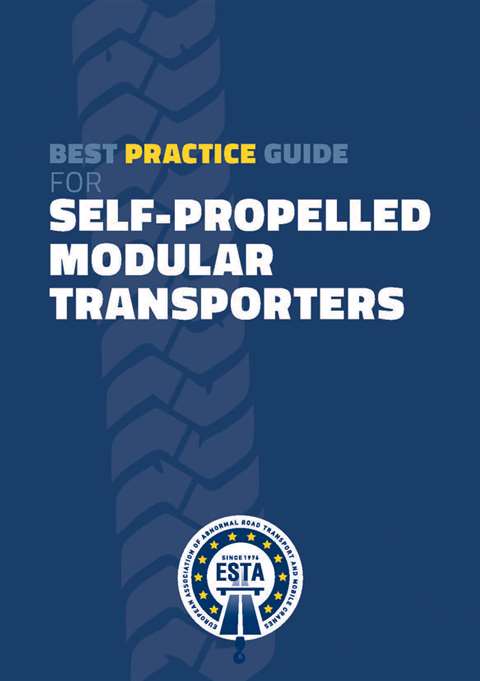 European specialized transport and crane association ESTA has set a publication date for its best practice guide to the use of self propelled modular transporter (SPMT). It will be published on 14 April during the week-long Bauma exhibition in Germany where the association will hold its Spring meeting.
The new guidelines will help address the problem of modular transporters and their loads tipping over, which has happened on some occasions even though operating rules and stability calculations have been precisely followed, ESTA said.
Clients of the equipment-owning companies had asked what the industry was going to do about the problem and in response, ESTA created a working group that included representatives from several of our leading members, plus manufacturers and clients.
Work first started on the 10,000 word report back in 2009. "This has been a very challenging undertaking," said David Collett, ESTA president.
"The intention of this document is to correlate the chain of responsibility for all stakeholders involved with SPMT operations, recommend best practice and serve as a 'base line starting point' for the use of SPMTs from which more complex transport engineering jobs can be developed."
Collett added, "However, it should be noted that the document has been produced, and should be read, with the view that such a complex subject as the 'use of SPMTs', means it cannot be prescriptive, or offer engineering calculations, due to the many complex possibilities for this unique transport method.
"Having said that, ESTA is proud of our work on this guide and it will be offered to the market for free distribution and use and it is our hope that it will be adopted as a 'world standard'."
The working group contained representatives from Collett, Fagioli, Goldhofer, Kamag, Mammoet, RDW (the Dutch Department of Road Transport), Sarens, Scheuerle, Shell, Wagenborg Nedlift and The Works International.
The guide covers a wide range of topics, including the following:
- lines of communication
- equipment capacity, maintenance and design
- design of the load
- load documentation and information
- operator and engineer training
- engineering a transport
- work environment.
Collett previously emphasised the importance ESTA attached to improving safety in SPMT operations. Speaking last year, he said, "This is a very important issue. When an accident happens the fall-out can be monstrous.
"Of course, there is the issue of personal safety, and that is terrible. But on top of that, a whole project can be threatened and the consequential losses can be huge."