ESTA Users' Night and Awards
By Laura Hatton29 December 2014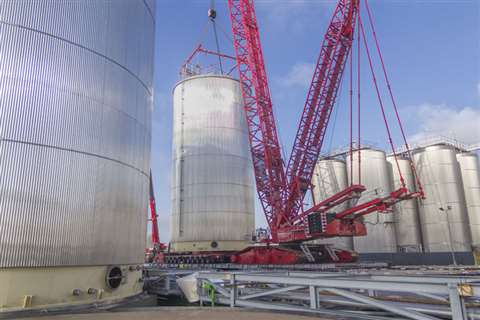 The deadline for the 2015 ESTA Users' Night and Awards is fast approaching with the organisers encouraging more small and medium-sized heavy transport and mobile crane companies to join in what has become a hugely popular occasion.
ESTA, the European Association of Abnormal Road Transport and Mobile Cranes, has seen the event develop steadily in recent years.
Today it regularly attracts top quality entries from many companies and projects - but ESTA wants to ensure that as far as possible the event reflects the whole industry and is calling companies of all sizes to celebrate their success by entering and coming along.
The next Users' Night and Awards is on Thursday 23 April in Paris, during the Intermat exhibition. The deadline for entries is 17 January.
It is a genuinely international event, with strong support from across Europe. Winners in 2014 included Fagioli from Italy; Mammoet, Sarens and Wagenborg Nedlift from the Netherlands; Liebherr from Germany; Nordic Crane Stangeland from Norway; Michielsens from Belgium; and Collett and ALE from the UK.
Entries are assessed by a jury of leading independent industry experts according to a strict appraisal system. Before the dinner, a list of finalists is announced with the overall winners revealed on the night.
ESTA director Søren Jansen said, "These awards are about the very best in the industry, as well as the biggest, and there are very many fantastic smaller projects. We want the whole industry to celebrate their successes together, from the biggest firm to the smallest."
The evening regularly attracts around 500 guests from around the world. The awards dinner is jointly run by ESTA and International Cranes and Specialized Transport magazine.
The full list of categories is as follows:
* Transport job of the Year, trailer and load under 120 tonnes gross vehicle weight
* Transport job of the year, trailer and load over 120 tonnes GVW
* Crane Job of the Year, telescopic cranes, lifting capacity under 120 tonnes
* Crane Job of the Year, telescopic cranes, lifting capacity over 120 tonnes
* Crane Job of the Year (lattice boom cranes)
* Safety Award
* Innovation Award for End Users
* Innovation Award for Manufacturers
* Combined Techniques Award
* SPMT Job of the Year.
There is also the special Gino Koster Award for the personality of the year.
ESTA is the leading European representative of abnormal road transport and mobile crane rental companies and has been working hard to raise its profile and deliver real cross-border improvements.
Its membership covers eighteen countries and, at the time of writing, the latest to join were the Polish Heavy Transport Association (OSPTN) and McNally Crane Hire of Ireland.
In addition to improving safety, ESTA's primary objective is the Europe-wide harmonisation of rules and regulations for crane companies and hauliers, to make sure that regulators and politicians understand the industry's importance to international business, and to help the secure the industry's future.
For further information and entry forms see: www.esta-eu.org or www.khl.com/events