Euro 6 vans from Versalift
By Euan Youdale13 June 2016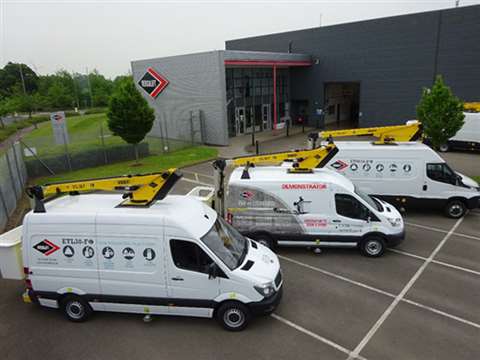 Versalift is introducing innovations to its range of Eurotel ETL and ETM van mounted platforms to coincide with the launch of Euro 6 vehicles in September 2016.
Branded as new E6 models the platforms provide improvements to safety and performance and will appear at the UK-based Vertikal Days exhibition taking place this week.
The new ETL and ETM E6 platforms are now manufactured from high strength tensile steel and provide significant improvements to available payload and working envelope performance, said the manufacturer, with the introduction of load moment control (LMC).
Versalift will also be showcasing the new 14m working height, ETL38-F, installed on a 3.5 tonne GVW, MWB Mercedes Sprinter. This new boom is the first 14m Versalift built onto a 3.5 tonne GVW panel van. The ETM38-F can also be mounted onto the 3.5 tonne Iveco Daily35S and the VW Crafter.
Versalift sales director, Andy Bray, said, "We have listened to our customers and the result is a significantly improved platform. Most significant developments are the relocation of the hydraulic valves to within the load area, an improved working envelope, a payload increase of over 50%, introduction of a 120° fly-boom and increased bucket capacity. With over 4,700 Versalift platforms in the UK market it is important that these improvements build upon our reputation for strong OEM backed after sales support".
Vertikal Days also sees the launch of Versalift UK's out of hours Response service, improving 24/7 support to our many customers along with the introduction of four R&M packages offering our customers a comprehensive range of service cover.