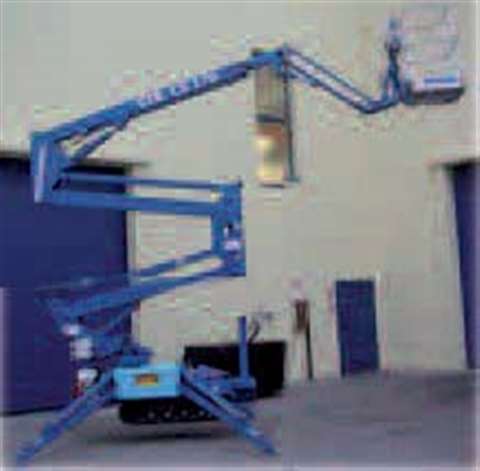 If there has recently been an upsurge in interest in the North American market by European access manufacturers – witness the recent ARA Rental Show – you are still only seeing a drop in the ocean in terms of the equipment actually available in Europe. That is what makes a visit to Bauma such a potentially rewarding experience: Where else do you get the chance to see for the first time literally dozens and dozens of suppliers of all types of access equipment, not to mention the many European handler suppliers.
Of course, much of the equipment you see will not be ANSI or CSA certified, but if you are willing to put in a bit of work, you can find some great equipment, even if current dollar–euro currency rates mean that prices could be keener.
Our sister magazine, Access International, has produced a comprehensive guide to the access equipment on show, describing the equipment on the stands of some 80 manufacturers and dealers. Many of these are companies well known to ALH readers – including JLG, Genie, Snorkel and Skyjack – but many others will be new names.
What should you look out for? One key current product trend in Europe is compact Spider–type machines, smaller versions of the machines sold by Reachmaster and Teupen USA in North America. At Bauma you will see dozens of this type of equipment, many from Italian companies such as Blue Lift, Oil & Steel, Hinowa, CTE, Lionlift, Socage and more. Established players in this market include Teupen and Worldlift Industries, both exhibiting at the show.
Another sub–sector of the European market is lightweight self–propelled models, often converted trailer–mounted platforms with four hydraulic outriggers that need to be deployed before the lift can be used. Bil–Jax recently entered this market in the US, and in doing so is mirroring what several European suppliers have been doing for several years, including Nostolift (with its XS machines), Niftylift and Dino Lift. All these companies, again, will be in Munich.
Bauma will also see several companies exhibit alternatives to the big name North American scissor and self–propelled boom manufacturers. Italian companies Iteco and Airo Tigieffe both have wide ranges of machines like this; Niftylift is a supplier of booms and trailer mounted platforms; while Haulotte is, of course, a major global player and with a product range that encompasses self–propelled, truck mounted and vertical mast machines. UpRight Powered Access, after its big splash at the Rental Show, promises some new machines at Bauma (as well as an update on progress on its new US manufacturing facility).
Look out also for niche access products on show. Leguan Lifts in Finland makes a small skidsteer type platform and also this year is entering the scissor market, while 'trailerized' ladder lifts – commonly used to transport furniture to and from the upper stories of housing – are another popular European product (see Albert Böcker and Teupen, for example).
Manitou will have its interesting new 150TP platform, a big deck telescopic boom that has a single–lever control to move the platform horizontally.
Europe is also home to an extremely lively truck mounted sector, and one that is starting to create better links to North America. CTE, for example, has recently been cooperating with Terex Utilities, and Bronto Skylift is already well established in the US.
At Bauma this year, the truck mounted highlights will include the massive new 330 foot machine from Bronto – now the world's biggest – and a new 210 foot model from Wumag (which is also building its own +330 foot unit). Look out, also, for a wide range of machines from Germany's Anton Ruthmann, and the many Italian manufacturers, a large number of which will have 60 foot models mounted on 7,500 pound carriers for self–drive rentals. This is another key growth area in European access.
Hoists and mast climbers, however, is another area where the Europeans excel. In addition to well–known names like Alimak Hek, Scanclimber/Scaninter, Safi and Maber, Bauma will play host to at least a dozen other manufacturers. These will include innovative Spanish company ASClimber, Czech Republic company Pega (which has recently appointed Beta Max as its US agent) and others like Steinweg Bocker, Stros, Goian, Camac, Alba, Onik and recently formed Netherlands company Raxtar.
Alimak Hek, for one, is promising a raft of new products, including a new high speed, highcapacity hoist, and an entirely new modular mast climbing system, details of which have yet to be released.
The International Powered Access Federation (IPAF), meanwhile, is again creating a big show with a 16,000 square feet demonstration area in which to illustrate the benefits of powered access to the estimated 400,000 Bauma visitors. It will also be pushing its buckle–up ('Click–It') harness campaign. IPAF may still be establishing itself in North America through its AWPT subsidiary, but its safety and training message carries considerable weight in Europe and its training program is well established.
North American visitors may also be interested in what's happening telehandler–wise in Europe. The big news here is the long–anticipated move into handlers by German equipment giant Liebherr. It will unveil a four–model range of telescopic handlers: TL 435–10, 435–13, 445–10 and 442–13 machines.
Also big news will be Haulotte's first own–design HTL (Haulotte Top Lift) telehandlers, which will be 6,600 pound/46 feet, and 8,800 pound/56 feet models. Haulotte intends to sell these in North America alongside its aerial products. Other new handlers will be shown by Neuson's KramerAllrad subsidiary, as well as Manitou, Dieci, Faresin, Genie, Bobcat, Merlo, New Holland and Merlo.
As we said, a full guide to the access exhibitors at Bauma is given in the March issue of Access International. You can contact ALH for a copy, or pick one up from the stand of our publisher, KHL Group (Stand 301, Hall 3B).
Finally, a word of travel advice: With more than 400,000 visitors expected, finding a hotel room in Munich during Bauma can be a nightmare and very expensive even if you succeed. See the box story on these pages for hotel contacts, but maybe your best bet is to ask your local North American manufacturer (although they probably won't thank us for saying so).