European expansion from China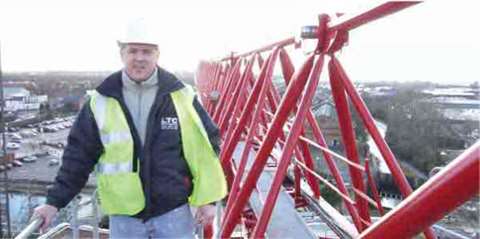 Look at the landscape of any Chinese city and tower cranes dominate the skyline. Fushunbased tower crane manufacturer, Yongmao and other home grown crane manufacturers have reaped the rewards of the rapidly expanding construction industry in their home country. Projects using Yongmao tower cranes include the new National Theatre and several venues for the 2008 Olympics in Beijing and elsewhere.
Since 2000 the company, which also has a new manufacturing plant in Beijing and is looking for a third site to meet forecast demand, has become a global brand. It has representation in Korea, Hong Kong, Malaysia, Thailand, Singapore, India, the Middle East and the United States.
Now, however, the company has its eye on the lucrative European market and, explains Sean O'Sullivan, general manager at Jin Long Europe, it is making headway in the UK, Ireland and across the continent, for example, Belgium, France, Scandinavia, and into Russia and Israel.
Adaptations are made along the way to take into account local requirements. "We have a team of European engineers who have spent many years working with Yongmao, who in turn have adopted European engineering and technology in their tailormade production process for a European line of tower cranes, specifically built for the European market," O'Sullivan says.
"From design over engineering to production, all departments are set to adopt the most stringent international standards, meeting the German DIN and French FEM standards," O'Sullivan explains. User manuals are high on the agenda too: "We also create and translate into the relevant language the most comprehensive and straightforward user manuals, professionally prepared by a highly experienced team of engineers – ensuring a safe erection every time."
A fully operational European depot and yard in Belgium is where the work is done to implement the individual market requirements. Each crane is inspected by an independent third party, O'Sullivan says, "including AIB Vincotte, Bureau Veritas, OCB, BTK, and SGS." An operations office, headed by O'Sullivan, is based north of London in the UK.
On the up
At the time of writing in Late March, Jin Long Europe had more than 30 Yongmao tower cranes on sites in Belgium alone, O'Sullivan says. In February 2007 the first Yongmao went up in Ireland. The Yongmao STT113 tower crane was erected by LTC in Dublin on 18 February, in Pim Street, behind the Guinness brewery, and was operational the following day. The smallest of the CE approved Yongmao topless tower crane fleet available in Europe, its capacity is 6 tonnes to 17 m and 1 tonne at the maximum jib length of 52.5 m. Maximum free standing height is 44.76 m.
This STT113 was ordered by main contractor Cuebec Construction. The company, O'Sullivan says, has several contracts in Ireland over the next seven years. "They required the crane urgently, came to Belgium to view it, placed an order and two weeks later it was operational on site. They were impressed by the speed of delivery and back up service, and have reserved an STT293 for a contract in the early summer."
Meanwhile, two STT293s are operating in the UK, one at Wolverton railway station, near Milton Keynes in Bedfordshire. The 12 tonne capacity crane was erected to a freestanding height under hook of 30 m with a 50 m jib, down from the 74 m maximum. In London, the first STT293.12T erected at Imperial Wharf last October has been dismantled and reassembled on the same site, with a different jib length and height, ready for the next phase of the project.
In addition, three STT293s have been ordered by Chalegrove Properties for a contract at London Wall, UK, due to start in July. The contractor plans to climb the highest to 164 m, which is also the 18 tonne model. The other two 12 tonne cranes are being climbed to 155 m and 110 m. When the cranes have finished work the first crane will assist in the dismantling of the second and third cranes.
Success for Yongmao in Belgium has led to interest from France, says O'Sullivan, where the first 12 tonne capacity STT293 was erected near Reims in March. And the company has had its first order in Scandinavia, for an 18 tonne version of the STT403, on its way to Finland. The STT403.18T lifts 18 tonnes at 16.6 m with a maximum 80 m jib. Maximum load at 80 m is 3 tonnes. The STT403.24T lifts 24 tonnes at 12.5 m with maximum jib at 80 m. Maximum load at 80 m is 2.56 tonnes.
Russia is also a growing market for Yongmao. Two flat top towers have been delivered in Moscow. The first is a 90 m hook height STT293.12T, lifting 12 tonnes to 20 m radius with a maximum jib at 74 m. Maximum load at 74 m is 2.7 tonnes and this crane has an extra large hoist drum with the 55LVF30 hoisting mechanism. The second Moscow crane is the STT5515.8T, which can lift 8 tonnes to 12.5 m radius. Maximum jib length is 55 m where capacity is 1.5 tonnes at jib-end. The company also has a number of these working in Turkey, says O'Sullivan.
In addition, Jin Long Europe has given Israeli contractor ARD exclusive territory rights for Israel. At the time of writing in late March delivery of the STT70/30 was imminent.
The next move, says OufSullivan, will be into the German market. To this end the company is opening an office in Frankfurt, which, it hopes, will be fully operational by July, offering commercial support and back up service to German clients.
Look out for the STT113 tower crane at Bauma this month, being showcased by Jin Long Europe.