European slipformer
By Chris Sleight31 March 2009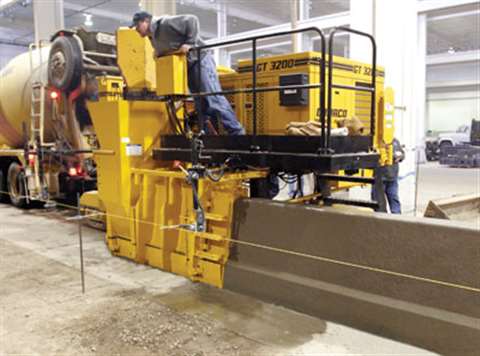 Gomaco will show its new generation GT-3200 curb and gutter slipform paver, with right and left side pour capabilities. Capable of producing slipform safety barrier up to 1 m tall, the new generation GT-3200 has been set-up specifically to slipform European step barriers.
The GT-3200 features a newly designed piston-style front leg that provides more steering torque for tighter turning capabilities and manoeuvrability. The rear legs have also been strengthened threefold so that the machine's capable of handling the 1 m tall barrier moulds.
G+ controls give greater control for paving accuracy and electronic monitoring of steering and grade. The side-mounted operator's platform features a modular design and is strategically positioned to allow the operator to view the delivery of concrete to the charging end of the conveyor and to the hopper of the barrier mould. He also has an excellent view of the finished barrier, while maintaining hands-on control of the machine.