Europlatform early bird rate ends soon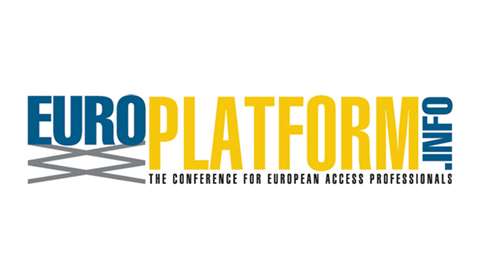 The 'early bird' booking rate for the 10th anniversary edition of the Europlatform access rental conference is available until 1 September, so book your place now.
The event takes place in Vienna, Austria, on 22 September this year and you are invited to book your place.
The conference is organised by IPAF in partnership with Access International magazine and the theme this year is New Generation Rental, with topics including online rentals, hybrid power systems, creating a safety culture, and trends in large truck mounted platforms.
Speakers and topics will include:
Trends in the design of high reach truck-mounted platforms: Bernhard Reinisch, managing director, Ruthmann Austria; Rolf Kulawik, managing director, Ruthmann; and Dr. Reinhard Hofer, Geschäftsführer, of Austrian rental company W. Reitinger review how modern truck mount design affects rental fleets.
Hybrid technology and drive systems of the future: Eline Oudenbroek, managing director, Holland Lift looks at what impact the latest technology can have on rental fleets.
Assessing the impact of online rentals: Sören W. Ladig, CEO of dynamic new start up Klickrent looks at how far online rental can go.
Reducing the cost of ownership of your fleet: Alex Schuessler, president, International Group & founder, of innovator SmartEquip looks at how you can use technology to measure the true cost of ownership.
Creating a culture of safety: Alice Henault, director, Loxam Access brings news of how this multinational group instils a culture of safety across different countries and cultures.
Preventing common MEWP-related accidents: Dietmar Geyer, Machinery Division, AUVA (Austrian body for worker insurance and occupational risk) reviews AUVA's latest practical accident prevention guidance.
Safety 2.0: connecting man and machine: Per Stjenqvist, vice president servitisation & solutions, Trackunit on how the next generation of telematics can promote safety.
Virtual reality: a tool for training of operators & technicians: Giles Councell, IPAF's director of operations and Tamlin Roberts, MD of Bolt Learning, demonstrate how your smart phone can bring Virtual Reality training to you.
Europe's rental market: pockets of growth: Murray Pollok, managing editor, International Rental News draws on two decades of experience to shine light on where Europe's rental fleets are growing.
The 'early bird' rate for booking is available until 1 September. IPAF has arranged a discounted rate for the host hotel, the Park Hyatt Hotel in the centre of the city, but there is limited availability at this special rate and delegates are advised to book early. Alternative hotels are given on the conference website.
See www.europlatform.info for details.