Europlatform focuses on new era
By Euan Youdale23 September 2016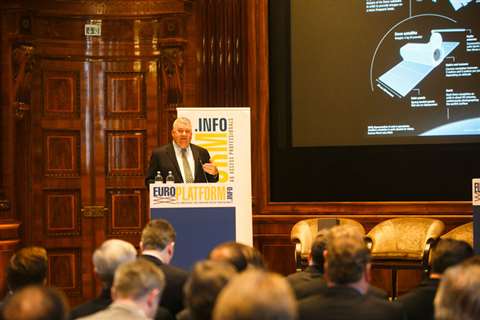 More than 120 access rental professionals attended the 10th Europlatform conference held on 22 September 2016 in Vienna, Austria.
The theme was New Generation Rental and attendees participated in a "day of exploration and seeing things in different ways", in the words of IPAF president Andy Studdert.
In his opening presentation on "Toolbox to shoebox", Andy Studdert, chairman & CEO of US-based NES Rentals, showed how rental companies can continually use technology to meet customers' needs, but also challenged them to use it effectively.
"Technology is easy, but stay focused on what it is doing to the transactional, tactical and strategic elements of your business," he said. "Introducing technology brings a natural effort to move to efficiency instead of service and content. But ask yourselves, 'Who owns the customer?'"
Repeatable processes are fundamental to the rental business, Mr Studdert noted, and companies have tools from barcodes to iPads to help manage inventory, rentals and fleet maintenance. His advice was: "Keep ownership of data as close as you can. Give this up and you give up control. Information and visibility into your pricing should never be given up. Keep control of pricing and inventory."
Asked about the impact of online portals on the rental business, Mr Studdert said: "You can choose to participate, but on your terms, not theirs. Keep the best price on your own system, otherwise you become a service provider to them."
He revealed that his company's percentage of revenue from online rentals was currently less than 5%. Most online queries are transferred to branches for direct completion with the customer: "Technology is helpful, but don't disconnect from your customers and their needs," he said.
Other excellent presentations were given by Eline Oudenbroek, managing director of Holland Lift, on how hybrid technology is driving more efficient energy use; Sören Ladig, CEO of Klickrent, on the opportunities and challenges of online rentals; and Alex Schuessler, founder of SmartEquip, on using technology to measure and manage the cost of ownership.
The afternoon session of the conference offered a futuristic look into the use of technology in training and safety. Alice Henault, director, Loxam Access brought insights of how the group instils a culture of safety across different countries and cultures.
Giles Councell, IPAF director of operations, and Tamlin Roberts, CEO of Bolt Learning, demonstrated how virtual reality (VR) can provide an effective blend of theoretical and practical training for MEWP operators.
"The VR system uses existing technologies such as headsets and smartphones to allow operators to 'do it themselves'," explained Tamlin Roberts. "It gives them the opportunity to 'play' before entering the actual environment and active participation in what they are doing. The benefit is that operators then come to the practical session with prior knowledge and more time to get on the machines."
Giles Councell said that IPAF would be releasing a demo version of VR operator training later in the year.
Taking the "man and machine" theme further, Per Stjernqvist, vice-president Servitization & Solutions, Trackunit, discussed how apps downloaded on smartphones are increasingly being used to manage equipment permissions and multiple access levels, as well as to manage operator instructions and training in the form of digital logbooks. He revealed that a global project would soon be launched where digital technologies would be used to track and manage training, usage and repair costs for earthmoving equipment.
Dietmar Geyer, from the machinery division of AUVA (Austrian body for worker insurance and occupational risk) reviewed AUVA's latest practical accident prevention guidance and challenged the industry to push for tighter safety initiatives.
Murray Pollok, managing editor, of International Rental News, drew on two decades of experience to round the event off with an analysis of where Europe's rental fleets are growing.
Presentations from the Europlatform conference will be available at www.europlatform.info
Europlatform is organised by IPAF, with Access International magazine as media partner. The date and venue for next year's conference will be announced soon at www.europlatform.info