Eurosond uses Sennebogen in Straubing
By Laura Hatton25 February 2015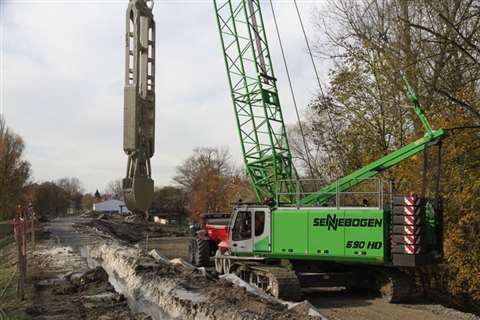 Civil and foundation enginerring company, Eurosond, a subsidiary of Berger Holding, used a Sennebogen 690 HD in Straubing, Germany.
The duty cycle crawler was used to help install a flood control on the River Danube. For the task the 690 HD was fitted with a 16.5 tonne Stein diaphragm wall grab.
The job was part of a national government and federal state €5.4 billion (US$ 6.5 billion) investment project for flood control on Germany's rivers. The project involves upgrading the dykes along the river with an inner seal. The inner seal consists of a diaphragm wall 8 to 16 metres deep in the centre of the dyke, a spokesperson said.
The 690 HD was delivered to Eurosond in 2014 by Sennebogen sales and service partner IBS. To help it cope with the heavy work, the 690 HD was fitted with a reinforced slew ring, enabling slewing speeds of up to 4 rpm. The crawler has 800 mm three-grouser base plate tracks and is powered by a 608 hp Cummins engine. The diaphragm wall grab is operated with two 25 tonne freefall winches.
Jens Kothe, Eurosond crane operator, said, "The Sennebogen 690 HD is particularly well-suited for demanding use with the diaphragm wall grab. The compact design, combined with powerful winches and high stability, makes the machine indispensable to us for dyke rehabilitation."