Eurovia wins US design-build contract
By Andy Brown07 December 2018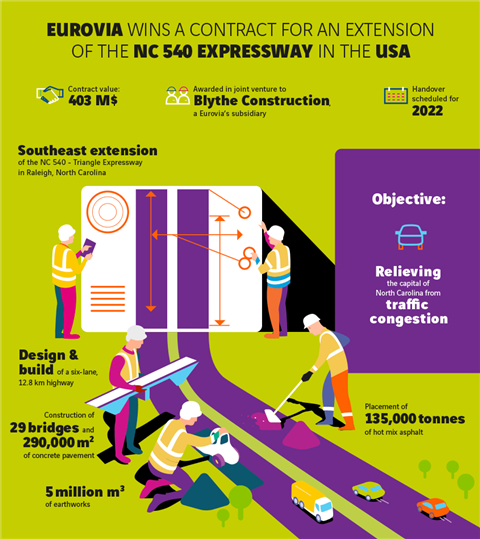 In a joint venture with Lane Construction Corporation, Eurovia's North Carolina subsidiary, Blythe Construction, has won the design-build contract for the N.C. 540 Triangle Expressway Southeast Extension in Raleigh, North Carolina, US.
The US$403 million project will extend the existing Triangle Expressway from US 401 to I-40 and is part of the larger Complete 540 project designed to improve the highway system in the greater Raleigh area.
The project, scheduled for delivery in 2022, covers design and construction of a six-lane, 12.8km highway and involves 5 million m3 of earthworks, construction of 29 bridges and 290,000m² of concrete pavement and placement of 135,000 tonnes of hot mix asphalt.
Eurovia has substantial operations in the southeastern US via its subsidiaries Hubbard Construction and Blythe Construction.
In August 2018, Eurovia signed an agreement to acquire the US-based plants and paving division of Lane Construction, which operates in ten states. Subject to approval of the acquisition by the US regulatory authorities, the move will double Eurovia's operations in the US.