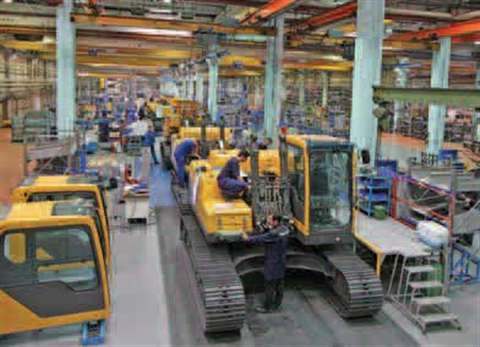 Matching capacity to demand for construction equipment has always been a difficult balancing act. Nonetheless, Volvo Construction Equipment has taken the plunge and expanded its tracked excavator production facilities. Unusually, the company has chosen to transfer production of machines for the European market from Korea to Germany.
Volvo's factory in Konz, Germany already manufactured wheeled excavators and compact wheeled loaders but has undergone an US$ 8.8 million redevelopment to add tracked excavators to its capabilities. In doing so, Volvo has added another 4500 units to its annual tracked excavator capacity.
According to Volvo, the move will cut lead times for customers in Europe and effectively boost capacity at its Korean plant, reducing lead times for customers outside of Europe too.
"The construction equipment market is a cyclical one and the regional variation in the cycles is reducing,"said Volvo Construction Equipment Europe president Chris Rees. "Without sufficient capacity it is impossible to respond quickly when demand grows."
The expansion will also free up capacity for commercial production of the 70 tonne EC700B - Volvo's largest tracked excavator - which was unveiled at ConExpo in Las Vegas, US in March. Production of the EC700B is scheduled to start later this year with the first machines expected to be delivered in early 2006.
Volvo's medium sized 14 tonne EC140B and 21 tonne EC210B excavators are already rolling off the new 120 m long production line in Konz and the EC160B and EC180B are set to follow. The production line could be extended by another 40 m in the future to allow the line to be used for wheeled excavators.
"We started manufacturing the tracked excavators in Germany at the start of 2005. We are expecting to produce 700 tracked excavators at the site this year but we have the capacity to manufacture up to 4500 units a year,"said Volvo product specialist Ingo Richarz.
Transferring production of machines for the European market from Korea may not seem like a logical financial step but the Konz factory has a long history of manufacturing construction equipment and an experienced workforce.
"The facility was owned by German manufacturer Zettlemeyer before Volvo bought out the company, and its factory, in 1990,"said Mr Rees. "The factory's 650 strong workforce has also been building Volvo's wheeled excavators since the company launched its first models in 1998. This experience, combined with our good relations with the workforce, was an important factor in making the decision to move production."
Mr Richarz added, "Moving tracked excavators to Konz will halve the delivery lead time through reduced transport time. We will also be able to more rapidly accommodate special application requirements."
Volvo's investment at Konz will not only benefit the tracked excavator production but will also boost the finish of all machines produced at the site. The upgrade included construction of a new finishing hall for carrying out final checking of all the mechanical elements, spraying and pre-delivery inspection.