Excavators: Advanced systems
By Sandy Guthrie18 October 2017
Excavators are no longer just about improving reach and digging efficiency, and as all the other efficiencies come into play, excavators are one of the more obvious candidates for the use of hybrid technologies.
While it may not seem many years since the word hybrid was first used in connection with an excavator, it has become almost mainstream.
One of the latest hybrids to be unveiled in Europe comes from Hitachi, whose new hydraulic excavator was unveiled for the first time in Europe in September.
The ZH210-6 claims the lowest ever fuel consumption for a Hitachi medium hydraulic excavator, and the company said it had also been designed to reduce CO2 emissions and running costs further.
Hitachi said that with an advanced hydraulic system and a new lightweight arm, it achieved the reduced running costs without compromising on high levels of performance and easy operation.
Compared with the previous ZH-5 hybrid model, it claims to use 12% less fuel – in both PWR and ECO mode. HItachi said that compared with the standard ZX210-6, the new model offered a 20% fuel saving.
It said that a new power unit on the ZH210-6, which integrates the 73kW diesel engine – smaller than on the ZH210-5 – and electric power assist motor at 44kW, had a significant impact on fuel consumption.
The diesel engine output alone is sufficient for ordinary operation, it said, but when maximum power was required for heavy workloads, the electric power assist motor could also be used.
It added that this made the new hybrid model more efficient than the ZH210-5 and the standard ZX210-6.
The new integrated power unit led to the adoption of a new electrical storage device for the ZH210-6. Instead of the capacitor of the ZH210-5, the new model is equipped with a large-capacity lithium-ion battery developed by Hitachi Automotive Systems. This is said to have significantly increased continuous output to the electric power assist motor, meaning it is able to support the engine power considerably and for a greater length of time, according to Hitachi.
During light operation, the electric power assist motor acts as a generator and charges the lithium-ion battery unit, similar to the way it works in a hybrid car.
Burkhard Janssen, general manager product management and engineering at Hitachi Construction Machinery (Europe), said, "The ZH210-6 has been developed using proven Hitachi technology combined with future innovations. It brings together technologies from the entire Hitachi group and features industry-leading components to achieve considerably less fuel consumption than previous models."
Lithium-ion battery
Another hybrid arrival in Europe during the past few months has been the SK210HLC-10 from Kobelco, which also has a lithium-ion battery.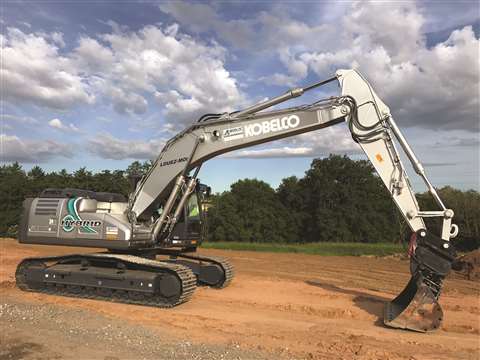 Kobelco Construction Machinery Europe (KCME) said it was the first true hybrid specialist excavator in the 20-tonne operating class with Stage 4 (Tier IV) emissions compliance.
Marketing manager Peter Stuijt said, "Kobelco's original hybrid technology has improved significantly since we first displayed our hybrid prototype at Intermat 2006 in Paris.
"The SK210HLC-10 has one of the most technologically advanced systems of all hybrid excavators currently in the European market," he claimed. "Not only is it remarkable for being a hybrid in the competitive 20-tonne class but also for its exceptional ability to increase productivity levels while reducing operator costs.
"Reduced fuel consumption is a key feature of the SK210HLC-10, but to do so with improved working efficiency and performance is even more spectacular."
Kobelco said the large lithium-ion battery allowed greater retention of stored electricity to provide the necessary electrical output to a new Kobelco-developed 25kW power-assist generator motor.
The Stage 4 Hino Motors turbocharged diesel engine is the same engine that powers the conventional SK210LC-10, while an electrically driven swing motor contributes to the fuel efficiency.
Strength to strength
Demand for excavators generally has been going from strength to strength, with global demand predicted to continue growing into the foreseeable future. For Volvo CE, Europe has been contributing significantly to this demand. Almost 25% of the company's global excavator sales in 2016 were to European customers.
Between 2015 and 2016, sales of Volvo CE's heavy wheeled excavators in Europe grew by 10% and sales of its heavy crawler excavators rose by 6%.
According to Carl Slotte, Volvo CE's president of sales region EMEA (Europe, the Middle East and Africa), this upward trend, which has continued into 2017, has been driven partly by large-scale projects such as the Grand Paris Project and the Stockholm Bypass Project. Another important factor was said to be the general shift towards urbanisation.
"Wheeled excavators are an attractive machine for contractors working in city environments. They are easy to transport, easy to manoeuvre for precise digging, and do not risk damaging paved surfaces," Slotte said.
In response to the growing demand, Slotte said Volvo CE was working to increase the productivity of its Kontz facility in Germany, from seven excavators per day to between eight and ten per day.
Among those excavators being produced at the Kontz factory, there will be two new wheeled excavators that boast lower noise levels and emissions, greater manoeuvrability, and improved safety – the EW220E and EWR170E.
The EW220E is a larger version of the EW180E, with a new heavy-duty two-piece boom that has an extended reach of more than 10m and a maximum lifting capacity of 8.5 tonnes at the front, or 4.8 tonnes to the side.
The EW220E is available in two styles – road or off-road with a heavier counterweight.
The EWR170E, on the other hand, has been designed with particularly tight urban work sites in mind, boasting a tail swing radius of 1,790mm.
Looking ahead to the future, Volvo CE unveiled its EX2 fully-electric prototype compact excavator earlier this year.
The EX2 was said to deliver the same power and force as its conventional counterpart, with enough battery power to operate for eight hours in challenging ground conditions – but with zero emissions, 10 times higher efficiency, and 10 times less noise.
Slotte said, "The EX2 is purely a research project at the moment but it showcases how our vision of high performance and environmental care could be realised."
New launch
Doosan Bobcat EMEA (Europe, Middle East & Africa) has launched the new DX160LC-5 HT and DX180LC-5 HT Stage IV compliant High Track crawler excavators, alongside the standard configuration DX140LC-5 14 tonne and DX180LC-5 18 tonne mid-range excavators.
The new High Track models are said to be designed to meet the needs of customers requiring a combination of higher ground clearance, a reinforced track frame and a strong traction system with reinforced upper rollers for work in harsh environments, and on projects where larger travelling distances are involved.
The DX160LC-5 HT excavator combines the upper structure from the DX140LC-5 14 tonne model with an 18 tonne class high track undercarriage system, increasing the ground clearance from 410mm in the DX140LC-5 to 615mm.
The DX180LC-5 HT is an enhanced version of the DX180LC-5 excavator, incorporating a reinforced structure and a re-engineered, high performance braking system, and again offering ground clearance of 615mm, compared to 460mm in the DX180LC-5.
Part of Doosan's new generation LC-5 range of machines meeting Stage IV emission regulations, the DX160LC-5 HT and DX180LC-5 HT are powered by the Perkins 1204F engine, which claims reduced fuel consumption, with the power and torque of larger engines with a smaller displacement.
Large and powerful
Case Construction Equipment has just launched its new CX750D, the largest and most powerful machine in its excavator range.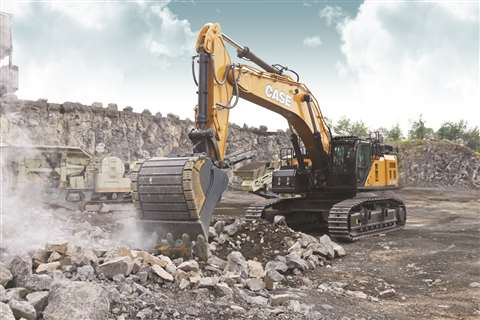 An electronically-controlled hydraulic pump, and larger control and solenoid valves boost breakout forces, which is said to increase lifting strength and improve responsiveness. The Case Intelligent Hydraulic System and its four integrated control systems are designed to make the best use of the machine's hydraulic power and momentum.
Operating at 382kW, the CX750D is available in standard configuration with a 335kN bucket digging force – with Power Boost – and mass excavation configuration with a 366kN bucket digging force – again with Power Boost – and features a shorter boom and arm. This is said to allow for greater breakout forces and to be capable of handling larger buckets for added capacity.
JCB is another to highlight the popularity of wheeled excavators. It said that in recent years, it had seen strong growth in wheeled excavator demand as they are being used more and more as modern day tool carriers that can perform a wide variety of tasks with just one machine, thanks to tilt-rotators and bespoke attachments.
It said the most popular size machine is the 10 to 15 tonne sector where JCB recently launched the Hydradig 110W. The Hydradig has been proving to be popular on housing projects and motorway expansion projects, said JCB.
On the tracked excavator side, it is also seeing strong demand for 13 to 15 tonne excavators where JCB offers the JS131, JS130 and JS145. There is also strong demand in for zero tailswing machines where JCB now has the new JZ141.
The JZ141 is a compact machine, which JCB said was ideal for working on construction sites with limited space and on roadways where construction machines were limited to working in single lanes.
It added that the machine provided the operator with peace of mind while slewing, as the counterweight size has been reduced. The JZ141 also meets the latest emissions legislation without the need for a DPF and also requires no ad- blue.
New concept
Liebherr has the A 924 Litronic wheeled excavator, which has a new concept that ensures compliance with Stage IV/Tier 4 Final emissions standards.
The machine has an operating weight of between 21.5 and 26.5 tonnes and an engine power of 140kW.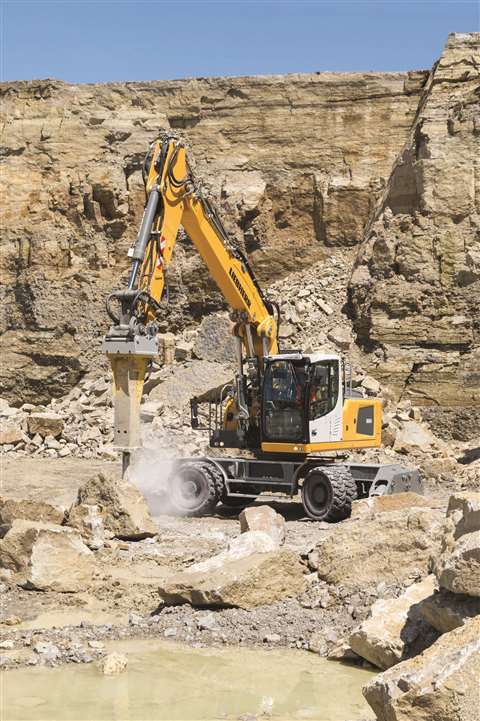 The Liebherr A 924 Litronic wheeled excavator is installed with a newly-developed Liebherr diesel engine that is said to be highly efficient. This current engine generation benefits from Liebherr's SCR (selective catalytic reduction) technology. This consists of an SCR catalyst system and other components such as an injector and AdBlue solution. A particulate filter is not required but can be installed for special construction site requirements.
Liebherr said the complete system reduced exhaust gas emissions effectively and had no negative effect on performance.
The A 924 has a new hydraulic concept with a total delivery rate of 602 litres/m. The separate hydraulic pump supplies only the swing mechanism with hydraulic fluid.
The Liebherr Power Efficiency system (LPE), which optimally regulates all the company's new Liebherr wheeled excavators' power management processes, is said to mean that fuel consumption is considerably reduced.
XCMG has introduced the XE215S amphibious excavator, a multi-purpose excavator based on the technology of the XE215C, and designed for working on beaches and where the soil is soft.
The machine uses in-house optimised power, hydraulic and electrical systems. A new sealed floating box crawler travel structure is said to overcome the amphibious hydraulic excavator travel system's shortcomings of wear, short service life and high power consumption.
Zero tailswing
Wacker Neuson's excavator series with operating weights between 6 and 10 tonnes consists of a zero tailswing model in the EZ80, two tracked excavators in the ET65 and ET90, and two wheeled excavators – the EW65 and EW100.
The EZ80 is the latest model in this series and has features such as a load-sensing hydraulic system, a revised machine and cabin design for all-round visibility, and high digging forces.
A higher bucket torque and an increase in the bucket's angle of rotation to 200° are features of the ET65 and ET90.
Wacker Neuson said that the load-sensing system ensured that the work speed of all movements remained constant and independent of the load – via the load-independent flow control (LUDV) – even if multiple movements are performed simultaneously.
The PC700LC‐11 hydraulic excavator, with an operating weight between 67,500kg and 69,500kg, was launched this year by Komatsu Europe International.
It is Stage IV compliant and is said to maintain the powerful productivity and transportability of the previous model, while improving cab design and serviceability, as well as improving fuel efficiency by up to 6%.
Vince Porteous, product manager, said, "The PC700LC‐11 was designed and manufactured by Komatsu specifically for hard and highly demanding applications such as mining, quarries and mass earth excavation.
"We have created not just an exceptional primary mover, but a workstation with incorporated operator safety and comfort."
It has a 327kW Komatsu SAA6D140E‐7 engine, with integrated SCR system. There is a variable geometry turbocharger (VGT) and an exhaust gas recirculation (EGR) valve which is said to provide more precise temperature and air management control, as well as longer component life.
Side-shift booms
Hyundai Construction Equipment is supplying wheeled and tracked excavators of 14 to 30 tonnes with optional side-shift booms.
It said that as this boom option enabled excavators to execute side-shift lifting and digging jobs with a variable radius, this option was requested by construction companies specialising in trenching – utility and sewage – demolition and ground engineering.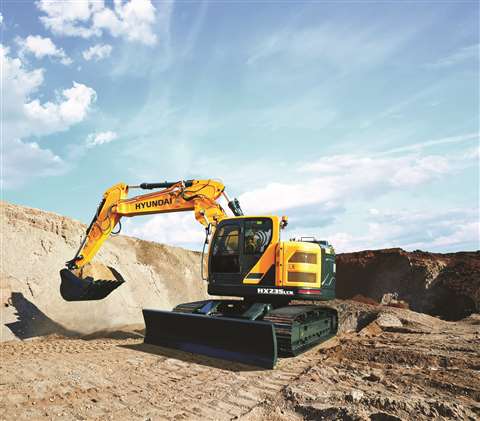 The two largest Hyundai hydraulic excavators to be offered with side-shift boom options – the HX260 and 300 – are available both in narrow and wide chassis variants.
The models in the new MWR range of wheeled excavators from French-based manufacturer Mecalac are said to combine the advantages of both wheeled and crawler excavators.
The company said they provided a solution that incorporated mobility, versatility, stability, safety, accessibility, easy operation, lifting force and profitability.
Patrick Brehmer, head of marketing, product management and design, said the company had identified six criteria. There were that the company was looking for accessibility, including maintenance; stability; a compact design; mobility, in terms of transporting the machine; versatility; and it wanted the machines to be user-friendly.
The MWR range comprises the 7, 9, 11 and 15 models, and they are described as being versatile and ultra-stable machines with compact dimensions and superior lifting force, benefiting from the latest internal and external technology patented by Mecalac. This includes a boom with integrated offset, cylinder coupling, Connect quick coupler, central control selector, and speed control function.