Excavators: Easy going machines
By Jenny Lescohier03 July 2020
Anyone involved in construction has no doubt felt the effects of the skills shortage. It's not easy to find seasoned equipment operators these days, and this can significantly curtail productivity on the job. Original Equipment Manufacturers (OEMs) are finding ways to make machine use simpler so more operators will be able to jump on and get to work as quickly and efficiently as possible.
Excavators are the most ubiquitous machines on construction job sites and, while they are more straightforward in operation than some other machines, there is still a learning curve. The best excavator operators are highly skilled. The more that can be done to take human error out of the equation, the more consistent and efficient the machine performance will be.
Many OEMs are introducing systems that take the guess work out of excavating by giving their machines the smarts to ensure work is done to exact specifications.
For example, Komatsu introduced factory-installed options for grade control in 2014 and has seen a steady increase in popularity ever since.
"We offer 2D Machine Guidance [2DMG] and now 3D Machine Control [3DMC]," notes Andrew Earing, product manager for excavators at Komatsu. "With 2DMG, the operator has a visual understanding of depth only, whereas with 3DMC, they have a full view of the landscape, including slope and grade. In that case, the machine operates semi-autonomously to prevent over excavating."
Earing says 3DMC is a robust solution currently offered on five Komatsu excavators. With this intelligent system, the surveyor and civil engineering contractor map a model of the entire jobsite, which can then be uploaded into the 'brain' of the machine.
"This greatly increases grade accuracy while reducing or eliminating damage to grade stakes," he says, noting that when stakes are removed or damaged, work must stop until the survey crew can come back out to properly reinstall them, resulting in costly delays.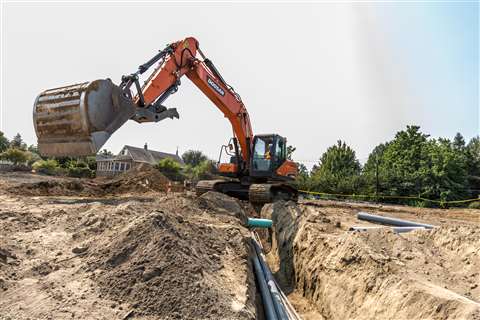 For its part, Caterpillar equipped its Next Generation excavators with a set of technologies that are standard and fully integrated from the factory to simplify excavator operations while making them more efficient, productive and safe. There is no need for the operator to take any action for these systems to work, they just do their thing. Those technologies include Cat Grade, Cat Payload, Cat Grade with Assist and Lift Assist.
While Cat's technologies run behind the scenes to ensure productivity and safety, the machine interface can be equally crucial for operator comfort and confidence.
"A well thought out full-size cab, with easy to reach controls, unobstructed visibility, and lightning quick swing speeds, are all things that help set apart our larger reduced-tailswing models and make it less stressful to work in tight spots," says Cory Brant, solutions marketing manager at John Deere.
"The operator can select the joystick control pattern they are most comfortable with [backhoe or excavator] to flatten the learning curve.
"We're also seeing lots of interest in grade systems," he adds, noting that John Deere has introduced a factory-integrated 2D or 3D Grade Guidance option on several models, including the 210G, 350G, and the 470G LC machine.
"Equipped with a display in the operator station, the integrated Grade Guidance system provides operators with the elevation and position of the bucket cutting edge with respect to a target plane (2D) or design surface (3D).
"This information arms operators with the detail they need for precision excavation projects, such as digging trenches for pipes, shaping ditches or slopes or digging structural foundations," Brant explains. "Another big advantage is that customers can use their existing equipment like a rotating laser to gain accuracy without adding significant cost."
For the customers that want a full grade control system, Brant says John Deere will be launching a factory-integrated 2D or 3D SmartGrade Grade Control system later this year to aid operators further by providing automatic control of the boom and bucket, allowing accurate grades to be achieved with minimal effort.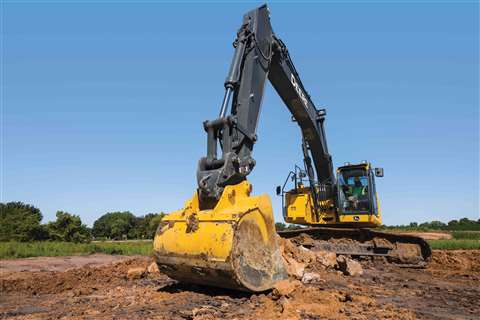 "This system will be extremely useful for customers that might need a little extra help making finish passes at tight tolerances," he notes. "This grade control system can also be paired with a tiltrotator to provide the ultimate grading and shaping tool that allows the excavator to be used for operations that typically require additional machines."
Changing how it's done
Automation and digitalisation are two major trends on today's job sites and they're changing the way work is performed.
"The construction industry is currently going through an exciting and comprehensive development phase," states Nadine Willburger with Liebherr. "Networked and partially autonomous construction machines create numerous new possibilities for increasing efficiency and productivity on construction sites and thus in the entire construction process."
She adds that partially autonomous systems, "Offer the potential to perform work processes extremely reliably and efficiently, thus increasing safety, productivity and profitability on the construction site."
Willburger says the greatest challenge is networking all factors involved in the construction process. This includes integration of BIM (Building Information Modelling), machine-to-machine (M2M) software to network devices to exchange information and perform actions without the manual assistance of humans, the creation of manufacturer-independent interfaces for the interaction of all machines involved in the construction process and a fast and comprehensive data network structure on 5G.
Fred Rio, product manager for Caterpillar Construction Digital & Technology Worldwide, echoes that sentiment, stating that when all the necessary elements are fully mature, jobsite autonomy will be achieved. It will not happen overnight, however, but will result instead from a steady evolution over the next decade.
"Autonomy will have a profound impact on the construction ecosystem, potentially disrupting or challenging existing norms in relation to the size of the equipment employed, the role of dealers and OEMs, all the way to the individual operator or subcontractor," Rio says.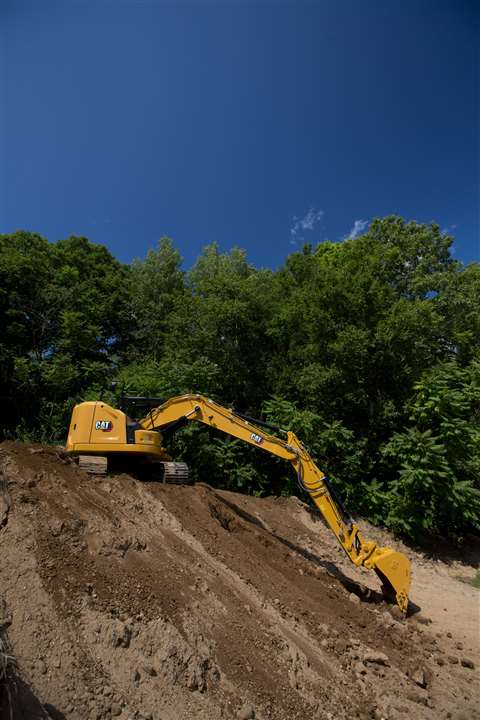 The Cat Command solution is structured as a series of building blocks leading to semi-autonomous operation. "It is scalable and incremental, allowing customers to enter at whatever level of technology and infrastructure they choose. Users have access to multiple machines from a single command station," Rio explains.
"Whether it is automation at the machine level, semi-autonomous operations at the system level, or a totally autonomous solution, complete connectivity and mobility paired with robust data analytics will deliver actionable insight to ensure optimal jobsite performance with positive enterprise outcomes."
Aaron Kleingartner, dealer and product marketing manager at Doosan Infracore North America, says automation is the future of construction equipment.
Through the company's Concept-X technologies, for example, construction equipment such as excavators can perform optimised unmanned operations according to many site situations.
"Doosan believes that increased automation will boost productivity and economic feasibility significantly by reducing the time and costs required for construction equipment operations, while continuing to make worksites safer," Kleingartner states.
For his part, Brant at John Deere says automation plays only a small part in changing the way a job site looks and functions.
"Due to the typical tasks excavators perform, automation is only used for the last few grading passes," he states. "Most of the digging is completed by the operator to get close to the desired grade.
"Technology in general is a more accurate way to sum up what is changing the industry," he says. "Depending on
the project, sometimes just knowing where the bucket is, relative to the finished grade, is all the operator really needs."
Increased machine complexity
There might be customers concerned that newer operators are becoming dependent on automation technology and not acquiring the traditional skills that many veteran operators have. To that end, Brant says John Deere is committed to providing the right level of technology to meet the customer's needs, whether it is a simple 2D Grade Guidance system or the ability to have full 3D control.
"Customers also worry about breakdowns and repair costs associated with increased machine complexity," he explains. "To help lessen that burden, John Deere has developed telematics systems to aid customers and dealers to diagnose and repair machines quickly.
"Telematics is a key feature for our customers: the ability to understand how your machine is being used, where it is being used, and any potential service issues that may impact uptime is essential."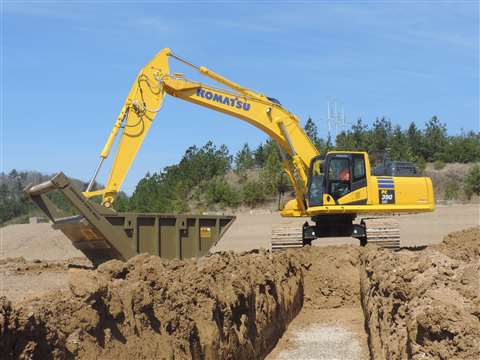 JDLink and Service Advisor Remote are two telematics technologies that come standard on every John Deere excavator, 13 metric ton and larger.
Juan Vila, excavator product and application specialist at Caterpillar, says technicians' work is now less about nuts and bolts and more about electronic diagnostics and repair.
"Our suite of Cat Connect technologies offers remote equipment diagnostics and software updates to reduce machine and engine downtime and increase job site efficiency," he says, noting new Cat Remote Services include two key offerings: Remote Troubleshoot and Remote Flash.
Remote Troubleshoot analyses real-time asset data so the dealer can run diagnostics testing on the connected product and pinpoint potential issues. This can save the dealer technician travel time to the job site and eliminate equipment downtime during diagnosis. The machine or engine continues to do its job throughout the process, so productivity doesn't suffer.
"Once the cause of the fault code or alarm has been identified, the dealer could possibly resolve the issue remotely, saving time, money and inconvenience to the customer's production schedule," Vila says. "If a repair is necessary, dealer technicians are dispatched to the jobsite with the correct information, parts, tools and instructions to make the repair when it's convenient for the customer."
Remote Flash ensures Cat equipment operates with the most current version of on-board software, so the products deliver high performance, maximum efficiency and minimum downtime.
"This new Cat service enables remote updates to the software of a connected machine or engine, at a time convenient to the operation, without the need for a service technician to visit the job site," Vila says.
"With Remote Flash, Cat customers receive notification from their Cat dealer, or in some instances, directly from Caterpillar, when a new software update is available for a piece of equipment. Machines or engines can then be updated at the jobsite without waiting for a dealer technician to arrive."
Earing at Komatsu says advanced technology does come at a cost premium, but it's worth it. "At Komatsu, we aim to ensure the benefits exceed the costs," he says. "Customers can usually pay off the additional cost of 2DMG and 3DMC within the first year of ownership."
Doosan's Kleingartner agrees, stating the benefits of today's technology definitely outweigh any potential challenges.
"As long as excavator operators are properly trained, complex machine systems should not present a downside," he says. "It's more likely that operators will choose the proper work or power mode and use the machine more efficiently."
Cat Command for excavating
Operators can work longer, safer and with less fatigue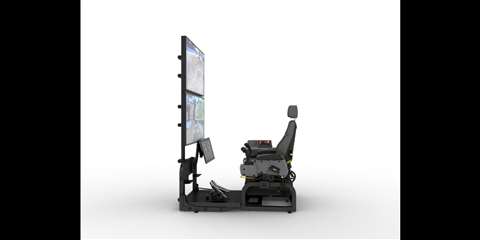 As part of its Cat Command scalable technologies for construction, Caterpillar now offers Cat Command for excavating that enables operation remotely with or without line of sight of the machine.
Helping to address current and future labour shortages, the technology expands machine operation to a larger pool of potential operators.
A single user can control multiple machines, one at a time, or change jobsite location without traveling from the office to the machine, improving operating efficiency and reducing travel time and costs.
Cat Command Console and Station controls are fully integrated with the machines' electronic and hydraulic systems for quick response and smooth control, according to Caterpillar. Operating commands are sent directly to the machine's electronics through a dedicated radio transmitter/receiver, resulting in real-time control.
Since the system is a dealer-installed kit fully designed and integrated into the machine, not an aftermarket add-on, Cat Command can be quickly switched between similar machines to give the customer machine flexibility.
The Command Station offers the flexibility of being located onsite for line-of-sight operation or positioned miles away for non-line-of-sight applications. The station includes a modular, customised 'virtual cab,' where the user is seated in front of machine controls and displays similar to those inside the operator's cab.
According to the company, by offering an improved working environment the Command Station allows users to work for longer periods of time without fatigue, and one user can remotely operate multiple machines, one at a time, from a single station.
Virtual simulators improve training
Technology takes the complexity out of learning advanced systems
On-the-job training is inherently dangerous when it involves heavy machinery, but it's a vital necessity. As today's equipment becomes more complex, the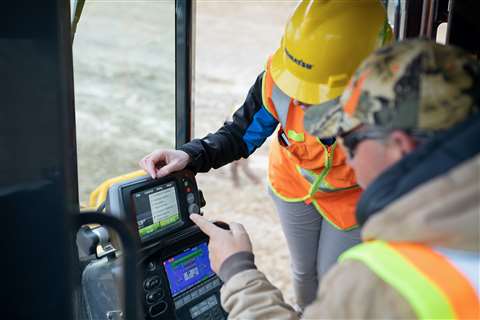 challenges to providing effective training increase.
Virtual simulators are helping to solve this dilemma by allowing novice operators to learn the limits of the machines they're working on without putting themselves, or the equipment, in harm's way.
"A virtual simulator is much cheaper than an excavator," states Andrew Earing, product manager for excavators at Komatsu. "They're much more forgiving than the machine itself and won't be damaged by inexperienced operators."
Earing says Komatsu offers operator training through its dealer network as part of the equipment purchase.
"Services are available through our distributors to help customers learn the new technology and optimise it for the most benefit," he explains. "Our 'technology solutions experts' are trained in the latest machine control technology."
Through Komatsu distributors, new operators have access to training that uses third-party software and a desktop training simulation program covering various types of equipment.
Volvo CE's new excavator
New excavator launched earlier this year from major OEM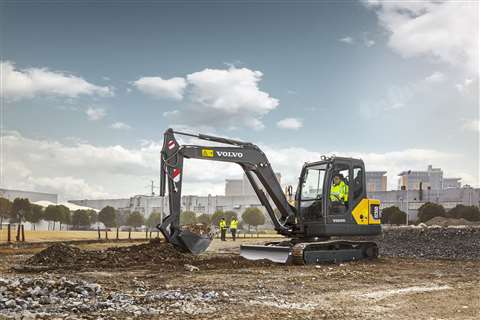 The 5.5 tonne EC55D compact excavator from Volvo Construction Equipment (Volvo CE) is said by the company to be designed to work harder, for longer. Volvo CE says it delivers faster, smoother responses, high fuel efficiency and superior performance.
Delivering breakout force of 42kN, as well as superior traction, swing force and lifting capacity, the durably designed compact excavator can take on challenging jobs while improved cooling ensures optimised performance for any climate.
Operators can dig to a maximum depth of 4m, and load and lift 2,920kg at ground level with increased controllability, enhancing productivity and reducing fatigue. With an arm tear-out force of 2kN, the hydraulic system is matched to Volvo's premium Tier 3/Stage III 36.5kW diesel engine.
For comfortable operation and reduced operator fatigue, the EC55D's cab features all-round visibility and a quiet working environment. The cab also features ergonomically positioned monitor and controls, a fully adjustable seat, and a semi-long joystick for a more comfortable and productive work environment.
Supporting documents
Click links below to download and view individual files.