Excavators: Tracks and wheels
By Joe Malone12 October 2016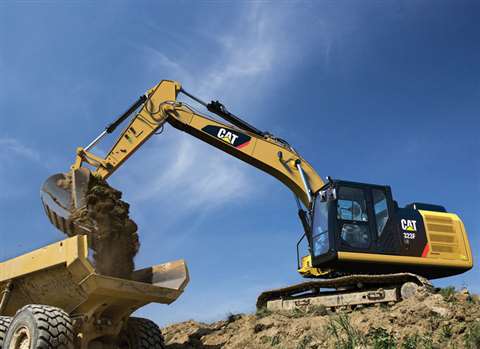 Whatever the size and type of job, there is an excavator for it, as they come in many sizes and formats – for example, compact, crawlers or wheeled models – and just over 30,000 excavators were sold in Western Europe last year.
Figures from specialist consultant Off-Highway Research confirmed that more than 23,000 crawler units and some 7,000 wheeled machines were sold in Western Europe, with a total value of just under €3.9 billion.
This represented 17% of global demand for excavators (in unit terms), which last year topped 176,000 machines.
Off-Highway Research said that although Europe was a relatively small excavator market, it had an extraordinary liking for wheeled excavators.
Global demand for this type of machine was just under 13,000 units last year, so Europe represents more than half the global market. It reported that there was a disproportionately large market for wheeled excavators in Germany, and they are also popular machines in France.
As far as crawler excavator demand is concerned, the UK is currently the largest market in Europe, with sales last year in excess of 8,000 units. The total for 2016 will be less than this, forecast Off-Highway Research, as the market has become saturated after five years of growth, on top of which the result of the Brexit vote (for UK to leave the European Union) has further eroded business confidence.
However, the UK is still set to remain ahead of the next biggest crawler excavator market in Europe – Germany – which last year bought just over 4,000 tracked machines. This was around half the demand seen in the UK in unit terms.
Other major markets in Europe include France, Italy and Norway.
Despite the expected fall in crawler excavator sales in the UK this year, the overall European market is expected to remain steady around 23,000 machines over the coming years, said Off-Highway Research.
Busy year
It has been a busy year for excavator launches, at least if the list of Caterpillar additions is anything to go by. This year has contained a Bauma trade fair in Germany, and as the biggest show in the world, that is often an incentive for customers to introduce new models.
Cat released the M314F, M316F, M322F wheeled excavators in the spring, as well as the 308E2 Mini-Excavator with variable angle boom, and 304.5E2 XTC Mini-Excavator with XTra Tool Carrier. There were launches for the 313F, 315F, 316F, 318F, 320F L and 323F L excavators. The M315F and M317F compact wheeled excavators made and appearance, as did the 300.9D VPS mini excavator with flexible power option.
More specialist launches included Cat's 340F UHD demolition excavator and the M323F railroad excavator, while the Cat Grade with Assist feature with semi-autonomous grade control was made available for the 323 excavators.
Not surprisingly, Maarten De Haas, product manager for tracked and wheeled excavators – not including mini excavators – in Europe, Africa and the Middle East, said, "The excavator market in Europe continues to be strong this year."
He said, "All F-Series Cat excavator models have now been updated to meet EU Stage IV emission standards, which deliver significant improvements in fuel efficiency. We are also delivering a range of integrated technology solutions designed to help customers work more efficiently and profitably."
De Haas said that with the increased complexity in customers' jobsites, Caterpillar was continuing to innovate and deliver more specialised excavators.
"The Cat MH3022 and MH3024 wheeled material handlers have also been updated," he said. "They have been very well received in the market, customers appreciate the cab design, performance and fuel efficiency of those machines."
The two new compact radius wheeled excavators – the M315F and M317F – were said to provide customers with added choice "as we see space getting tighter as urbanisation is increasing in Europe".
In the F series, Cat's latest excavator launch came last month with the 323F LN, which it said was specially designed with reinforced structures and massive counterweights to take on the most severe applications.
The heavy duty booms and sticks claim high strength steel and box section construction with internal baffles for added durability. The massive upper frame, carbody (lower frame), and track roller frames are said to be designed for strength and long-term durability.
Cat said this F Series excavator delivered a 4% improvement in fuel efficiency, compared with the 323E LN. It said this resulted primarily from the efficiency of the 120kW net power Cat C4.4 Acert engine that met Stage IV emission standards.
It said that the fuel efficiency of the C4.4 Acert engine was enhanced by an automatic engine speed control that lowered engine speed during no load/light load conditions; an engine idle shutdown system that stopped the engine after a pre-set idling interval; and standard, ECO or HP modes that allowed operators to tailor machine performance to the application.
Power and stability
Volvo Construction Equipment has introduced a number of new models this year, too, including the EC750E.
The EC750E is a 75 tonne class crawler excavator that is designed to offer a combination of power and stability to handle a higher capacity.
Powered by Volvo's Stage IV compliant D16 engine, the heavy-duty excavator delivers 374kW using advanced fuel efficiency technology.
Volvo said the EC750E offered innovative electro-hydraulic technology, optimised to operate in harmony with the "robust" engine, delivering greater operator control and productivity.
It added that the hydraulic system, in combination with Volvo's advanced Eco mode, worked in unison to reduce internal losses in the hydraulic circuit – resulting in improved fuel efficiency without any loss of performance in most operating conditions.
It claimed that even in tough environments, the EC750E provided superior digging performance, including maximum break out forces of 323kN to 342kN (boosted), as well as good fuel efficiency and quick cycle times for a maximum return on investment.
Volvo has wheeled excavators, too, including the EW60E, which Volvo said offered outstanding traction, swing force and lifting capacity.
Equipped with a Stage IIIB-compliant Volvo engine and adjustable hydraulic flow, the EW60E is said to feature a well-balanced driveline for optimum performance. There is an optional fixed boom and offset boom which the company claimed provided outstanding performance in a range of operations from confined jobsites to major construction areas.
It added that the EW60E was equipped with responsive controls that ensured fluid movements for greater operator comfort. It has four-wheel drive and a top speed of up to 30km/h.
Updates and improvements
JCB has updated its JZ140 reduced tailswing excavator. The 15.4 tonne machine boasts Stage IIIB JCB diesel engines and an improved hydraulic system, increased access for service work and an upgraded operator's cab environment.
The redesigned JZ140 is powered by an 83kW version of JCB's EcoMax diesel engine which does not require a DPF or exhaust aftertreatment.
The engine drives the latest generation KPM hydraulic pumps, claiming improved performance with 3% better efficiency. In combination with a new variable speed cooling fan, this is said to contribute to a 5% fuel saving over previous models.
The reduced tailswing is 29% shorter than a conventional machine of a similar weight, with the counterweight of the machine overhanging 700mm wide track pads by just 140mm.
Service access has been improved, with a repositioned main valve block and remote fuel and engine oil filters to the side of the machine. The cooling pack is 19% larger than the previous model and is no longer angled, so the full width of the cooling cores can be accessed for cleaning and maintenance.
JCB's 2Go hydraulic actuation safety system is standard and there are optional factory-supplied safety rails for the machine's upperstructure, complete with kickboards.
The JZ140 is available with a choice of monoboom or TAB boom, and with or without a dozer blade.
JCB launched the Hydradig 110W earlier this year, and some of the first to roll off the company's production line were sold to a Scottish plant hirer.
Kilmarnock-based Blackwood Plant Hire purchased two machines from dealer Scot JCB as part of an order for a total of 25 JCB excavators in a deal worth over £2 million (€2.32 million)
Blackwood Plant Hire sales director Paul McCormack said, "The low centre of gravity in the JCB Hydradig allows it to lift so much more than our other machines of this size.
"We expect it to be used for highway works and small building sites with tight access where its zero tail swing operation, brilliant manoeuvrability and the 40km/h road speed to get between sections all make it perfect for these applications."
JCB has also launched the JS131 crawler excavator for rental customers. The 13 tonne machine – which the company said lost none of the flexibility and performance of the JS130 – is equipped with an engine that meets Tier 4 Final emission standards without DPF, selective catalytic reduction (SCR) or any form of exhaust treatment fluid.
It said the JS131 built on the success of the JS130, but was powered by a rental-specific 55kW version of the Ecomax diesel engine.
Tim Burnhope, chief innovation and growth officer, said, "JCB has listened to the voice of the customer and developed a specific machine for the hire industry, which is very important to JCB.
"By offering the JS131 with our proven 55kW JCB Ecomax engine, we can provide a lower total cost of ownership proposition for our customers, with no compromise on machine digging performance."
Tight spaces
The new 16.5 tonne DX165W-5 Stage IV compliant wheeled excavator from Doosan Bobcat EMEA is a short tail machine designed for jobs in tight spaces, particularly in urban areas or on narrow roads with heavy traffic.
With a "very short swing radius" of 1,850mm, the machine claims excellent stability though an optimal centre of gravity and weight distribution.
It is said to be extremely precise, powerful and with the smooth digging control required for trenching and lifting work. Doosan added that the DX165W-5 featured extra power, and strong design and construction together with low fuel consumption and easy servicing.
The DX165W-5 is built with the same undercarriage as the DX160W-3 model. The optimal centre of gravity is said to have been achieved through the long wheel base and weight distribution.
It also features a new generation of heavy duty ZF axles. Doosan said the DX165W-5 had the same forces and lifting capacities, depending on the application, as the DX160W-3 Stage IIIB model. The DX165W-5 can, therefore, lift 5.87 tonnes at 4.5m reach over the front – at 3m high – and 4.28 tonne over the side.
Part of the company's new LC-5 range of machines meeting the latest Stage IV emission regulations, the DX140LC-5 14 tonne crawler excavator has been launched by Doosan.
It claims improved performance compared to the previous LC-3 Stage IIIB model, including a 5% increase in engine power and 4% greater torque. In addition, traction is said to have been boosted with an increase in drawbar pull of about 18% and front lifting capacity has been increased on average by 10%. Side capacities are said to be 12.5% higher.
Meeting the demands
Hitachi Construction Machinery (Europe) – HCME – launched the ZX530LCH-6 large excavator earlier this year. It said it was designed and engineered to meet the demands of large-scale construction projects and quarries.
With added protection for key components and high-quality materials, the new Zaxis-6 excavator incorporates Hitachi technology developed specifically for the Zaxis-6 large excavator range.
The boom has been reinforced with thicker plates, and the undercarriage consists of robust components including the track link, master pin, idler pedestal and bracket, and upper roller bracket.
The company said that the HIOS IIIB technology developed by Hitachi was efficient, using two pumps and control valves to reduce fuel consumption and cut costs. The ZX530LCH-6 claims to save up to 5% fuel in Eco mode. The hydraulic technology also has a positive impact on productivity, it said, thanks to the efficient swing, boom lowering, arm and bucket roll-out.
The aftertreatment device that is said to result in fewer emissions and a quieter performance, consists of a diesel oxidation catalyst (DOC), urea mixing pipe, SCR system and silencer. Pollutants are also said to be reduced by the variable geometry turbocharger and high volume-cooled exhaust gas recirculation system (EGR).
Burkhard Janssen, general manager of the product management and engineering department at HCME, said, "The ZX530LCH-6 offers a comfortable working environment for operators, and is fast and precise, thanks to the efficiency of the hydraulic system."
Komatsu Europe International introduced the PC138US-11 short tail swing hydraulic excavator at the start of this year.
With an operating weight range of 13,400 to 14,467kg, the PC138US-11's short tail swing radius makes it another machine designed for working in confined areas such as single lane traffic or urban environments.
Enhancing safety
It said that safety was further enhanced through Komatsu's optional Komvision system which debuted on the PC138US-11 excavator. It can display a 360° bird's eye view representation of the excavator on the standard 7in (178mm) LCD widescreen monitor.
Alex Visentin, product manager at Komatsu Europe International, said, "The new PC138US-11 does much more than simply meet EU Stage IV emission regulations. It offers significant advances in fuel consumption, provides 3G communications, improves operator comfort, and includes new safety features.
"As the previous model did, its contoured cabin design allows the cab to turn within the same swing radius as the counterweight."
Komatsu's new Stage IV engine integrates SCR to reduce NOx emissions using the AdBlue additive.
The hydraulic system is said to have been enhanced for reduced hydraulic loss and improved efficiency.
First showing
Machines from Case's D Series of crawler excavators were unveiled for the first time in 2016. The company said that all its D series excavators featured Case's fuel-efficient Stage IV engines with its SCR and DOC-only solution, without the need for a diesel particulate filter.
There are two new models – the CX130D and the CX490D.
The medium range 14 tonne CX130D has a 78.5kW engine generating 356Nm of torque, and has a maximum reach of 8.3m and digging depth of 5.5m.
At the heavier end of the range, the CX 490D weighs 49.4 tonnes and features a 270kW engine capable of generating 1,363Nm of torque, with a maximum reach of 11.97m and digging depth of 7.72m.
The largest in the range is the CX500D in mass excavation version, which has an operating weight above 50 tonnes.
Last month, Case's parent company CNH Industrial and Hyundai Heavy Industries (HHI) entered into a strategic alliance agreement in the compact excavator business.
Under the 10-year-long-agreement, with renewal option, CNH Industrial will market four mini excavator models that will be supplied as complete products by HHI through OEM production.
ten other mini excavator models in the form of complete knock down kits through license production, will also follow.
Hyundai itself launched the HX430 L 44,120kg crawler excavator this year. It has a bucket capacity of 1.90m³ and has an overall width of 3,340 mm with 600mm shoes.
The HX430 L is powered by a Cummins QSL9 4-cycle turbocharged air cooled diesel engine which complies with Stage IV, and is rated at 236 kW.
Hyundai said that access to the DEF/AdBlue supply system was easy. The DEF/AdBlue tank is installed inside the tool box and its inlet is remotely located.
Warning of overfill is given by a red lamp signal.