Excavators – variety meets versatility as product development continues
Hyundai Construction Equipment recently joined forces with Hyundai Motor Group to develop hydrogen-powered construction equipment.
It signed a Memorandum of Understanding (MOU) regarding the joint development of hydrogen fuel cell construction equipment with Hyundai Motors and Hyundai Mobis at its Mabuk Research Centre in South Korea.
Together, the three companies will look to develop medium to large-capacity hydrogen-powered excavators over the next few years.
According to the MOU, Hyundai Motors and Hyundai Mobis will design and manufacture hydrogen fuel cell systems, including power packs, while Hyundai Construction Equipment will design, manufacture, and evaluate the performance of the excavators and forklifts.
The target date for mass production and distribution has been set at 2023.
Why hydrogen-based electric construction equipment is not conventional
Unlike conventional diesel engine-based equipment, hydrogen-based electric construction equipment uses electricity produced through the chemical reactions between hydrogen and oxygen as its power source, meaning no emissions of toxic gases into the air.
Given the rapidly rising demand for eco-friendly equipment around the world in recent years, hydrogen-based construction equipment is expected to help Hyundai Construction Equipment compete in the global construction market moving forward.
'We have prepared a foundation,' says head of R&D Hwang Jong-hyun
Hwang Jong-hyun, head of the research and development division for Hyundai Material Handling at Hyundai Construction Equipment, said: "With this latest agreement, we've prepared a foundation upon which we can secure core technology in hydrogen-powered construction equipment.
"Hyundai Construction Equipment will do its very best to meet the challenges that lie ahead as countries around the world attempt to establish global standards in terms of certifying performance and legislating relevant laws for the commercialisation of hydrogen-powered construction equipment, and play a leading role in the market moving forward."
A-Series HX220AL addresses need for smart machines
For the immediate future, Hyundai Construction Equipment Europe has launched the A-Series HX220AL crawler excavator, one of its first Stage V ready machines with several new services features developed and tested to improve uptime and meet the demand for smart machines.
Mobile demolition meets material handling for Sennebogen E-825 Series
A mobile demolition machine from Sennebogen's 825 E-Series with quick-change system installed on the grab stick is described as combining the qualities of a material handler designed and thoroughly proven to withstand continuous use in scrapyards with the features of a robust and stable demolition excavator.
The company says the machine has the advantage of being moved more quickly and easily for smaller, inner-city projects.
Special transport kinematics developed for added mobility
According to Sennebogen, the days when many different construction machines could be seen on demolition sites are a thing of the past.
The company has developed special transport kinematics for the 825 E-Series demolition, where the machine is transported in its entirety without removing the stick or counterweight. Thanks to it being a mobile version, the machine is ready to start in just a couple of minutes as soon as it has been driven off the low loader.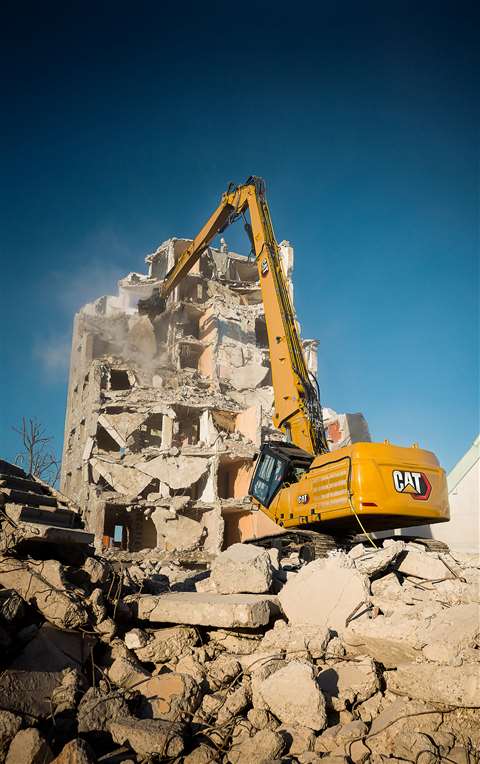 A range of "green efficiency" technologies mean that the company's diesel-powered machines can operate with particularly low emissions, low wear and tear and save energy. EcoMode, automatic idle and automatic stop reduce diesel consumption to a minimum, when handled optimally by up to 25% and the ex-works installed engine speed control systems can help demolition professionals to reduce operating costs sustainably without the need for separate operator training.
Cat's 352 UHD- ultra high demolition with a range of attachments
Cat's 352 UHD Ultra High Demolition excavator is designed to demolish tall structures using a range of Cat attachments, including multi-processors, grapples, shears and hydraulic hammers with the retrofit boom.
The UHD front can be switched for a straight or bent (retrofit) boom position for lower-level demolition and earthmoving applications.
A 15-minute switch and no special tool required
According to Cat, this switch typically is done in about 15 minutes by two people with no special tool required. The 352 UHD features a hydraulically activated variable-gauge undercarriage as well as the Cat Active Stability Monitoring system, which continuously informs the operator of work tool position within a safe working range and warns when approaching stability limits.
In the UHD configuration, the machine provides 28 m (91 ft) of vertical height to the work tool attachment pin, and 15.8 m (51 ft) of horizontal reach, when working with a 3,700 kg (8,150 lb) tool. These specifications allow the 352 UHD to demolish structures of eight or nine storeys quickly, with precision and control thanks to the electro-hydraulic control system.
The undercarriage gauge is 4,000 mm (156 in) for optimum stability when working, and 3,000 mm (120 in) for transport.
In retrofit straight boom configuration, the 352 UHD uses a 9.1 m (29 ft 9 in) retrofit boom with a choice of 2.9 m (9 ft) or 3.35 m (11 ft) retrofit stick.
Equipped with the longer stick and a 3.08 cu m (108 cu ft) bucket, the 352 UHD digs to 6,670 mm (21 ft) and a maximum reach at ground level of 11,880 mm (38 ft).
Hitachi introduces next generation Zaxis-7
Hitachi Construction Machinery (Europe) has introduced its next generation Zaxis-7 medium excavators, which it says "puts owners and operators in complete control."
The ZX250-7, ZX300-7 and ZX350-7 Stage V-compliant models feature a redefined design which the manufacturer believes gives owners the opportunity to increase profit and reduce costs, with fuel consumption on the new machines up to 10% less than previous models.
The excavators can be used on a range of projects, as attachments are quickly changed using an enhanced attachment support system on the monitor. Operator preference and job site requirements can also be adjusted to fine tune the machine for optimum productivity.
A redeveloped cab and rigorous testing in Japan
New features of the cab – which has 20% less vibration than the previous generation – include the synchronised motion of the seat and console to reduce operator fatigue, and an adjustable console height with three positions to choose from. Easy operation comes from the ergonomic design of the console and switches. The hi-res anti-glare 20 cm (8 in) screen is also easier to view.
Tested rigorously at dedicated facilities in Japan, Hitachi Zaxis-7 machines have been built to last and maximise uptime by easy maintenance and cleaning features.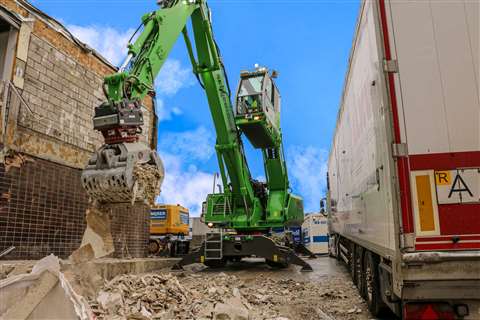 The two-way disconnect switch makes it possible to shut down power while still enabling the machine to transmit operation data for 72 hours. When the battery is completely disconnected, service or maintenance works can be carried out.
Volvo brings EC300E Hybrid to North America
Volvo Construction Equipment has introduced the EC300E Hybrid, now available in North America. The manufacturer says the new hydraulic hybrid takes "free energy" generated by the boom down motion and uses it to reduce fuel consumption.
The powerful and regular boom-down motion charges 20-litre hydraulic accumulators, which then deliver energy to drive hydraulic assist motors that help power the hydraulic pump. There are the same levels of controllability and performance as the standard EC300E, including the ability to work in Eco and Hybrid mode simultaneously.
Article originally published in the June-July 2020 issue of Demolition & Recycling International, along with additional content including Bobcat's E10e mini excavator swapping indoor demolition for an archeological dig – and how British contractor Advanced Demolition found its "dream machine" after 20 years