Excon opens with rousing speech from highways minister
By Mike Hayes26 November 2015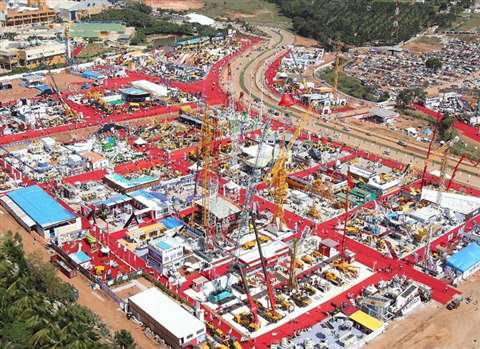 The Excon exhibition in Bangalore opened with an upbeat message from India's Minister of Road Transport, Highways & Shipping, the Honourable Shri Nitin Jairam Gadkari.
In a speech centred largely on India's road infrastructure, Mr Gadkari began by reminding a gathering of industry professionals that US President John Kennedy once said American roads are not good because America is rich…America is rich because American roads are good.
"For progress and development," he said, "we need good infrastructure."
While praising the work that has been done to date, he also denounced as "not good business", the decision of cement manufacturing companies to raise their prices, immediately following the government's decision to use concrete to build its new road network.
He warned those companies that, if they continued to defy his wishes for a reduction in cement prices, he would allow imports from China.
In his speech, the minister brought warm applause from the audience when he outlined plans for express highways, new rail links, port expansions and the use of waterways for commercial purposes.
He said, "Now, in China, 48% of goods and passenger traffic is on water. In Korea and Japan it is 43% and 44% [respectively]...in India, it is only 3.5%...I feel this can be a great opportunity for new business.
"My problem," he said, "is not resources; my problem is my system. How I can make my system more fast – that is the most challenging thing."