Explosive Demolition Award
Like the Urban category, Explosive Demolition ended in a result of a company winning for the first time on the basis of its performance in a very challenging project. Indeed, in its entry to the awards, Jet described the HG de Witt project as one of those that "literally kept you awake at night". One trusts that after the judges' decision, managing director Joe Brinkmann and his team will sleep a little easier.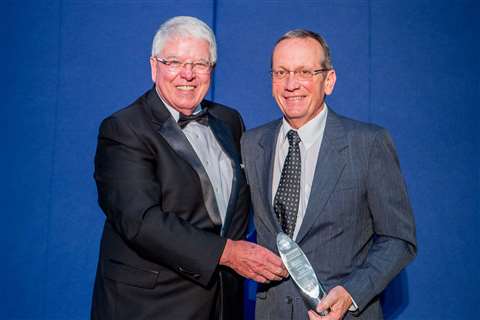 The specific challenge was an exceedingly tight site, which made it necessary to produce a centre-drop implosion action that would emphatically pull the east end of the building and thereby "ride" it to the west, while simultaneously pulling in the west end of the building.
Critical requirements for the success of this design were a strong lower "spine" of the eastern end of the building to support it during the "ride", for no kickback action of the east end to occur, and for the floors linking the east, west and central portions of the building to not separate as the centre portion dropped vertically downward.
Strengthening the spine and precluding kickback were achieved by installing two heavy steel columns three storeys high in the east end of the building. The strength and stretch of floors was bolstered by a novel implosion method using a total of 64 high-strength, high-elongation steel mining tendons from east to west across the building.
Jet said the successful implosion design and extremely detailed attention to project execution achieved the required results, with the collapse mechanism leading to the formation of a pancaked, pyramid-shaped rubble pile as required by the restrictive site.
Emphasising Jet's success at the end of a close-fought category, awards judge John Woodward said: "All the shortlisted companies submitted highly technical projects for this award which led to long discussions within the judges to find a winner. Jet showed great skill in demolishing the building within the constraints imposed upon them."