Joint Winner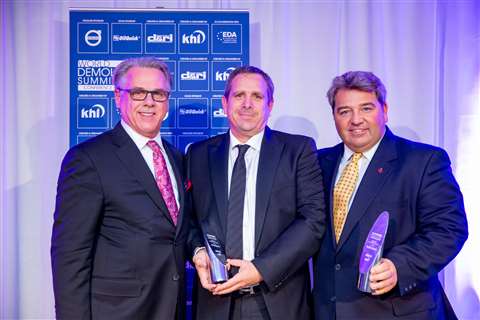 Cardem
Country
France
Project
Gandrange
Judges said
"Cardem demonstrated the ability to adjust accepted demolition techniques to suit a complex situation with no compromise to health and safety"
Joint Winner
Safedem
Country
United Kingdom
Project
Red Road, Scotland
Judges said
"The Safedem project provided the global demolition community with a benchmark for similar projects that will inevitably be part of the industry's future"
Also shortlisted
Cardem (France, LACQ project);
Erith Contractors (United Kingdom)
Summary
While Civils provided a Highly Commended as well as winner, Explosive Demolition proved even tighter, with two entries impossible to spilt as the niche nature of this category produced a closely fought contest all round.
Gandrange, one of two challenging projects submitted by Cardem, led the company to combine two demolition methods – cable pulling and explosives – as it had been impossible to proceed to any pre-weakening for lifting, cable pooling or shear cutting for breakdown.
The advantage of this method was that Cardem did not have to touch the structure before demolition and so had no risk of premature collapse. After a risk assessment showed that the 60 m (196 ft) distance between the excavators and the cutting charges was too close, Cardem decided that one of the excavators should be remote controlled, allowing the company to bring down two structures with cables after cutting its bracing. Another excavator was kept in tension to secure the structures and prevent them falling in the wrong direction.
Safedem was appointed by Glasgow Housing Association (GHA) on the Red Road project in Scotland. It won the award for its contingency planning after two of the 12 structures being demolished failed to collapse completely and remained at around 10 storeys in height.
The company used standby high reach equipment that was already on site for this eventuality, and the demolition was completed within days with the cleared site handed back to GHA in June.