Steinexpo is a growing show. The 2017 version, which takes place in Germany starting at the end of August, has 10% more exhibitors than the previous event, with almost 300 exhibitors having signed up by the end of June. In addition, international exhibitors make up more than a quarter of the number taking part. Here are some of the names who will be present at Europe's biggest exhibition of its kind.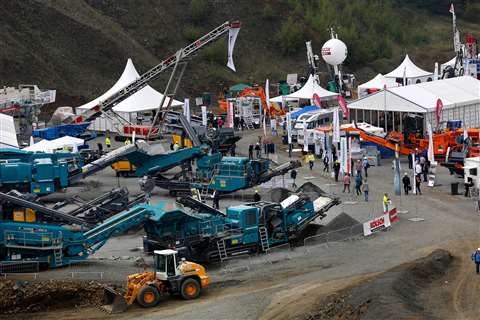 AG Sick
The company will present the Visionary-B 3D vision sensor as a co-exhibitor with the BG RCI (Berufsgenossenschaft Rohstoffe und chemische Industrie). The Visionary-B is ideal for driver assistance on heavy, off-road commercial vehicles used outdoors, such as on construction sites. Its role is minimise the risk of collisions when mobile machines pull away, manoeuvre and turn, by monitoring the driver's blind spot.
The system is a two-in-one solution, because it combines an active 3D sensor for collision warnings with an integral 2D live camera. This means that the driver can also see a 2D live image and access recordings of the machine's previous few hours of operation. When the system is installed at a height of between 1 and 2.4 m (3 and 8 ft) the detection angle of 105° x 90° enables it to cover a blind spot behind the vehicle that is 6 m (20 ft) long and 4 m (13 ft) wide. The evaluation unit processes the 3D image data, assigns the objects to different classes on the basis of the measured values, saves the recordings of the most recent period of operation and uses intelligent algorithms that enable it to ignore objects that are not likely to cause a collision. At the same time, it transmits the live image and the alarm signals to the monitor in the machine's cab, which issues collision warnings in the form of both audible and visual signals.
Allu
Attachments firm Allu will be both exhibiting and demonstrating equipment at its stand, and among the machinery being shown will be a selection from the Allu Transformer Series.
The equipment being exhibited will include the Transformer M-Series multi-faceted tools; the Transformer DL Series of screening attachments for compact base machines which are suitable for excavators up to 12 t, loaders up to 8 t, tractors and backhoe loaders; and from the D series of screener buckets, and the DH 4-17 25TS, DH 3-17 X75, and DN 3-17 25TS transformers.
Case
Case's line-up will include several models from the company's most recently launched ranges, which will also display the manufacturer's new livery that celebrates its 175th anniversary.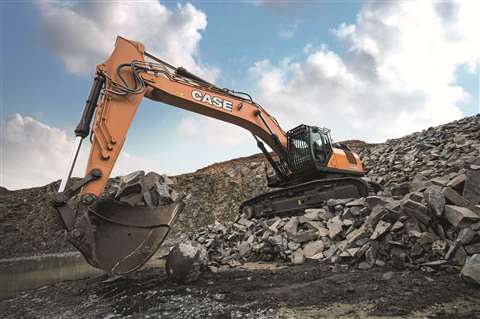 The machines are equipped with Stage IV, maintenance-free engines with no diesel particulate filter.
The centrepiece piece of the Case display is being kept under wraps for now, but visitors will be able to get a first look at one of the larger wheeled loaders from the recently launched seven-model G Series range.
Case said it had designed the G Series cabs for operator comfort with a premium control interface, a seat-mounted console and new joystick steering with speed proportional sensitivity.
There will also be the opportunity to have a look at one of the new D Series crawler excavators. All the models in this range claim high productivity and faster cycle times, said to have been achieved with new, more efficient hydraulics, resulting in lower operating costs and improved fuel consumption.
Doppstadt
Doppstadt will showcase its solutions for conveying and separating technology.
Highlights include belt drums, which drive 1 km long conveyor belts round the clock, and the new SM 620 K Plus mobile chain sieving machine that can handle and sort earth, gravel and sand, as well as construction rubble and mixed construction site waste.
The company said it has modified its separating machines to match the demands of the sand and gravel quarrying industries. In practice, this means more output in less time. Increased job volume also makes it possible to load the machines using large-scale wheel loading scoops. The huge funnels can be filled non-stop, and the separating drums can take in and output more rubble in a shorter space of time. The discharge conveyors at the rear, and on the side, have been extended so that the heap of rubble can expand to almost a quarter higher and wider than before, and therefore doesn't need to be cleared away quite so often. As a result, throughput is increased.
The mobile sorting systems separate out construction materials, gravel, stones and earth. They are ideal if the user changes site frequently, or when different separating tasks are required. If necessary, these machines can be converted quickly and efficiently. They are also easy to use and maintain. If customers request it as an option, the company's telematic system means Doppstadt can monitor its machines, no matter where they are in the world, and provide support as soon as a problem is identified.
Hyundai
Demonstrating two machines – the HX520 L excavator and the HL980 wheeled loader – Hyundai will also have an HX480L excavator and an HL975 wheeled loader on its stand.
The HX520 L is Stage IV compliant, with a combined solution using EGR (exhaust gas recirculation) and SCR (selective catalytic reduction) technology. Hyundai claimed this resulted in a reduction of fuel consumption of 3 to 6% depending on the type of work the machine was doing.
The HX520 L comes with a 3 cu m (106 cu ft) bucket as standard, with a digging force of 280.5kN and 11,870 mm (38 ft) maximum digging depth.
The bucket design on the HL980 is said to have been improved to increase bucket capacity and minimise spillage of loaded materials. It also has an Eco gauge to help with the economic operation of machines. The gauge level changes colour with the engine torque and fuel efficiency level. The status of fuel consumption, for example the average rate and the total amount of fuel consumed, is displayed. Hourly and daily fuel consumption can be checked in the detailed menu as well.
Kemroc
The Erwetor DMW series of cutting wheels from Kemroc consists of a base drive with two lateral hydraulic motors and cutting wheel with selectable cutting width and depth, as well as with mature tool assembly.
Kemroc manufactures these robust machines in four sizes for excavators from 14 to 60 tons operating weight. The machine shown at Steinexpo – the Erwetor DMW 220 HD 1000_150 HD (1,000 mm/3 ft 3 in immersion depth and 150 mm/6 in cutting width) is equipped with a cutting wheel and milling protection and assistance with immersion. It is suitable for use in reinforced concrete and natural stone with a uniaxial compressive strength up to 100 mPa. The optional milling protection is used to protect of the environment from material flying around. The optional help of immersion is used for simple and low-vibration intrusion of the cutting wheel in the rock.
Liebherr
Liebherr plans to showcase large items of equipment from its earthmoving programme, including a crawler tractor and its 130 t mining excavator, the R 9150, and further equipment designed for quarrying.
The company will also be showing the L 580 XPower wheeled loader.
It said the rigorously tested Liebherr XPower drivetrain generated its power through the interaction of two different drive paths, distributing the load between the two.
It added that every XPower wheeled loader was fitted with stronger axles than the previous machine generation, often being fitted with axles from the next model up in the earlier range. In addition to the axles, Liebherr has reinforced other core components such as the hydraulic cylinders and the lift arm.
Metso
Finland-based Metso will introduce its MX cone crusher featuring multi-action crushing technology to the European market, as well as the updated Lokotrack mobile jaw plants. Since the US launch in March, more than 20 MX crushers have been sold globally.
"The sales of MX crushers have really exceeded our expectations, and they are evidence of our customers' desire to achieve longer uptime and reduced operating costs. Metso's new MX cone, combining piston and rotating bowl adjusting technologies, fits well with the current needs of aggregates producers," said Jouni Mähönen, vice president global sales and product support.
"We believe that interest in MX will be high in Europe too after Steinexpo. Metso has been known on this continent for decades as a main developer of cone crusher technologies. Introducing the multi-action MX shows that our commitment to finding new solutions for our customers continues to be strong."
The Metso MX4 being displayed during Steinexpo operates in the 315 kW power range. Benefiting from the maximum feed opening of 254 mm (10 in), the crusher can reach capacities of up to 600 t/hr.
Rubble Master
According to Rubble Master, service, cost savings and efficiency are some of the reasons more and more companies are deciding to buy a RM120Go! impact crusher.
With a weight of 35 t, it produces 350 t/hr in some applications. Depending on infeed rates and feed process, it accepts infeed sizes of up to 850 mm (33 in).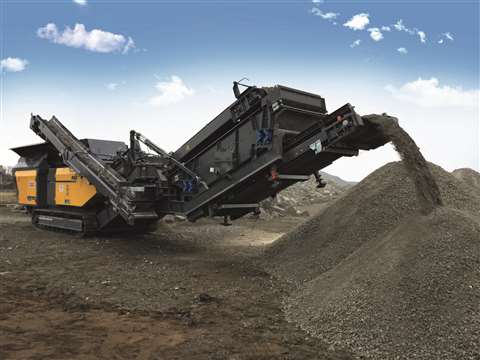 Also being presented is the RM90Go! mobile impact crusher with RM MS95 single deck hanging screen with swivelling refeeding belt. A priority in the development of these screening modules was to achieve the highest levels of accuracy when splitting the crushed material into two end fractions.
Oversized material not passing through the screen mesh is transported back to the hopper of the crusher over the refeed belt. Because this can be swivelled at 90 or 180°, the oversized material can be deposited on the ground as a saleable product.
Sandvik
On the Sandvik stand, machines on show will include the new CS550 cone crusher – a secondary stage crusher for 700 to 750 t applications. The company said it offered advanced automation and maintenance features to maximise productivity and uptime.
It added that the CS550 achieved up to 25% higher reduction ratios compared to similar types of crushers.
The company will also be showing the QJ341+ jaw crusher, which incorporates a double deck pre-screen as standard.
The pre-screen feature on the QJ341 is said to provide "high amplitude for excellent separation".
This enables the removal of a large amount of fines, resulting in greater efficiency, higher productivity and less wear on the crusher.
It added that test results had demonstrated increased productivity by as much as 38% in certain applications.
Terex Finlay
Terex Finlay will be presenting a range of new models and showcasing its T-Link telematics system.
The company will introduce the new J-960 jaw crusher. Two recently introduced crushers in the form of the I-120RS impact crusher and J-1170 (direct drive) jaw crusher will also be on display for the first time at an equipment show. The full line up of machines is confirmed as:
J-960 jaw crusher
J-1170 (direct drive) jaw crusher
I-120RS impact crusher
674 inclined screen
TC-80 tracked conveyor
883+ heavy duty screener .
Apart from the products being displayed at the show. In the hospitality booth operators will be able to get live demonstrations of the Terex Finlay T-Link telematics system. This enables operators to stay connected to and keep track of their equipment, monitor work progress, manage logistics, access machine critical information, analyse and optimise machine performance and perform remote operator support.
Volvo Construction Equipment
Volvo Construction Equipment will present its latest E-Series crawler excavators, the A45GFS articulated hauler with full suspension, and the largest wheeled loader in the Volvo range – the L350H.
The L350H wheeled loader is said to feature improved fuel efficiency, further performance-enhancing components and a new design. It has an updated drivetrain, new hydraulics, and a new operator environment. It is powered by a Stage IV D16J engine that is claimed to produce high torque even at low speeds.
Volvo will also show its A60H hauler, which has a 55 t payload, as well as the largest Stage IV-compliant Volvo crawler excavator, the EC750E.
Volvo said that a special area would allow operators to test their skill on an EC250E crawler, with the chance of qualifying for the Operators Club Final 2017.
Steinexpo takes place from August 30 to September 2 at the Mitteldeutsche Hartstein-Industrie Quarry, Homberg, Germany. For more details please visit www.steinexpo.eu
Article originally published in the July-August 2017 issue of Demolition & Recycling International. To see it in full, including extra images, or to register to receive the magazine on a regular basis, please visit www.khl.com/subscriptions