Extra factors in heavy lifting
By Laura Hatton17 December 2014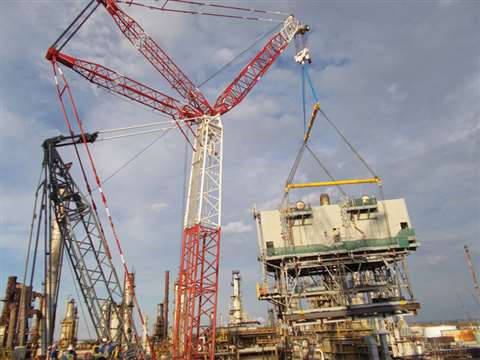 Space constraints, site safety and ground conditions are having an impact on the heavy lift sector. Laura Hatton investigates

Heavy lifting is most commonly carried out in the industrial sector where the working environment can be hazardous, especially at petrochemical and energy sites. As a result a great deal of preparation is needed to carry out a heavy lift in a safe and effective manner.
To complicate matters, throughout the industrial sector factories are being expanded. For crane companies this means working in smaller spaces when carrying out heavy lifts. A spokesperson from USA-based crane rental company All Erection & Crane Rental Corp Family of Companies, explains, "In the industrial sector, plants are adding on instead of building new. So now we're working in a tighter space, needing a longer reach. We're on a job now with only a few feet of clearance, and this is becoming increasingly common."
The decreasing available space on these sites is also affecting transportation, assembly and disassembly. In Japan, for example, most of the construction sites and roads are narrow, and weight limit, height and width is strictly controlled, a spokesperson from Uchimiya adds. To overcome potential problems in these areas, companies are carrying out more pre-planning than ever before.
"Pre-planning is something that is required with these jobs," a spokesperson from All Erection, says. "This could include anything and everything from air rights to ground bearing pressures, safety procedures to new OSHA laws and regulations. Every piece is tailored to fit the customer's project."
The logistics of carrying out a heavy lift can be also complicated, as Guillaume Gagnon, Guay Cranes vice president, points out, "The first thing is to evaluate that you have truck and trailer access to the crane pad and enough space to assemble the crane. After that, every move needs to be well planned, especially if you have a superlift on the crane. In addition, the assist crane will need to be able to control the counterweight on the tray on every single lift. The crane pad must have the good compaction to avoid any surprises during lifting."
Extra capacity
Components are also getting bigger, and this, combined with smaller working areas, is promoting crane manufacturers to meet customer demands of short working radii and high capacity. Crane manufacturer Liebherr, for example, offers a wide range of boom systems for its heavy lift cranes, including the Power Boom. The system allows cranes to be used for super-heavy lifts over existing buildings, the manufacturer says.
The Power Boom system is available on the 1,000 tonne capacity Liebherr LR 11000. The model comes with W-type luffing jib and S-type main boom, which can be used with a 1,000 tonne head or a 650 tonne head, the manufacturer says. For better manoeuvrability, the LR 11000 has a track width of 9.2 m and when transported it has a width of 3.5 m and a height of 3.2 m.
For extra ease of transportation, individual components can be reduced to 45 tonnes. "The central crawler section including the slewing ring and bottom section of the slewing platform, forms a transport unit and can be connected to the slewing platform quickly using just four bolts," a spokesperson from Liebherr adds. Liebherr's highest capacity heavy lift crane is the 3,000 tonne LR 13000.
From Liebherr-Werk Nenzing for the offshore sector is a new 250-tonne ship crane. "Liebherr just recently presented its latest innovation, a new 250-tonne ship crane at this year's SMM," a spokesperson from Liebherr-Werk Nenzing says. "It has been specially developed and designed to meet the market requirements in the heavy lift and multi-purpose sectors. The crane is made based on the existing design of the CBB series (wire luffing cranes)."
Also from Liebherr is the RL-K 7500 subsea crane. The model is capable of lifting 300 tonnes in the air and handle loads down to a water depth of 3,600 metres. It has a working radius of up to 50 m, a rope diameter of 82 mm and maximum overturning moment of 75.000 kNm. It has a dead weight of 665 tonnes. It is fitted with Heavetronic and Pactronic systems and has an active heave compensated (AHC) system to monitor and predict vessel movements. A result of this means that the system does not need to be manually adjusted and is independent of weather conditions, the manufacturer says.
The crane has a patented horizontal winch shifting system, which guarantees the ideal fleet angle of the rope under all load conditions in both hoisting and lowering operations, the manufacturer said. The RL-K 7500 can be installed on board drill vessels and heavy lift vessels. The knuckle boom of the RL-K 7500 is designed for use in hazardous areas. In addition, the crane can be equipped with an Arctic temperature package, allowing for operation at temperatures down to -40 degrees Celsius.
New from Terex is the Boom Booster kit for the CC 8800-1 crawler crane (see page 21 of the November 2014 issue, page 13 of the April 2014 issue and page 7 of the January 2014 issue of IC for more details). The kit increases the crane's capacity by up to 80 %, Guntram Jakobs, Terex crawler cranes product marketing manager, says. The CC 8800-1 can also be converted into a Twin with the addition of a Twin kit.
From Chinese crane manufacturer Zoomlion is the QAY800 all terrain crane. The crane has a maximum rated capacity of 800 tonnes and an optimised boom configuration system, the manufacturer claims. "The machine is a classic high performance product with great applications and has an optimised boom configuration system to satisfy the demands of the market," the manufacturer says. "The crane is very suitable for the erection of a wind power system as it has excellent micro-positioning performance and can be assembled and dismantled quickly."
The latest heavy lift equipment from crane and service provider ALE is the Mega Jack 800. Designed for industries including civil, mining, power generation and offshore, the system is made up of 800 tonne capacity jacking towers and can be combined with a starter beam to create a 1,600 to 2,400 tonne capacity per jacking point. The system has computer-based controls to automate programming and operate the cassette feed-in system. Ronald Hoefmans, ALE group technical director, says, "The jacking cassettes plus starter beam and end cassette can be bolted together to take up to a massive 25 % uplift per corner. This gives the un-braced system an enormous horizontal load capacity."
The Mega Jack 800 forms part of ALE's Innovation Series, which includes the AL.SK190 crane, the Mega Jack and the Hydro Deck.
End user requests
Customers working in the heavy lift market are requesting that lifting equipment needs to be quick and easy to assemble in a small area. "This is to avoid obstruction on the construction site," Guillaume Gagnon explains. To meet these demands, Guay has two 660 US ton (600 tonne) Terex Demag CC2800s with wide track and narrow track kit, superlift and luffing jib. "With those attachments, we have a good load chart and a good versatile crane," Gagnon says. "We also have a Manitowoc 16000 with a wheeled Maxer and a Liebherr LTM 11200-9.1 for short term heavy lift job. The outrigger print of the LTM 11200-9.1 is 13 by 13 metres, so it is really useful when we need a heavy crane and we have no space to assemble a lattice boom."
USA-based crane and transport service provider Lampson International offers the Lampson Millennium 4100 and the Lampson Transi-Lift LTL-3000. "The Lampson Transi-Lift has independent track driven crawler transporters which allows the crane to make a lift, while at the same time carrying and setting the load," Kate Lampson, Lampson International says. "It also has a smaller foot print than other mega cranes on the market giving it the ability to fit into tighter spaces on job sites. It also has the ability to provide much longer reach capabilities due to its capacity at radius. The Millennium has no free fall capabilities, state-of-the art hydraulic power system, and can be fitted with Manitowoc Ring and Tower attachments."
To meet customer demands, All Companies offer Manitowoc the MLC300 and the Liebherr LTM 1750-9.1 all terrain crane. "When making a lift with the MLC300 the centre of gravity is automatically balanced by the variable position counterweight (VPC) system, which transfers the counterweight from back to front, depending on the boom extension," a spokesperson from ALL says. "In addition, the need for car body counterweights is eliminated, meaning reduced loads to the jobsite and less matting to distribute the weight across a broader footprint. This is suitable for barge applications."
The latest heavy lift equipment in Japanese crane service provider Uchimiya fleet is a Demag CC 6800. A spokesperson from Uchimiya says, "The CC 6800 is our highest capacity crane and has excellent lifting capacities throughout all working ranges, especially with luffing fly jib. Its maximum load moment rating is 14,000 tonne-metres, which is over our previous model's capacity, 12,000 tonne-metres."
Busy sectors
With an increasing world population, greater focus is being put into renewable energy. The demand for oil and gas, however, will not drop, Guntram Jakobs adds. In the USA and Canada, for example, oil and gas wok remains strong. "Oil and gas have filled in where the coal industry has slowed down," a spokesperson from All points out. "However, with a change in USA Environmental Protection Agency (EPA) regulations, there will be upgrades at existing coal plants."
Other areas that are expected to have an increase in heavy lifting is infrastructure, such as bridge building and highway construction. A spokesperson from Uchimiya says, "In the future, we expect the increase of demand for construction, thanks to Tokyo Olympics in 2020. Beginning with the re-construction of main stadium, many stadiums and buildings will be newly built and the infrastructure such as roads, bridges and railways will be repaired. Heavy lifts will be required in these fields."