Extracting every ounce of efficiency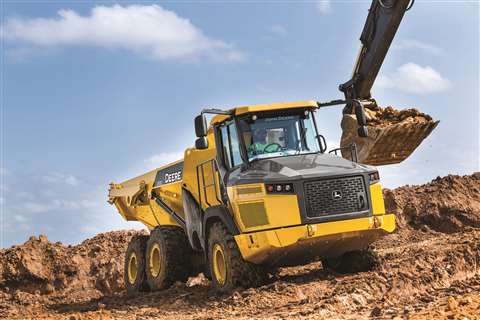 The 23.5 tonne 260E hauler has been added to its E-Series ADT family, along with the 28 tonne 310E
Small enhancements made to the processes in a quarry that shave off valuable seconds and reduce the risk of mistakes can add up to significant savings over time.
One company that has been making use of new technology to make its articulated dump trucks (ADTs) better able to deal with the heavy and repetitive work in the extreme conditions of a quarry is US-based manufacturer John Deere.
It has expanded its E-Series ADT family with the addition of the 23.5 tonne 260E and 28 tonne 310E haulers.
Compared to their D-Series predecessors, these ADTs have new cabs, frames, axles and updated styling. They also offer greater hauling capacities and higher travel speeds.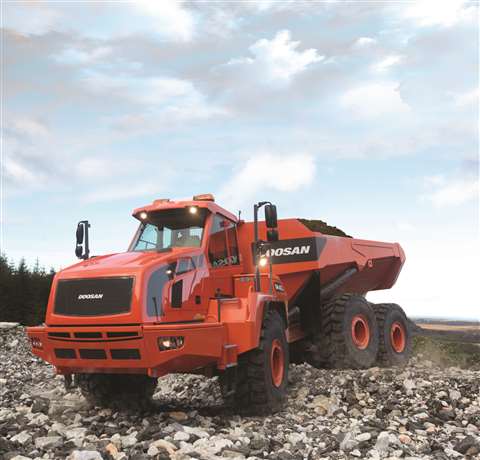 The new features on Doosan's ADTs include a ZF EP transmission, which has improved the transfer of power to the wheels
Both are powered by a John Deere PowerTech 9.0 l Tier 4 Final engine, and the purpose-built ZF transmission boasts a 125% increase in retardation capacity compared with the previous models.
A new automatic differential lock provides options for both cross-axle and inter-axle differential lock, which can power the ADTs through soft underfoot conditions or up steep inclines.
The use of high-strength materials for durability is balanced with a concern
for overall weight and distribution. A newly designed stay-tight oscillation joint, standard adaptive front suspension and balanced weight distribution also help the machines to navigate hostile terrain.
Inside the cab, operators benefit from a 50% reduction in decibel levels and are able to monitor machine diagnostics, digital gauges and vital system indicators on an easy-to-read LCD screen.
As an option, John Deere dealers offer Ultimate Uptime, which features John Deere WorkSight. This provides owners with pre-delivery and follow-up inspections, including JDLink telematics, machine health prognostics and remote diagnostics.
Optional extras
Another company that has been enhancing its ADTs for quarrying is the South Korean equipment manufacturer Doosan.
The new developments include a range of standard and optional features, such as the angle limitation system, which increases safety by preventing the body of the truck from tipping over when it is being loaded with materials. The body tips in accordance with the slope of the ground, so that it will not move is the slope is over the limit.
Based on a study of the customer's application, Doosan is able to provide recommended limits, but it is for the owner to make the final decision on what limits to set.
Another new standard feature on Doosan's ADT range is the engine auto shutdown.
According to Doosan, ADTs can spend up to 60% of their time standing with the engine idling while they wait to be loaded. In order to reduce the associated costs of such idling, the operator is now given the option of setting a time after which the engine will automatically shut down if the computer does not detect any activity in the machine.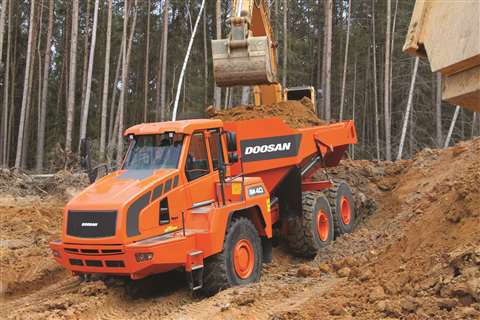 Bluetooth radios are also standard on new Doosan Stage IV compliant DA30-5 and DA40-5 ADTs.
Integral to the geo-fencing system, they bring with them an improvement in safety. Boundaries can be set up so that a machine's speed is limited to a pre-set level when it goes outside of the permitted area.
Optional features include electrically adjustable, heated mirrors, additional hand rails that enhance safety, and a white noise reverse alarm for particularly noisy job sites.
In terms of fuel consumption, Doosan claimed that its DA30-5 and DA40-5 ADTs were best-in-class. This is due to a combination of features, such as the use of Scania selective catalytic reduction (SCR) and exhaust gas recirculation (EGR) diesel engines that meet Stage IV/Tier 4 Final emissions regulations, along with the ZF EP transmission that has improved the transfer of power to the wheels.
One of Doosan's new DA40-5 ADTs has been added to the fleet at the Degelhof Clay Pit in Burglengenfeld, Germany.
According to Peter Jell, managing director of the clay pit, two MT36 ADTs from the Moxy range, which was acquired by Doosan in 2007, have been in service at the site since 1988 and continue to perform reliably.
Jell said, "With the Moxy range now under the Doosan banner, this has been beneficial for us as the availability of spare parts and service has improved significantly."
The DA40-5 is specially designed to provide permanent 6-wheel contact and drive for equal power distribution and strong performance when transporting heavy loads over rough and soft terrain.
At a gravel and stone quarry in Hausjärvi, in the south of Finland, an Hitachi ZW370-6 wheeled loader recently started work
An articulation hinge is positioned behind the turning ring to provide equal weight distribution to the front axle, even during maximum steer articulation, and a free-swinging rear tandem bogie ensures equal distribution of weight to each wheel.
Getting a grip
At an eight-hectare gravel and stone quarry in Hausjärvi, in the south of Finland, one of Japanese manufacturer Hitachi's second-largest wheeled loaders, the ZW370-6, recently started work.
The contractor Niemisen Sora Oy's choice was based on the successful introduction of the equivalent ZW-5 model in 2016.
Henri Petman, chief operator at the quarry, said, "Hitachi wheeled loaders are particularly suited to the work we do here, because of their excellent carrying capacity and grip. The traction control means there is no wheel spin in slippery conditions."
The ZW370-6 was said to have been designed to offer reliability across a wide range of quarrying applications, which is important for a quarry that produces approximately 800,000 tonnes of sand, gravel, chippings and stone ash per year, and where temperatures can drop to -15°C.
Electric drive
New technology has found its way into Caterpillar's latest electric drive Cat 988K XE wheeled loader, which was said to be the first wheeled loader offered by the company with a high-efficiency electric drive system.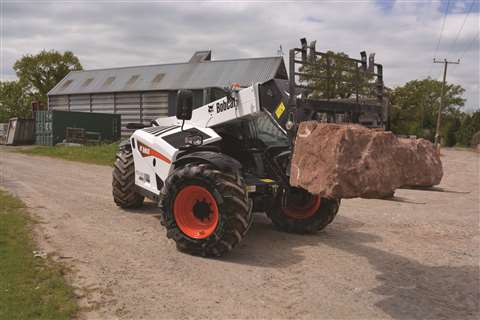 Boasting a 25% improvement on overall efficiency and up to 10% more productivity in load-and-carry applications, compared with the 988K loader, the 988K XE was said to be particularly well suited to demanding job sites where fuel efficiency makes a difference in the machine's total cost of operation.
The loader features switched reluctance (SR) technology and uses the same field-tested C18 ACERT engine, mechanical dropbox, driveline and axles as the 988K for consistent operation.
A range of bucket capacities are available with the 988K XE, from 4.7 to 13 m2, and rated standard and high lift payload reaches 11.3 tonnes when working with face material and 14.5 tonnes with loose material.
The electric drive technology was said to lower overall maintenance costs while increasing engine life expectancy by up to 3,500 hours.
With an extended oil change interval of 2,000 hours, the loader was said to use 40% less powertrain oil. Also, the durable SR drive motor, generator and inverter have been built to last through the second engine life with minimal maintenance.