Extreme Makeover: Sunbelt edition
By Leila Steed14 February 2020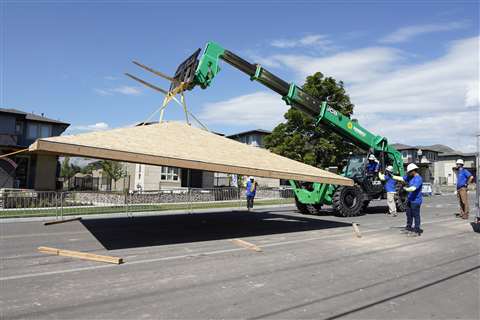 Sunbelt Rentals, part of Ashtead Group, has revealed that is has participated in the new season of US television show Extreme Makeover: Home Edition.
The American rental company provided forklifts, light towers, manlifts, skid steers and concrete equipment for use on the show, which tasks build and design experts to construction custom home renovations for deserving families with volunteers from local communities.
Joey O'Connell, district manager at Sunbelt Rentals, said, "Partnering with the show exemplified the spirit behind delivering value to our communities with our equipment and services — and it showcased teamwork in the truest sense."
Comprised of 10 episodes, the show saw Sunbelt use resources from 14 locations across California and Utah to provide equipment and services to every home makeover featured in the new series.
Brady Connell, executive producer for Extreme Makeover: Home Edition, said, "We are committed to the philosophy 'Make It Happen. Each time our crew arrived at a build location, we saw dozens of beautiful, green machines. We knew that scores of people had worked long and hard to get everything ready for each of our ten extreme builds."
Sunbelt's participation in the show saw its employees procure and deliver equipment to all the locations in the Extreme Makeover series.
A staff of the company's mechanics ensured the equipment, which included forklifts, light towers, manlifts, skid steers and concrete equipment, was job-site-ready for the production.
In addition to providing the volunteer tents with flooring and ventilation to minimise dust and offer space for people to take breaks during the builds, the rental firm also used specialty services and staff to ensure the production's varying locations had a 24-hour power supply.
"It was an amazing spectacle to see how everyone worked together to accomplish this seemingly impossible task of building a home in five days," said O'Connell. "Seeing how these families' lives were completely changed in a matter of a week was something that we were thankful to be a part of."
The new series, which will be shown on the US television channel HGTV, begins on Sunday 16 February, 2020, at 9pm ET/PT, 8pm CT.