Extreme weather: At the ready
By Joe Malone03 August 2018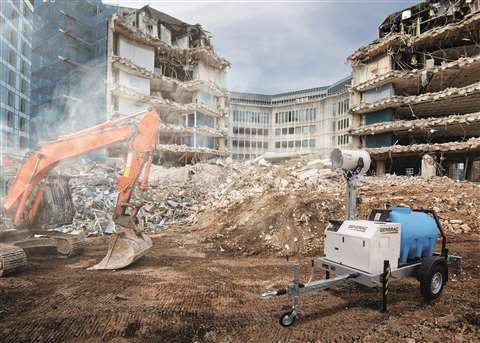 From disasters to simple difficulties on live construction sites, extreme weather calls for clean-up equipment to ensure projects are completed to the best standard.
From jet washer, dehumidifiers, heaters, coolers and dust suppression units, manufacturers are ensuring their products can handle the load.
Firstly, Brendon Powerwashers, true to its name, has launched a new jet wash to add to its Jetter Bowerwasher range of products.
The model, named the BBW70KPE-VT, is a trail model which has a pressure of up to 500 Bar, with a flow rate of 15 litre/minute, and is powered by a Honda V-Twin petrol engine.
The Bowerwasher range includes a four-fold make-up, with products coming under the Standard, Ultra High, Quiet and Hot product types.
The company also produces electric mobile models, as well as engine mobile and mini Bowerwasher ranges.
Mass business
This year has been a fruitful one for Brendon Powerwashers so far, with the company declaring mass business from rental companies across Europe.
It has also announced that new factory facilities are nearing completion and the extension will enable the company to grow further and supply its expanding markets. The UK is its home market, with Continental Europe also being key.
Morris Site Machinery also offers jet washers. Its latest product is the Hilta high performance 3000psi bowser pressure washer, which features a Yanmar diesel engine.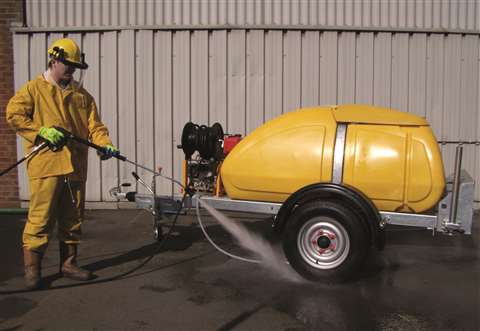 The model is said to be easily transportable, with a 12m high pressure hose, lance and gun. It also promises to be a time-saving and cost-effective model, which eliminates the need for a mains water supply.
Another product in the range is Morris' Hilta 2000psi petrol pressure washer, which boasts a high-performance Honda petrol engine.
It is designed to be compact and easy to manoeuvre on a two-wheeled robust chassis. It comes with a 7.5m high pressure hose, lance and gun.
Morris sales director, Richard Denholm, says, "Our Hilta range of UK-manufactured water pumps and pressure washers are in demand because they get the job done.
"The extreme weather conditions are encouraging more companies and organisations to invest in the Hilta brand for disaster recovery and contingency planning projects."
Dehumidifiers are another key product when helping to eradicate unusual weather conditions and temperatures. Legend Brands, based in the US, has launched two Dri-Eaz models specifically for UK and EU hire, construction and restoration markets.
Firstly, its LGR 7000Xli model is suited for spaces up to 368m3, while its Revolution LGR is suitable for smaller spaces up to 227m3. Both models contain digital control units which are easy to navigate, while displaying inlet and outlet temperatures and humidity levels, and include a humidistat for automatic ongoing humidity control.
The control panel can also be easily set to display in one of four languages: English, French, German and Spanish.
Helping to dry fast after floods, the LGR 7000XLi removes 58 litres/day at 26.7°C. Meanwhile, its Revolution LGR removes 36 litres/day at 26.7°C.
Lean operations
Rental companies can ensure lean maintenance procedures, as the models are said to have easily-accessible internal components. Automatic pump-out also ensures overflowing doesn't occur, meaning emptying is also not required.
Legend Brands also says that its models yield a healthy return on investment, through its Dri-Eaz dehumidifiers.
Meanwhile, Danish manufacturer Dantherm offers a range of dehumidifiers, suited to the rental market. Its products cover a range of brands including Master, Dantherm, Calorex and Aerial.
The company says its restoration series consists of the efficient and stylish Dantherm CDT dehumidifiers. They promise quick and easy control for both damage service companies and the building industry.
The CDT units are user-friendly, provide great digital control, as well as a light yet robust design, says the company.
The range offers capacities from 30 to 94 litres/day and a maximum working temperature of 32°C, as well as superior control of settings and operations.
The digital finger touch display enables users quick and easy control of humidity and service status. Furthermore, hours and energy consumption can be read off the display.
The products also have adjustable and fixed handles, which provide safe and convenient handling of operation. The products in the CDT range also boast big rubber wheels to easy transportation.
Latest technology
Heaters are another key products in the extreme weather conditions, and Dantherm also offers such products.
In fact, the company says it has the latest technology on the market in energy efficient water damage restoration, with its Aerial AERCUBE modular drying system.
Its products include innovative, self-explanatory eDRY electronics, meaning technicians obtain precisely the information they need for to make start-up easier.
A high level of operational reliability is said to be achieved by separating the electronics and mechanics in the unit. All units in the new AERCUBE series can be combined with and stacked on top of each other.
Another manufacture of heaters is Arcotherm, based in the UK.
Its latest product, which is said to have received great feedback since its launch, is the RTH Road Tow Heater model.
The model was designed as a simple solution to on-site heating regardless of the application.
An on-board generator gives a dedicated power supply to the heater, and a bunded fuel tank, capable of providing a minimum of 40 hours continual run time, supports the heater and generator.
There is also on-board storage for ducting and a thermostat, and 360° LED lighting to facilitate safe operation through darker periods of the day.
The product has the ability to monitor battery, oil and fuel levels, which are easy to read for end users.
The Road Tow Heater range includes 50Kw (RTH50), 100Kw (RTH100), and 140Kw (RTH140) models, all of which are thermostatically controlled. They provide indirect heat, said to be perfect for construction, remediation, drying, temporary structure and events.
Opposite to heating is cooling, and Dantherm also produces models in this space.
Dantherm offers the ACT 7 air-conditioner, described as a next generation product primarily designed for the small-scale commercial market. It has a cooling capacity of 7kW.
Independent model
Differing from more conventional cooling models, Dantherm's water-cooled product provides whole-room cooling without the need to continually exhaust internal air.
The model does not require an exhaust air duct to an outside wall.
It is supplied with a heat reject unit that can be seen up to 30m away from the indoor unit and quick-connect, interconnecting hoses.
Dust control is another key element to ensuring construction projects remain safe and sustainable, and Generac Mobile Products has launched a new model in this space, as part of its commitment to bringing more sustainable on-site solutions.
Its latest model, the DF 3000 Mobile Power
Tank (MPT), is described as a strong and independent dust control unit equipped with fog canon, a generating set and 1,000 litre water tank positioned on an adjustable telescopic mast reaching over 4m.
It is ideal for use on small- to medium-sized sites where water and energy are limited.
It covers an area of up to 20m (even further if wind assisted) and delivers up to 3 hours of continual operation for dust suppression in extreme environments. The Generac DF Ecology range has proven popular on quarry, rail and construction sites, says the company, as operators look to new and innovative products which help reduce air pollution from toxic air-borne particles.
Generac's products use nebulised water enabling the trapping of toxic particles including silica and asbestos less than 80 microns, whilst not imposing a great environmental impact, consuming around 10% of the water used in traditional methods.
David Gray, area sales manager for Pramac-Generac UK, said, "In our industry we tend to focus on delivering products powered by alternative fuels, but for us this is only one element on the sustainability agenda.
"We believe sustainability should also focus on delivering products which help site managers control and manage the long term, environmental impact of the area they are operating in for themselves and others."