Factory built high reaches
By Lindsay Gale19 March 2008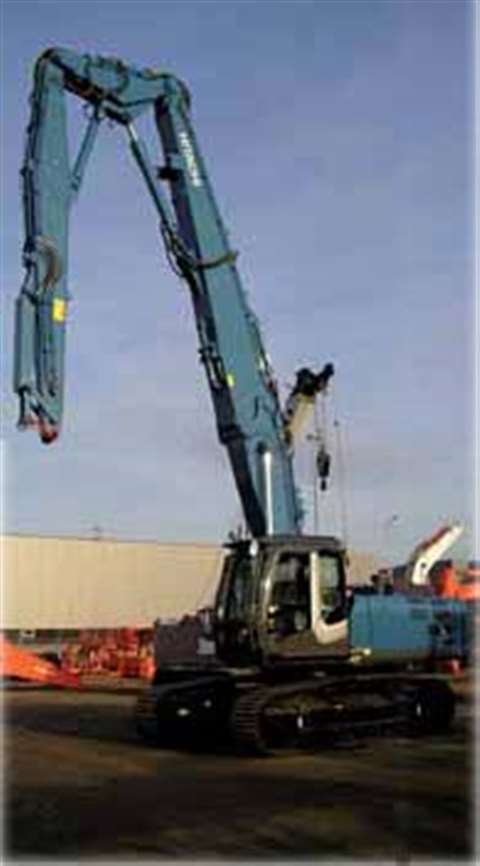 Hitachi Construction Machinery Europe is now offering factory–modified demolition excavators for the first time. The move comes following the extension of Hitachi's Amsterdam factory, which has allowed it to produce special configuration machines in house.
The three high–reach demolition machines available are based on Hitachi's 25 tonne class ZX250–3, 35 tonne class ZX350–3 and 47 tonne class ZX470–3 Zaxis–3 crawler excavators. While these are now available through the Amsterdam factory, demolition machines based on larger models such as the ZX670LCH–3, ZX8970LCH–3 and EX1200–5 will be built by Ipswich, UK–based Kockurek.
The modified ZX250LCK–3 is configured with a 3–piece boom offering a maximum pin height of 16 m and can carry a 2.4 tonne attachment
The ZX350LC–3 has a 21 m pin height with its three–piece boom, while the ZX470LCH–3 offers 25 m. Both have a maximum attachment weight of 3 tonnes in this configuration.
The high reachboom can be removed and replaced with standard excavation equipme thanks to a new mechanical hitch. Hitachi says this four–pin system allows quicker alignment when exchanging booms, speeding up the overall process. There are now also quick couplings on the hydraulic hose attachments
Hitachi offers a huge range of safety features as standard on the machines including FOPS guard, rear view camera, boom angle and swing alarms and GPS tracking. The options list includes water sprinkler piping for the ZX350LC–3 and ZX470LCH–3 and a hydraulically retractable undercarriage for the ZX470LCH–3.