Fagioli installs final piece in Genoa
By Alex Dahm29 April 2020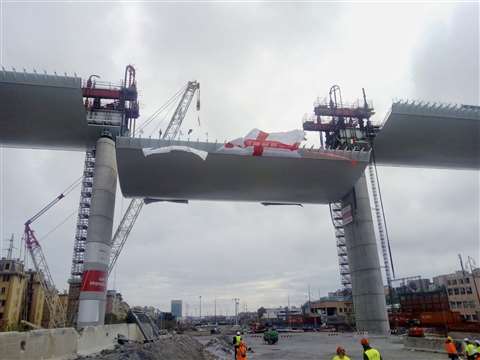 Italian heavy lift and transport specialist Fagioli installed the final section of the new Genoa road bridge in Genoa, Italy, on 28 April.
The new bridge, designed by famous architect Renzo Piano, replaces the Ponte Morandi built in the 1960s. Part of the Morandi Bridge (officially the Viadotto Polcevera) collapsed in October 2018, killing 43 people.
Fagioli has been involved throughout the replacement process, starting with the demolition. This involved the removal of the collapsed and damaged deck sections and piers. The first new bridge section was installed on 1 October 2019.
Fagioli was contracted by Pergenova S.C.p.A., the consortium established by Fincantieri and Salini Impregilo to design and build the new Polcevera Viaduct on Italy's A10 motorway. It was done in record time. Fagioli used self propelled modular transporter (SPMT) for the transport to site. Crawler cranes with capacity up to 600 tonnes and a strand jacking system were used for the installation. The three main sections, with spans of 100 metres, weighed up to 2,000 tonnes each.
Another 237 sections, weighing between 56 and 89 tonnes, were also transported by Fagioli, by barge and modular trailers. Those pieces were used to build the viaduct sections.
The new bridge consists of a 1,067 metre continuous steel deck with 19 support spans made of steel and concrete. These are: 14 spans 50 metres long; three at 100 metres long; one at 40.9 metres; and one at 26.27 metres.
Support for the bridge is 18 elliptical-section reinforced concrete piers. The dimensions are 9.50 x 4.00 metres and they are the same for the 50 and 100 metre spans. This gave a uniformity to the design, helped speed up and simplify the construction and meant just one type of external formwork was needed.
See a timelapse video of the construction here.