Fagioli transports hydrocracking reactors
By Christian Shelton30 November 2018
In Italy, heavy lift and transportation specialist Fagioli moved two large hydrocracking reactors, each weighing 1,535 tonnes, between the sites they were manufactured at and the port of Marghera.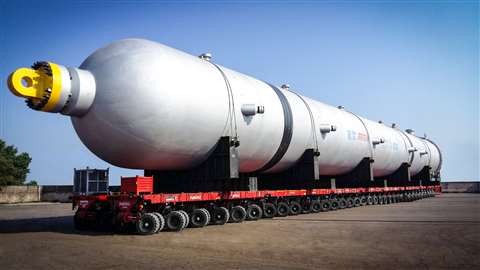 The reactors were located at Energy ATB Riva Calzoni sites in Roncadelle and Venice. Italian company Energy ATB Riva Calzoni manufacturers equipment for the energy industry.
From these sites Fagioli moved them to the port; from there, they were then shipped to Nigeria. In Nigeria they will be used in a refinery being built by Dangote Refining.
Each reactor measured 60 metres long and in order to transport them, whilst complying with onsite ground pressure restrictions, Fagioli combined 72 axles of Cometto MSPE 40t. In total the self-propelled transporters with electronic steering formed two convoys of more than 60 metres in length, 8.5 metres in width and 10 metres in height each.