Faktor 5 girder bridge for Edwards
By Laura Hatton23 September 2015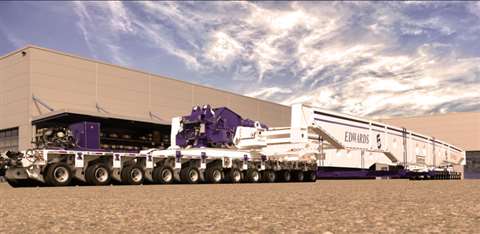 US heavy haul and rigging company Edwards Moving & Rigging has taken delivery of a Goldhofer Faktor 5 girder bridge.
The Edwards high girder bridge is the sixth to be built by Goldhofer since the product launch in 2012. It has a 5:1 payload to deadweight ratio. Deadweight is 100 tonnes giving a payload of 500 tonnes. It has a span of 47.9 metres and a total length of 86 m (when supported on 2 sets of 20 axle lines), the manufacturer said. The high girder bridge has been named Miss Audrey.
Edwards Moving & Rigging is headquartered in Shelbyville, Kentucky, USA. Mark Edwards, Edwards Moving & Rigging said, "For some time now, we have consistently gone for Goldhofer's quality products and haven't regretted it for a moment. On the contrary, Goldhofer is the reliable partner we need for the next big step forward: With our new high girder bridge we shall be able to play a leading role in the Champions League of the heavy-haul industry."
Stefan Fuchs, Goldhofer CEO, is also convinced that Miss Audrey is the long-term key to a dominant position for Edwards Moving & Rigging among the big players on the heavy-haul market. "For the markets of tomorrow, like the power industry, it is important to react to developments in market demand. Transformers and generators are becoming increasingly powerful and, therefore, bigger and bigger and heavier and heavier. If you want to land the contracts for the transport operations involved, you have to have the very best technology available."
Mark Edwards said, "We already have plans for five jobs we can handle with Miss Audrey. For us it's all about being able to transport outsize loads in one piece. That's something we can do faster and more efficiently with Miss Audrey instead of having to make several journeys with part loads. So she has huge potential for the company and will open up great opportunities. We're already one of the top three in North America and we are keen to consolidate and improve on that position."
The first task for Miss Audrey will be to transport a 700 MW transformer over a distance of more than 30 miles (49 km).