Falcons clear for landing
By Euan Youdale13 March 2015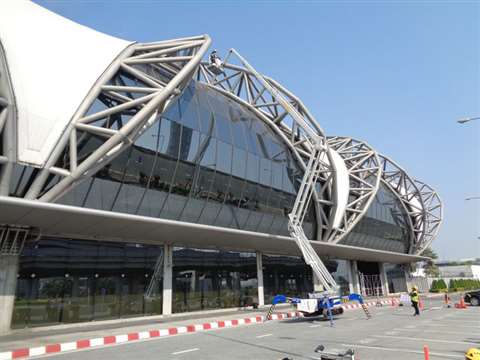 Four TCA Lift Falcon FS320Z spiders have been put into operation at the New Bangkok International Airport, Thailand.
"We are very proud, once again, to be selected as preferred supplier by AOT (Airport of Thailand)", said sales manager at TCA Lift Brian Falck Schmid, "Years back we won a contract for delivery of 10 Falcon's to the same customer. And now after 10 years we are being selected again, which is the best reference a manufacturer can get".
The first 10 units delivered are still at work at the airport. The New Bangkok International Airport – or Suvarnabhumi Airport as it is also called – was opened in 2006. It boasts the world's tallest free-standing control tower, at 132.2 m high.
The large glass facades in the airport require the unique dual power system of the Falcon
Spider FS320Z, said the manufacturer, and is suitable for working inside and outside, added the manufacturer.