Fall in US construction exports
By Mike Hayes09 December 2015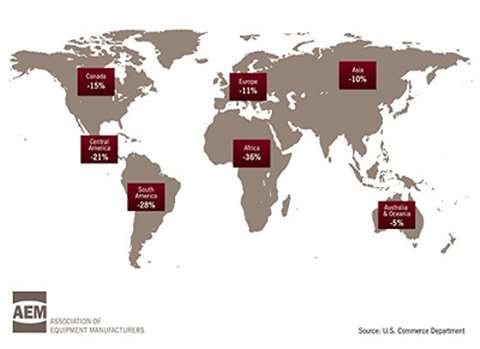 Exports of US construction equipment suffered a 17.6% drop for the first three quarters of 2015, according to an Association of Equipment Manufacturers (AEM) market update.
While the update reported declines in exports for all world regions, the fall in the US ranks as one of the highest.
AEM's figures for construction equipment exports by world region are:
Canada dropped 15 percent, for a total $4.4 billion
South America declined 28 percent, for a total $1.4 billion
Europe dropped 11 percent, for a total $1.4 billion
Asia decreased 10 percent, for a total $1.4 billion
Central America fell 21 percent, for a total $1.1 billion
Australia/Oceania declined 5 percent to $645 million
Africa decreased 36 percent to $611 million
In his market analysis overview, AEM's director of market intelligence, Benjamin Duyck, said the third quarter of 2015 has become the 11th consecutive quarter in which US construction equipment exports have declined.
Nonetheless, according to AEM's third quarter North American Construction Equipment Industry Conditions Trends Report, more than half of the exporters who responded to the survey felt the market had remained stable. Moreover, while imports also declined by 5.71 per cent, year over year, 30.7 per cent of survey respondents felt their market also remained stable.
According to AEM, overall growth for the construction industry in North America is still expected in 2016.