Fassi acquires ATN
By Euan Youdale06 August 2018
Italy-based Fassi group has become the new owner of ATN Platforms, through its French subsidiary CTELM, which it acquired last year.
The group officially became the new owner of the France-based access equipment manufacturer on 6 August, and said it wanted to give ATN the 'energy and resources' to become a major manufacturer in the MEWP sector.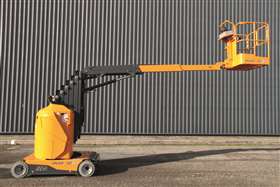 In a letter to customers and suppliers, Roger Boutonnet, chairman of CTELM and the new chairman of ATN Platforms, said there were two main goals in the first stages of the new ownership. First, to restart production and communicate reliable lead times to its customers, while keeping the same performance and quality levels of its products. Second, to quickly strengthen the product support department to guarantee a better level of service.
ATN was founded in 2000 to produce the PIAF vertical mast machines. In 2009 it began to produce diesel articulated booms, and scissors followed in 2011. Chairman of the company since early 2016 was Daniel Duclos, former head of rental company Acces Industry.