Fassi crane pair in Switzerland
By Alex Dahm20 November 2017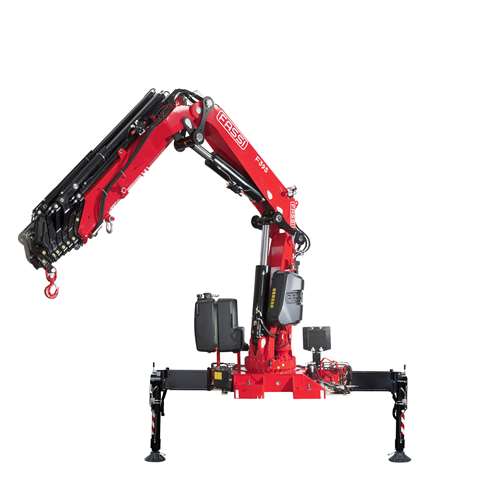 Italian loader crane manufacturer Fassi Gru presented its new mid-range F395A xe-dynamic series at the Transport-CH trade show in Bern, Switzerland.
The new Fassi F395A xe-dynamic and the F395RA xe-dynamic extend upwards the mid-range offering. Rated at 36.5 tonne-metres, maximum hydraulic outreach with the jib is 26.7 metres. The xe-dynamic has rack and pinion slewing through 400 degrees while the RA offers continuous rotation on a double-circulation fifth wheel bearing with reduction gear. The new models come with the FX 500 control system, digital D850 hydraulic distributor, Fassi radio remote control and FSC-S or FSC-H stability control.
On the F395A xe-dynamic, the rack has self-centring cast iron guide pads that guarantee a correct and constant coupling between the pinion and the rack itself, to avoid putting wear on the teeth. The base and lower part of the column are made of cast steel for ideal stress distribution and superior strength; the absence of welding giving the crane a longer fatigue life. This crane will be available in different versions with a maximum of up to eight hydraulic extensions in the basic configuration and in two versions with a short second boom. To further increase the work area, combinations with jibs are available.
The F395RA xe-dynamic has continuous rotation on a double-circulation fifth wheel bearing with motor reducer. Both models have the guide pads of the boom sections "force" mounted to reduce vertical and lateral clearance for durability. Hydraulic outriggers are also available in the XL version, as well as a "C" version with a shorter secondary arm for increased under-hook lifting height. Versions are also available with up to eight hydraulic extensions. There are two with a short secondary boom and combinations with jib.