Fassi launches 53 tonne-metre loader crane
By Alex Dahm25 November 2015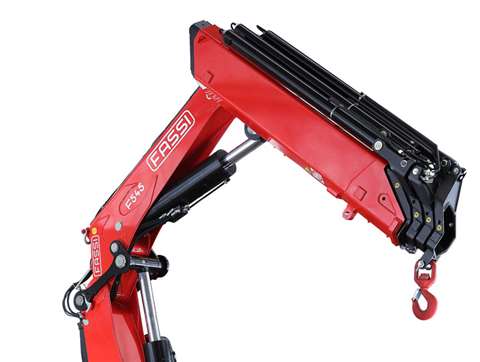 Italian manufacturer Fassi has a new 53 tonne-metre hydraulic loader crane that can be mounted on a three axle truck.
The F545RA XE-Dynamic is the latest model in the XE series. It fills a gap in the company's high capacity range between the F485RA xe-dynamic and the F560RA he-dynamic. The design's small footprint allows installation on a 3-axle chassis. Using high strength steel means a good strength to weight ratio and a lighter structure to retain maximum payload capacity on the truck. Compared to the smaller model the new one gives 10 % more capacity for a 3 % increase in weight.
For maximum stability the outrigger spread is 7.8 metres. Versions are available with up to eight hydraulic extensions there is a range of jib options. Maximum hydraulic outreach is 20.80 m with all eight boom sections. Manual extensions can increase this to 24.90 m.
Slewing is continuous and twin motors can be specified. As standard it comes with FX500 control system, D850 distributor, RCH / RCS radio remote control and the FSC-S or H stability control system.