Fast and efficient crawler cranes
By Euan Youdale17 October 2008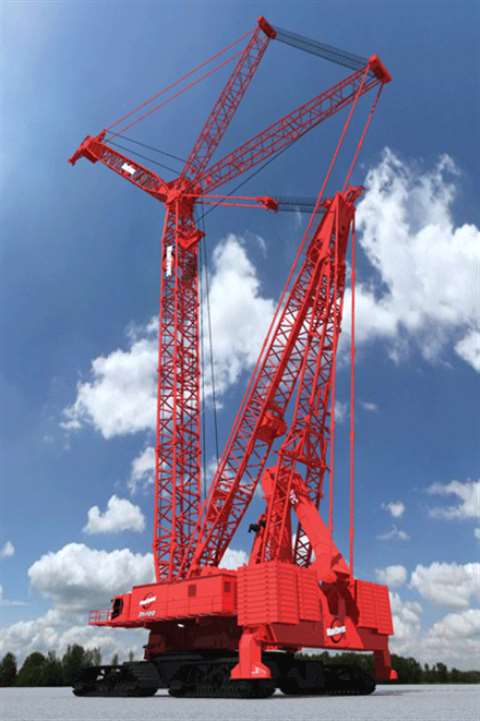 The tried and tested manufacturers are continuing their leap into uncharted territories by producing and designing bigger and more technologically advanced machines.
At the same time the need for fast and flexible machines in the 100 tonne and above capacity range is also focusing the mind of the industry. This, and the latest financial results from the top manufactures, point to a healthy crawler crane market, which is showing no real signs of slowing worldwide. Revenue and production at Liebherr cranes hit new heights in 2007. Turnover at the Ehingen factory in Germany, which produces wheeled mobiles and 300 tonne and larger crawlers, was US$2.236 billion.
At Manitowoc second quarter 2008 net crane segment sales increased 32% to US$1.06 billion, compared with $805.1 million in the second quarter of 2007.
"Crane backlog, as of June 30, 2008, stood at $3.52 billion - an increase of 70% over the same period in 2007. The increase reflected higher demand in each geographic region as well as for aftermarket parts and services. It also indicated continued demand for our high-capacity crawler cranes driven by unabated strength in our global infrastructure and energy markets," says Glen Tellock, Manitowoc president.
While western manufacturers may be redoubling their efforts, so too are the Chinese producers. Domestic output there is flowing faster than ever and attention is now clearly turning to the export market.
Significant steps
Crawler crane demand in China over the first six months of 2008 grew to 480 units, which was more than the full year sales in 2006, according Off Highway Research (OHR). In 2008, XCMG became the largest supplier of crawler cranes in volume terms, OHR says. Sany saw significant progress in crawler sales; its 1,000 tonne crawler crane is the largest machine offered by any Chinese supplier. Fushun Excavator continued to increase its sales of crawler cranes and, increasingly, looks to increase its export business.
The forecast for China, however, according OHR, where annual growth has been more than 20% for the last few years and the mobile crane market has grown each year for the last 10 years, is that growth will slow down to a more sustainable 4 to 7%.
Zoomlion, which produces crawlers ranging from 50 to 800 tonne capacity, told IC that it is hard to calculate the exact number of domestic sales but that both the domestic and export markets are strong.
This year Zoomlion sold a 600 tonne capacity QUY600 lattice boom crawler crane to its agent in India and end user, Essar Group. It is the largest new crane exported from a Chinese manufacturer. The QUY600 was first presented at the Bauma China construction equipment exhibition in Shanghai, November 2006. It was the largest crane at the exhibition and is the largest of its type built by a Chinese manufacturer.
"Before developing QUY600, we investigated and analysed the market, we found there was a demand from the international market, and we are right. After our crawler crane was exported, a lot if inquiries came. We think Chinese crawler cranes will be closer to international standards and demands. And they will lean towards bigger tonnage - there is more and more demand from the big industries, including petroleum, petrifaction and nuclear electricity," says Chen Wei, Zoomlion mobile crane branch company overseas market manager.
Exports up
Zoomlion forecasts that the global crawler crane industry will keep growing to the benefit of Chinese manufacturers. Zoomlion's exports are increasing by 50% year-on-year, according to Chen, with that growth expected to remain steady over the next five to 10 years.
"We think the overseas market is absolutely a potential market, and Zoomlion will pay very big attention to it. Presently, our very important market areas are in UAE, CIS, South Asia and America. The international market demand is always lead by the policy of those countries, an example being engine emissions" adds Chen.
In 2007 the Zoomlion QUY200 crawler crane was launched in the US market. The company says it is also developing a 1,000 tonne capacity crawler crane to be launched in 2009, along with another new model, the 350 tonne QUY350, specifically aimed at wind turbine erection, which will follow at later date.
Another indication of China's export plans was at Lewis Equipment's stand at the ConExpo exhibition in Las Vegas in March. The rental company was showing the Zoomlion QUY260 crawler. It also had its name on the Fushun QUY 120 at the Fushun Excavator booth.
Chinese manufacturers are also looking to impress in the emerging markets. Sany, for example, is targeting the crane market in Russia through direct sales, as well as dealers. The construction equipment manufacturer already has two offices in the country. It is researching the crane market and showed its first crawler crane in Russia at the CTT show in June; the 50 tonne capacity SCC500D.
Major players
In return, the likes of Russia's largest crawler crane manufacturer, Chelyabinsk Mechanical Plant, is hoping to head south and forge links with potential partners in the Middle East. According to CMP it makes 300 units a year, with capacities of 25, 32, 36, 40 and 63 tonnes. Pozdnyak Slava, marketing director, claims the company sells 90% of all 25 to 63 tonne crawler cranes sold in Russia and, he says, the company is experienced in producing robust equipment, some of which is used in the -40 degree centigrade conditions of Siberia.
In Japan, one of the world's major players, Kobelco, says demand for its crawler cranes remains strong internationally, with record sales in the last 12 months. "This is driven largely by continued investment in major infrastructure and energy-related projects, and concentration on developing new markets. It will mean production of crawler cranes at Kobelco will increase by 15%, from 650 units in 2007, to about 750 units in 2008," says the company.
With new facilities being established in Sharjah, UAE, Kobelco forecasts that it will sell "a large number" of cranes in Middle East this year, growing on the upward trend in 2007.
The company also has a new dealer in Spain, Jeraneas SL of Madrid, officially introduced at the SMOPyC exhibition in April. There is also a new Kobelco distributor for Russia and CIS; FKR Machinery.
New dawn
By the end of 2008, FKR, which also distributes New Holland and Astra equipment, hopes to sell three to five Kobelco crawlers in Russia and a further 10 to 15 in 2009, according to Alexander Proskurin, deputy general director. "There are a lot of old cranes in Russia. The old Soviet Union government bought in many crawler cranes. But when that became the new federation and registered companies were formed, they carried on using the old cranes. Now they realise they must replace the machines with more productive and efficient cranes," Proskurin adds.
Kobelco Cranes Europe is expanding and by the end of the year is moving to new larger, purpose-built premises in Almere, the Netherlands, which will meet the needs of ever more specific requirements from customers. "The plan is to offer custom factory built models for specific applications in, for example, wind turbine erection and offshore projects."
The company's newest machine, the 110 tonne capacity CKE1100, announced at Bauma 2007, but shown for the first time at SMOPyC, has been delivered to two customers. The first unit went to SETH in Portugal, part of the Danish Hoygaard group, with the second delivered to Quinn Plant Hire in the UK.
Flexible moving
Again, the CKE1100 demonstrates the market's requirement for more flexible and transportable machinery, Kobelco says. A major feature is the extendable crawler track system which can be extended and retracted hydraulically from the 3.5 m wide fully-retracted transport position to the maximum fully-extended overall working width of 5.3 m.
"This is a highly desirable and easy to use feature on a crane where frequent travelling or on-site repositioning is required. And the crane can also be transported on the road with minimum dismantling; with just the boom and maybe two counterweight sections removed - giving an all-up weight of less than 70 tonnes."
Maximum width of the upper structure, for highway transportation, is 3.2 m.
The unit joins five other Kobelco cranes in Q-Plant Hire's 25-strong crawler crane fleet. Commenting on the state of the crane rental market, managing director Anthony Quinn, says, "There is a continuing healthy demand for crawler cranes, especially for heavy infrastructure projects. Many main contractors have reduced their own plant fleets in recent years, which has further boosted the demand at a time when the benefits and cost-effectiveness of crawler cranes have been rediscovered."
Moving up the capacity range, Kobelco's 550 tonne capacity SL6000, launched at Bauma 2007, is selling well, according to the company, with orders for seven units. Two are from PVE in the Netherlands, due for delivery in September. Buckner Heavy Lift showed off the first SL6000 to be delivered to a US company at ConExpo.
Heavy duty
At the same exhibition Link-Belt unveiled its new 550 US ton (500 tonne) capacity model 548 crawler. Preliminary specifications place the 548's heavy-duty boom at 79 to 275 feet (24 to 84 m) and long-range boom at 138 to 354 feet (42 to 108 m). Luffer testing will soon be underway. Also in the 548's near future is a heavy-lift attachment with a supermast to provide greater capacity. It will be ready for testing later this year, says Pat Collins, senior product manager, lattice boom cranes.
Aimed at heavy industrial, petrochemical, and wind energy work, easy transportability is, again, a key element of the new machine. The main transport load weighs less than 100,000 pounds (45 tonnes) and includes the machinery house with quick-disconnect turntable bearing, live mast, and upper jacks.
"Demand is very strong, as you can imagine," adds Collins. "Since we first announced this machine, both Link-Belt and Hitachi Sumitomo have been working hard to increase production capacity. Hitachi Sumitomo will sell similar units under the HSC banner in their markets."
Another strong seller from Link-Belt is the 230 ton (209 tonne) 298 HSL, which "provides the replacement answer for all the aging 230 ton crawlers in fleets around the world. Because of this crane's performance, easy assembly and disassembly, and easy transportability, that replacement decision is easy," comments Collins.
Energy applications
Considering that the US is struggling with an economic crisis, where residential construction is one of the worst hit segments, the crawler crane market continues to be strong and will stay that way for the next 12 months, says Collins. "The strength of the market continues to be supported by the same segments we've been watching for several years now: the energy sector, heavy industrial work, and infrastructure, among others.
"Wind energy in particular continues to be strong and will drive crawler work, and not just for the large capacity machines. Despite all the published photos, wind energy construction has requirements for a variety of crawler sizes. On the other hand, while the numbers are currently strong, we are watching the housing markets and related segments to see how they might affect the market for smaller machines," Collins adds.
In Europe, product developments from the major manufacturers also reflect a growing market, especially for taller and higher capacity machines.
Telescopic crawler
Liebherr-Werk Ehingen in Germany is developing a crawler-mounted version of its 1,200 tonne capacity telescopic wheeled mobile crane. Several units have been ordered and deliveries will start in 2009. The boom and upper works will be from the record-breaking 1,200 tonne capacity LTM 11200-9.1 telescopic wheeled mobile crane, first seen in the iron early in 2007. The crawlers will be from the 350 tonne capacity LR 1350/1 lattice boom crawler crane. It is aimed primarily at the erection of 2 to 3.5 MW wind turbines. "The 5 megawatt turbines have now been erected in a reasonable number, but the main production of wind turbines is between 2 to 3.5 megawatts. The LTR 11200 is designed for that middle-range windmill capacity," explains Wolfgang Beringer, Liebherr spokesperson. "There will be a big advantage as you can drive from one windmill to the other with a lot of equipment on the crane. The crawlers are very stiff and you can drive with a heavy load on the street. That's one reason it will be on a narrow track crawler. For the crane work it will be supported on outriggers," Beringer explains.
For wind turbines up to 5 MW, 1,000 tonne lattice crawler cranes are needed, rather than a telescopic crane which can only lift its maximum capacity at about 3 m radius, says Beringer.
Another Liebherr crawler to make tracks into the wind turbine market is the 600 tonne capacity LR 1600-2, which was shown in the iron for the first time at ConExpo. Beringer says about 10 units have been sold so far, with five of them already delivered.
News extra
An answer to the increasing capabilities of wind turbines could be Liebherr's 2,000 tonne capacity "XXL" crawler crane, which is under development.
The as-yet unnamed lattice boom crawler will be a conventional single boom and two-crawler design, "A quite normal design - just bigger," a Liebherr spokesperson said.
It will be a jump up the capacity scale from the current range-topping 1,350 tonne capacity LR 11350 lattice boom crawler. The intention is for the XXL crawler to debut in the iron at the next Bauma construction equipment exhibition in Munich, Germany, in the first quarter of 2010. More details and a drawing should be available in 2009.
The machine will aimed at applications in power and petrochemical plants, adds Beringer. "However, when 8 MW wind turbines are introduced in the following years, then the XXL will be used for that."
News of this Liebherr crawler came just days after Manitowoc's announcement of its largest ever crane, the quad-track 2,000-plus tonne capacity Model 31000, at ConExpo.
Larry Weyers, Manitowoc executive vice president of the Americas region, said that Manitowoc is "creating the mega-sized Model 31000 to meet the challenging demands of global construction, where major projects require ultra high capacity cranes. "For some time we've been receiving feedback from our heavy lift customers that the vessels and other components used in refineries, petrochemical plants and fabrication yards are growing in size," Wyers continued.
Combinations
The single boom on the Model 31000 has FACT connection technology and a range of configurations. Main boom is from 55 to 105 m (180 to 344 feet). Fixed jibs range from 24 to 42 m (78 to 137 feet) giving a maximum main boom and fixed jib combination of 95 m (311 feet) plus 24 m (78 feet). Luffing jibs range from 36 m (118 feet) to 102 m (334 feet) and the maximum main boom and luffing jib combination is 90 m (295 feet) of main boom plus 102 m (334 feet) of luffing jib.
The 31000 is designed to be transported in 85 truck loads. Other than the main boom, all components are designed to be less than 3.5 m (11.5 feet) so transport is easier and permits are easier to get. Manitowoc says it will release more information about the development of the 31000 in the next few months. (See IC March: Product News Special for more on the Model 31000).
In October last year, Terex Demag launched the double-boom CC 8800-1 Twin. It has a 3,200 tonne lifting capacity and maximum load moment rating of 44,000 tonne-metres. Main boom is up to 117 m and can be combined with a luffing fly jib of up to 117 m, giving a maximum hook height of more than 235 m.
Three have been ordered so far, the first by UAE-based Al Jaber Heavy Lift and Transport. The company is expected to carry out its first lift with the fully-rigged machine in 2009.
Earlier this year Terex reported that ABG Heavy Industries, one of India's largest crane rental companies, had ordered the second Twin. Saket Agarwal, ABG managing director, told IC that the Twin will be put to work in the nuclear power generation and heavy construction areas, adding, "There is also likely to be an expansion of new oil refineries."
Agarwal added that heavy lift work, requiring the might of cranes like the Twin, is now commonplace in India, but explained that much of it is carried out by European contractors. "There is big growth in India and enough work for this type of crane. We felt that it was necessary for an Indian company to own such a crane and make it available for Indian customers."
Also demonstrating the worldwide demand for heavy crawler cranes, is Netherlands-based Mammoet, with its landmark order from Manitowoc in March. The international heavy lifting, crane rental and specialized transport company announced that it would spend US$90 million on a mix of Manitowoc crawler and Grove mobile cranes.
The cranes will include Manitowoc 16000 and 21000 models. All the crawlers will be fully equipped with luffing fly jib and Max-Er attachment. Most will be for use in Europe but there is also demand from India, China Brazil and Australia, says Roderik van Seumeren, Mammoet CEO. Deliveries for the machines is scheduled for 2009 and 2010. "We feel that the market is so good. We see another two or three years of good work. Demand for energy is so huge," van Seumeren comments.