Fatih Vinç invests in 35 Snorkel units
By Lindsey Anderson10 August 2017
Turkish rental company, Fatih Vinç, has purchased 35 Snorkel lifts from distributor Uzman Lift.
The deal includes 21 Snorkel electric scissor lifts, seven Snorkel compact rough terrain scissor lifts, three Snorkel electric boom lifts, plus a T46JRT telescopic boom lift, two Snorkel TM12 telescopic mast lifts and a Snorkel S3010P push around mini scissor lift. The majority of the lifts will be delivered immediately from Uzman Lift stock, with the remaining lifts shipping from the Snorkel manufacturing facility in the U.K.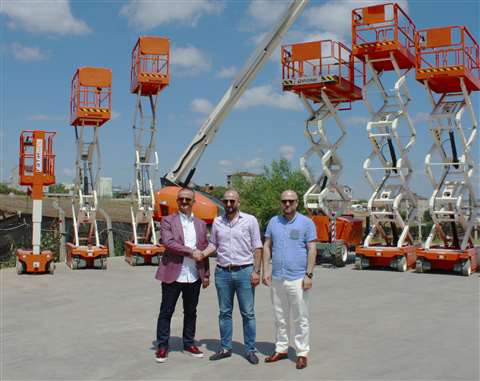 Fatih Vinç was established in 1985 in Bursa city as a crane company. As the company developed, Managing Director Kenan Aydin discovered the potential for aerial work platforms in Turkey and began investing in the products in 2009. Today, Fatih Vinç has a fleet of more than 800 aerial work platform units.
"We appreciate the efforts of Uzman Lift who have worked hard during the past year to introduce Fatih Vinç to Snorkel products and win this order," said Aydin. "Snorkel has made significant progress under Don Ahern's ownership, and we are very impressed with the product design and quality. We also know that Uzman Lift have completed Snorkel's technical training and we are confident in their ability to support the products in our fleet. Thanks again to Uzman Lift for their support."
Mehmet Karakaya, general manager at Uzman Lift, said, "We are incredibly grateful to Fatih Vinç for placing their trust in Uzman Lift and the Snorkel brand, with this significant order. We know that the lifts will be a great addition to their fleet, and we look forward to supporting Fatih Vinç with the technical training and after sales support to help them maximize their return on investment."
Matthew Elvin, CEO, Snorkel, added, "I would like to thank Fatih Vinç for their investment in Snorkel lifts. I would also like to congratulate Mehmet, Yusuf and the Uzman Lift team who I know have worked hard to win this order, and are building a solid foundation for success in the Turkish market."
Since their appointment as an official Snorkel distributor, Uzman Lift have invested heavily in machine and spare parts stock, marketing the Snorkel brand, and their technical capabilities, having recently sent a team of technicians to the Snorkel UK facility for training.