Fatih Vinç supports women in access
By Leila Steed03 December 2020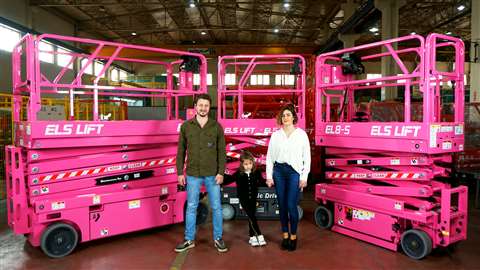 Turkish equipment rental company Fatih Vinç Nakliyat has purchased three new ELS Lift scissors – all branded in a bright pink colour, to draw attention to the lack of women working in the access sector.
The colour was chosen by general manager Yavuz Gümüşgöz, who said, "We preferred the pink colour of the three machines in  order from ELS Lift to attract awareness and attention, because there is very little female employment in our sector.''
The three pink units from ELS are the EL12, EL8-5 and EL5.5 Junior Sp models.
Gümüşgöz, who is married with a young daughter, said he would love for his daughter to follow in his footsteps and have a role in the construction machinery sector. He added that he hoped his wife would one day join him in managing the family-run rental company, which is located in Kocaeli and also provides transport and crane services to the surrounding area.
Gümüşgöz said, "In every field, men need women as much as women need men… I defend that women should be more courageous and at the forefront by breaking down the taboos in Turkish traditions. The so-called men's work can also be performed by women. This is also true for men. Professions have no gender.
"In addition, the behaviors in the environments where women are present vary according to the places where men are the majority. I believe that this situation will bring dignity to the profession".