Faymonville conquers steep terrain
By Leila Steed12 April 2019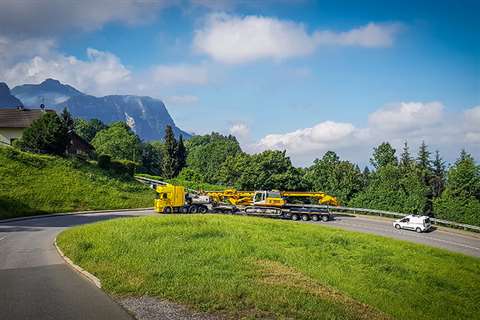 Austria-based Hämmerle Spezialtransporte relied on its Faymonville 2+4 VarioMax low-bed trailer to get a 55 tonne drilling rig to its destination on the edge of a mountainous region.
The heavy haulage company - part of the BigMove network – had to transport the drilling rig from Bludenz to Alberschwende in the Bregenz Forest, Austria. However, the company was forced to abandon its original route when a road was closed by authorities.
Fabian Hämmerle, of Hämmerle Spezialtransporte, said, "The route we had to travel has never been used to move equipment like this. Due to construction works on a bridge near the unloading site, the usual route was blocked." He added, "The detour via the 'Bödele' was especially challenging. Ahead of us laid very narrow turns and significant inclines. And at the end of the day, we were moving a total weight of around 100 tons."
Faymonville said the success of such projects often depends on the smallest details. Fabian Hämmerle added, "Once, it was only thanks to the trailer's suspension stroke that we were able to drive over the curb stone and make it around a hairpin turn. Without this feature of the low-bed trailer, the transport wouldn't have been possible."
Over the years the family-run business has transported excavators, wheel loaders and industrial goods with specialised vehicles. Fabian Hämmerle said, "The technical improvements in our fleet are obvious. Thanks to the 12-tonne axle load, we can move equipment up to 72 tonnes within Austria and Switzerland."
According to Faymonville, the VarioMax trailer's hydraulic steering and pendle-axles have helped Hämmerle access many loading sites in the past.