Faymonville for Universal Transport
By Alex Dahm11 December 2019
Heavy cargo specialist Universal Transport in Germany has added a special dolly trailer from manufacturer Faymonville to improve its capability with long loads.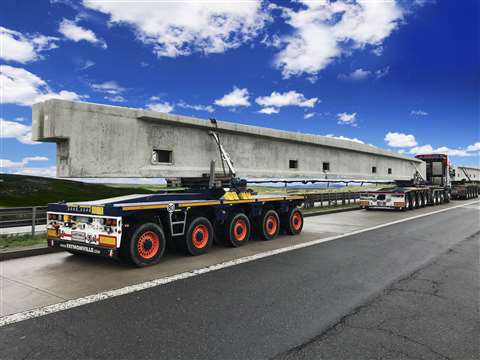 It is the first FlexMax self-steering dolly trailer with pendular axles and the manufacturer described it as "an absolute first in the field of the self-steering trailers." For the rear section there are 19.5 inch (508 mm) pendular axles with single tyres, all fitted in the 5-axle dolly chassis. Using the pendular axles allows a load of 12 tonnes per line.
At the front is an also-new 4-axle front dolly running on single tyres. Axle load is 10 tonnes, giving a combined total payload of more than 100 tonnes. Typical loads are large and heavy concrete beams for bridges.
Hydraulic suspension on the dolly trailer helps with road handling. It is new technology available with 4 and 5 axles. As an alternative to the 19.5 inch tyres, the self-steering trailer can also be supplied with the 100 mm lower 17.5 inch tyres. Axle spacing is 1,500 mm and the vehicle is 2,540 mm wide.
Universal Transport has taken delivery of the first of five units ordered in a 4+5 configuration.