Faymonville launches flatdeck semi-trailer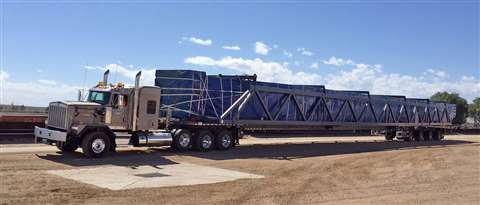 Faymonville has introduced the TeleMax, a flatdeck semi-trailer, extendable up to four times to a maximum overall length of 210 feet (64 metres).
Paul Hönen, Faymonville area sales manager, said, "We adapted the pneumatic and the electric system of the TeleMax to the North American DOT standards. And the non-load bearing pull out permits a longer overhang of the loads."
The TeleMax's telescopic loading deck is said to make it suitable for the transport of particularly long or bulky loads.
Changing the length of the trailer can be done anywhere – even in the field. It takes just a few minutes and no tools, jacks are required.
Its lightweight construction, steering angle of 55 degrees and the low loading deck height are designed for optimum manoeuvrability with the highest possible payload.
The TeleMax has hydraulically steerable axles and remote control steering to make the trailer easier to operate. In addition, the hydraulic support leg allows the easy opening and closing of the trailer and the fully galvanised frame helps ensure the best corrosion protection.
The trailer, which can incorporate three or four axles, can be viewed and tested at the official US representative and sales agent for Faymonville, Hale Heavy Haul in Voorhees, New Jersey.