FCC - life after Alpine
By Helen Wright21 November 2013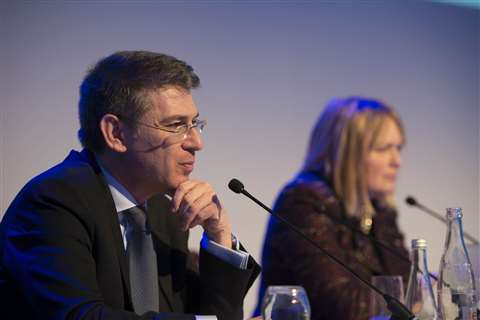 Spanish contractor FCC Construcción is determined to continue to pursue international expansion in the wake of the bankruptcy of its Austrian subsidiary Alpine, according to general manager Miguel Jurado Fernández.
Speaking at the the inaugural International Construction Economic Forum (ICEF), Mr Fernández said, "We purchased Alpine in 2007 to develop activities in foreign countries. Alpine started expanding very rapidly. It was risky and not profitable and, at the end of the day, it was a big failure. This year in May we decided not to continue with the subsidiary because it was unsustainable.
"The main mistake was a very rapid growth in foreign markets without establishing knowledge of countries and situations first. We have to learn from this."
Mr Fernández said the company's domestic activity was expected to represent €1.1 billion in revenues 2014, while international revenues would account for €1.9 billion.
"We have a lot of experience and expertise and now we are renewing our target of expanding in international markets through our own experience, not through acquisitions. We will not make the mistakes we made in the past - you have to have growth in a stable way, not a very rapid way. You can't think you can expand into 50 countries at same time."
The contractor's backlog this year stands at €9.1 billion, and 80% of this is international activity, according to Mr Fernández.

Domestic market

However, that is not to say the contractor is giving up on its domestic market, far from it.
"In Spain, for sure we are going to maintain activity, and we are waiting for a recovery, which we see coming in the following years. We think that the worst has passed - the economy is out of recession."
And Mr Fernández said the recent purchase of a 6% stake in FCC by Microsoft founder Bill Gates also showed that there were signs of optimism about the Spanish market.
"I think that Bill Gates is betting on a Spanish recovery with the investment in FCC," he said.
"Bill Gates' investment will in fact have a global impact for the company, giving us very good credibility for the future. We are undergoing very important changes right now."
ICEF takes place from 20 to 22 November at the Hotel Okura in Amsterdam, the Netherlands. Full coverage is coming soon.
ICEF 2014 will be held from October 29 to 31 at the Gloucester Hotel in London, UK. More details will be available shortly at www.icef.biz