Feature - A different approach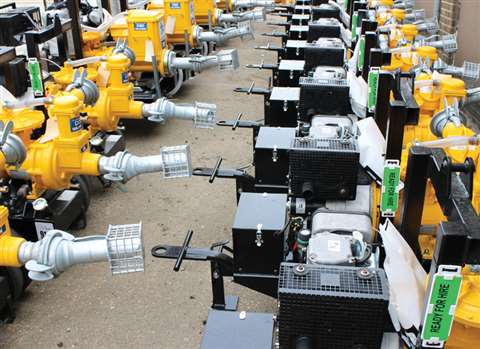 Pump rental is not just about huge pumps. BBA Pumps has launched the BA100K - a diesel driven four inch solids handling pump which it said is the world's best in class mobile pump set. BBA said the pump is the result of its philosophy to provide the lowest cost of ownership and its desire to protect the environment.
It believes the unit guarantees the best pumping performance combined with the lowest cost of maintenance and minimal exhaust emissions.
It has a capacity of over 190 m3/hour and a maximum head of 22 mwc, this compact, dry selfpriming dewatering and sewage pump is now the clear rental market leader. This is not just due to the large free passage of 82 mm; the unit is driven by a single-cylinder diesel engine with a calculated maximum fuel consumption of 1.75 l/hr.
Thanks to DriveOn technology the service interval for the new BA100K has now increased from 500 operational hours normal for standard engines to 1500 hours. Changing oil and replacing filters has also become much easier.
Product and marketing manager Henno Schothorst told IRN: "We are seeing bigger clients asking for clean machines. They are focused on reducing their footprint, and engineers have to work longer before they retire. Typical working conditions during maintenance are becoming more important and people think differently from 15 years ago. We have to get technical engineers who can do maintenance. It's important that the guy will do the job without complaining that he can't reach the oil filter."
Per Rehn, vice president for pumps at Atlas Copco, which has worked with rental companies including Ramirent and Cramo, also believes that pump rental is changing.
"We don't divulge individual figures but pumps are one of the growing markets. We invest around 3% of our revenue each year and we have 200 engineers around the world.
"For the customer, it's about flexibility, about getting more applications from the same unit. Instead of hiring two, three or four types of product, they use just one. There is a lot of investment in pumps and big companies are moving in - United Rentals bought National Pump. That's where we are fitting in. Our customer base is already there. We're not planning to build our own rental operation."

Growing trend


A growing trend to rent instead of buy in Europe's pump market has prompted Tsurumi Europe to focus its efforts on developing the region's untapped rental potential and improving its presence in the market.

With trends in recent years indicating a spike in pump rentals, Tsurumi adapted to serve the European market's customer distribution and rental requirements.

The global pump market is currently estimated to generate around €3.3 billion per year and, with a large portion created purely by pump rentals and pump rental sales, Tsurumi said it's a lucrative sector that's worth investing in.

"Tsurumi was missing out on key projects and sales because it wasn't set up to supply rentable equipment to the market," says Gaétan Beaulieu, general manager of Tsurumi Pompes Location SAS. "But that's changed now - we've invested time and resources over the last few years to ensure we become more competitive, not only in the buying market but also in the rental market."

To better serve regional demand, earlier this year Tsurumi took steps to acquire 80% of Belgian Tsurumi distributor Marine Motors & Pumps (MM Pumps), an established pump rental business that will serve both French and Belgian demand in the future. Tsurumi also plans to open another agency in France next year.

Wider applications


Since building its rental division, Tsurumi has noticed that its pumps are now used in a wider variety of applications. While Tsurumi's traditional sales market was to the construction industry, the industrial market has responded with a growth in demand.

Since expanding into the rental market, beer manufacturers, paint producers and companies handling petroleum are all taking advantage of Tsurumi's technical knowledge, excellent service and robust pumps.
"Customers look for suppliers that can deliver quickly and offer good service and technical expertise," says Mr Beaulieu.

"Although Tsurumi is going through a period of growth and diversification, the company is still committed to offering a reliable product that is properly serviced and available when the customer needs it.
"By providing both sales and rental options, Tsurumi can now meet increasing demands, respond to trends and expand into new sectors."


This is a feature from the September/October issue of IRN. To read the full feature, with extra images and product information, subscribe to the magazine: http://www.khl.com/subscriptions/magazines/international-rental-news/